Samsung Galaxy S II Skyrocket Shows Off Blazing 4G LTE Speeds
After AT&T launched its first two 4G LTE smartphones last week many of you have probably been wondering what kinds of data speeds the new devices, the Samsung Galaxy S II Skyrocket and the HTC Vivid, can pull. If that sounds like a question you'd like answered, you're in luck. BriefMobile was able to get some Speedtest data from a Galaxy S II Skyrocket owner in the Dallas/Ft. Worth area and the speeds can be described in one word.
Blazing.
As you can see, this person was able to get data speeds that range from from 15 Mbps to 65 Mbps. Very impressive. However, keep in mind that AT&T's 4G LTE network is only available in a handful of cities at the moment so the network traffic is far from congested.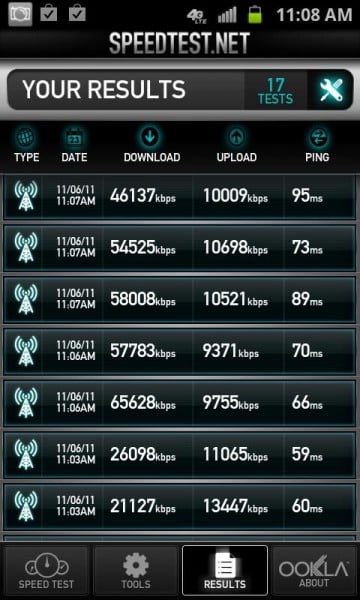 Still, it's nice to see a next-generation network at work and we can't help but feel a little bit jealous of those who have jumped aboard the AT&T 4G LTE bandwagon this early.
(Read: iPhone 4S vs. Droid Bionic Speed Test)
Anyone out there with an AT&T 4G LTE smartphone? How have your data speeds looked?

As an Amazon Associate I earn from qualifying purchases.