Samsung Galaxy S3 Android 4.2.2 Update Leak Reveals Galaxy S4 Features
A new video from SamMobile shows a leaked Android 4.2.2 Jelly Bean update for the Samsung Galaxy S3 that brings some Galaxy S4 features to last year's flagship phone.
As expected, the next major update to the Galaxy S3 will bring some Galaxy S4 features to the older phone, but not all. Some of the features brings new functionality to the smartphone, while others only offer cosmetic changes to the phone.
As the video below shows the update brings a few enhancements to the lockscreen of the Samsung Galaxy S3, including a new ripple effect and the JJ Abrams lens flare effect. The update to Android 4.2.2 Jelly Bean also brings the ability to view widgets on the lockscreen, though that's a standard feature of the current version of Android.
Other standard features of Android 4.2.2 Jelly Bean that come in the new update include the ability to pull the notification tray with two fingers to bring up a screen of settings toggles and actionable notifications. Like the Galaxy S4, Samsung includes a number of unique TouchWiz toggles in the settings screen, giving users a lot of control over their device.
Samsung may also bring the new driving mode and S Voice improvements to the Galaxy S3 with the new update. After Google released Google Now Samsung focused S Voice on the Galaxy S4 on making it easier to control the phone while driving. Soon that focus will come to the Galaxy S3 as well, letting users control their phone through voice commands when driving.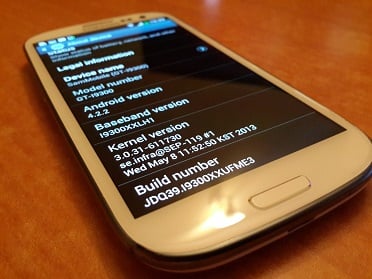 Other features include new screen modes (Adapt Display and Professional Photo), a new tabbed UI in Settings, a white background in 3D mode of the Gallery app, a smart switch widget and full screen Samsung apps. Not every features of the Samsung Galaxy S4 will make it to the older phone, but the new features are likely enough for Galaxy S3 owners who don't want to upgrade yet, but want new features.
Strangely there are no new camera features in the leak, though they may appear in the final build of the update.
The Android 4.2.2 Jelly Bean update for the Galaxy S3 will likely come out sometime in June for unlocked devices, though U.S. carriers may take more time to approve the update.