Official Samsung Galaxy S4 Accessories Hands On
Last night during the launch event of the Galaxy S4 Samsung announced a number of new accessories to go along with its new flagship smartphone.
The new accessories do everything from protect the new Samsung Galaxy S4 to help charge the new phone and sync fitness data. Samsung wasn't very clear on when any of the new accessories will arrive in stores, though presumably most will come to stores in April when the phone first comes to carriers.
Like The Galaxy S3, the new Samsung Galaxy S4 has a collection of covers that replace the battery door of the phone and protect the screen. These cases come in a variety of colors including blue, orange, pink, green and black. The standard version of the cases cover the entire screen so users have to open the front flap to see the 5-inch 1080p display of the phone.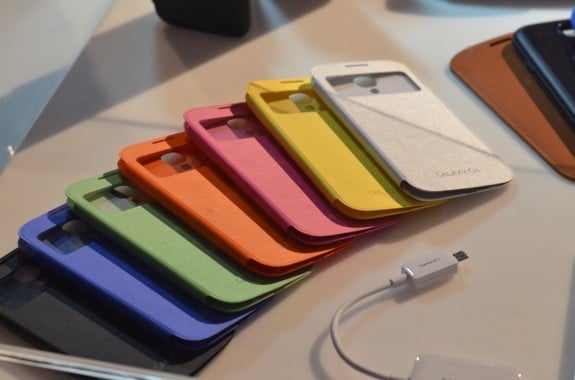 For the Galaxy S4, Samsung also introduced a cover case which it calls the S View Cover case. The S View Cover has a small window near the top of the case that lets users view part of the screen. The case works like a Smart Cover for the iPad, meaning it will automatically put the phone to sleep.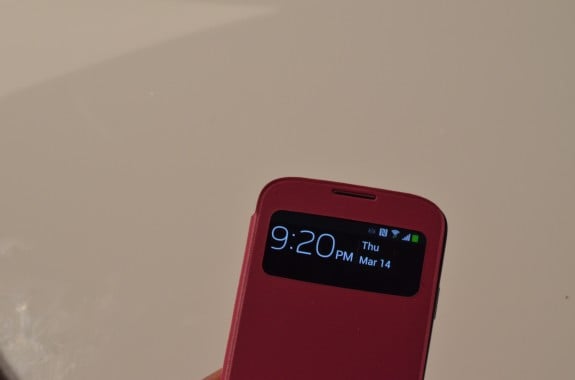 When the user closes the S View Cover the phone will display information such as time, weather and notifications in the small window. It makes it easy to protect the screen and see some information quickly.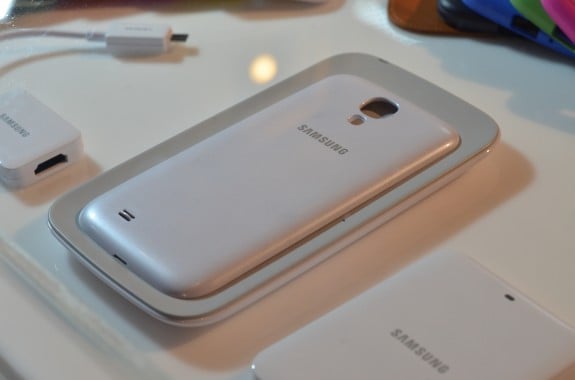 After the presentation Samsung showed a wireless charger for the Galaxy S4 which requires a new battery door. It's not clear if any of the other cases will support wireless charging on the Galaxy S4.
Samsung also introduced a number of fitness for its new S Health app which will compete with devices like the FuelBand and FitBit. Samsung introduced its own S Band which will track information such as steps taken and calories burned to sync to the phone. Other S Health accessories include a heart rate monitor and a scale, both of which can sync data to the phone.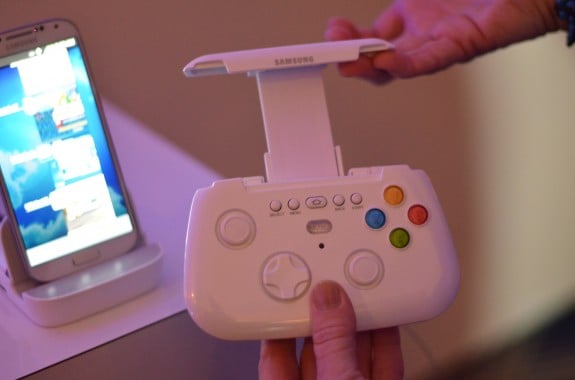 Finally, after the event Samsung introduced a Bluetooth gamepad that it simple called the Samsung Gamepad. The controller looks strikingly similar to the Xbox 360 controller complete with the same color face buttons. The controller will come to stores sometime in May, it will support 80 games at release and come with eight free games.