Samsung Galaxy S4 Declared Fastest Smartphone Yet
Benchmark tests of the Galaxy S4 from Android Authority show the phone Samsung launched last week as the fastest smartphone yet.
Primate Labs, makers of GeekBench, compared the Galaxy S4 result from Android Authority to other smartphones. The S4 topped the charts with a score of 3163. The closest competitor to the Galaxy S4 is the new HTC One, which scores 2687 on the GeekBench benchmark test thanks to the phone's quad-core Qualcomm Snapdragon 600 processor.
According to Android Authority's video, the Samsung Galaxy S4 has a 1.9GHz Qualcomm ARMv7 processor. In the U.S. the phone will use the same Qualcomm Snapdragon 600 processor as the HTC One, which is the version Android Authority tested.
Read: See What The Samsung Galaxy S4 Looks Like Next to the Best Smartphones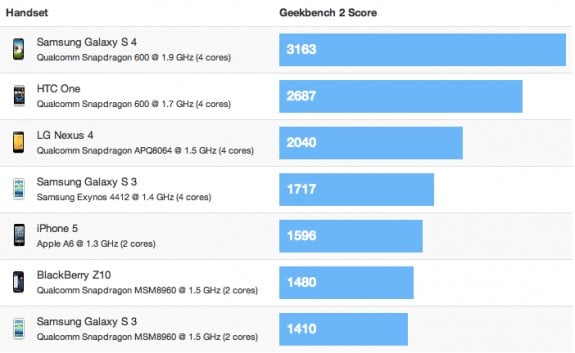 In other regions the Samsung Galaxy S4 will use the new Samsung Exynos 5 Octa. There are no benchmarks for that processor yet, however, so it's hard to compare it to other smartphones.
The high scores mean the Samsung Galaxy S4 will run more smoothly than any other Android phone, and can perform many tasks faster. A faster processor usually means less battery life, but the Galaxy S4's 2300 mAh battery will help ameliorate that.
Interestingly, the benchmarks show the Samsung Galaxy S4 is about twice as fast as high-end phones from last year. The Galaxy S4 score is double that of both the Samsung Galaxy S3 and iPhone 5. The jump is impressive, and shows just how quickly mobile technology advances in just one year.
Apple fans shouldn't have to worry much about the benchmarks. As Primate Labs points out, scores for the iPhone 5 are about 2.5 times the scores for the iPhone 4S. There's a chance Apple will repeat that feat with the iPhone 5S later this year.
Later this year smartphones will see another jump as the Snapdragon 800 makes its way into devices. That processor is even faster than the Snapdragon 600, which could result in even higher benchmarks. The NVIDIA Tegra 4 may also post impressive benchmarks when it lands in devices, such as Project Shield, later this year.