Samsung Galaxy S4 Flip Cover Review
The Samsung Galaxy S4 Flip Cover is an official Samsung Galaxy S4 case that replaces the back of the Galaxy S4, allowing users to cover the front with a soft, but protective cover.
This Samsung Galaxy S4 case adds a little bit of thickness to the Galaxy S4 to accommodate the hinge of the Flip Cover, and it is not compatible with the Samsung Galaxy S4 wireless charging back.
Samsung offers the Galaxy S4 Flip Cover in a variety of colors, including the white option Mobile Fun sent over for review. The back cover is a perfect fit and matches the design of the back that comes with the Galaxy S4, minus any carrier logos.
The biggest feature of the Samsung Galaxy S4 Flip Cover is that it covers the screen in your pocket and when placed face down on a table. The cover also stays closed on its own most of the time, which should help prevent a cracked screen during an accidental drop, even though it is not a rugged case.
Read: Best Samsung Galaxy S4 Cases
The protective cover is made of a soft touch material and features a micro fiber interior that protects the display from scratches and can help remove some finger prints. The cover matches the back, which makes it possible to pick up an orange or pink model for a more colorful Samsung Galaxy S4.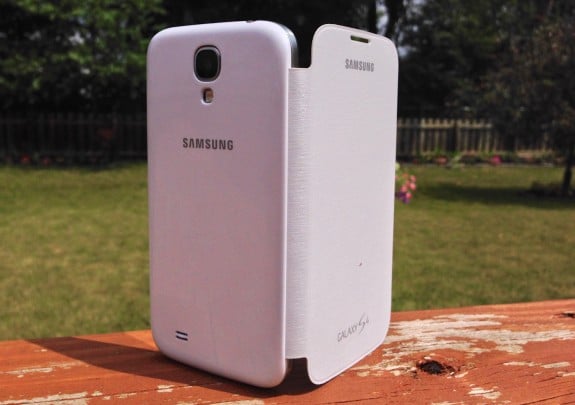 When using the Galaxy S4, the Flip Cover flips around to the back. It is comfortable to hold with the back flipped around, and the weight of the phone is heavy enough to keep it flipped back if placed on a table with the screen showing. There is no way to prop the phone up with the Flip Cover.
Another handy feature is the ability to make a phone call with the cover closed, this keeps the screen free of oils from your face, so there's less need to clean the screen.
Read: Best Samsung Galaxy S4 Accessories
While taking a photo with the Samsung Galaxy S4 Flip Cover on, users need to hold the flip cover below the phone. This is somewhat annoying as it is another thing to keep track of while lining up a shot and makes a one-handed photo harder. The saving grace is that the flip cover will dangle below the phone on its own during most situations.
Samsung also sells the S-View Flip Cover which features a small opening to show the time and notifications for missed calls and other alerts. The S-View Flip Cover is $59.99 compared to the $25 Flip Cover pricing.
Samsung offers the Galaxy S4 Flip Cover for $39.99, but retailers like Mobile Fun offer a range of colors for around $25.