Samsung Galaxy S4 Gold Edition Unveiled Following iPhone 5s Envy
Almost a week after Apple officially launched the iPhone 5s in a new gold color, Samsung has unveiled a new Galaxy S4 that comes in the same color. Samsung's United Arab Emirates Facebook and Twitter accounts posted a render of the new device, saying that the new color is "a style that's uniquely yours." The phone will come in two different combinations: gold and brown or gold and pink.
It almost seems like an April Fool's joke, considering how gold and pink is probably one of the worst color combinations you could think of, but Samsung usually never ceases to surprise us. However, folks in the US probably shouldn't have to worry too much, as the new color option may not come to other regions of the world other than the Middle East, considering how Samsung's US social media feeds aren't marketing the new device.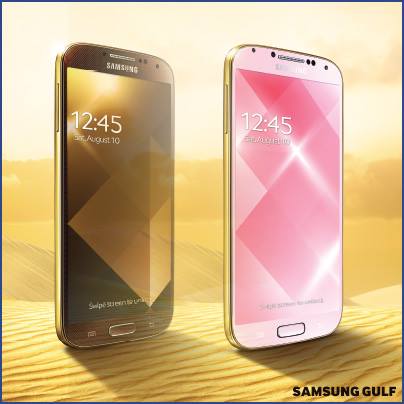 We reckon the price and specs are the same with this Gold Edition Galaxy S4, with the only difference being the gold-plated rear shell. Samsung is being quite vague with their announcement, as they haven't mentioned any sort of ship date for the new phone. Although, this could just be a quick teaser for a more thorough announcement later on, seeing as we're only hearing about this from the company's social media accounts.
The gold Galaxy S4 comes just days after Apple released the gold iPhone 5s, which is the first flagship smartphone we've seen to carry a blinged-out look to it. However, the new color has been selling like hotcakes, almost instantly selling out on Apple's website, as well as quickly selling out at physical Apple locations. Furthermore, most carrier and retail stores didn't even get gold iPhones in stock.
Read: The iPhone Gold Rush: Gold iPhone 5s Fetches $10k at Auction
That might be Samsung's motive behind its new Gold Edition Galaxy S4. Now that they've seen that a gold phone can sell well, they're going to try it out for themselves. Of course, many folks will see this as a blatant copying of Apple's ways, but we've been way past the "who's copying who" game for a long time now. At this point, we should just expect for all the big players in the tech industry to come out with the same thing eventually, but with a different logo. Samsung's trying to mix it up, though, by offering either a brown or pink faceplate to go along with the gold, but we're not sure how much that will catch on.

As an Amazon Associate I earn from qualifying purchases.