Samsung Galaxy S4 Mini Leaks for AT&T and Sprint
The Galaxy S4 Mini from Samsung has made a reappearance in the US rumor mill. Mobile insider evleaks has posted press renders of the device in three colors; a bubble gum pink version was leaked for AT&T, while a black mist and a white frost version leaked for Sprint.
The Galaxy S4 Mini is only available overseas, and it's not officially available in the US just yet, but rumors and leaks over the last couple months have pointed to the possibility of the phone making a US appearance on the major carriers here in the States.
The device rocks a 4.3-inch qHD Super AMOLED display (960×540) with a Qualcomm Snapdragon 400 dual-core processor clocked at 1.7GHz and a gig and a half of RAM, with 8GB of internal storage. It also comes with WiFi a/b/g/n, Bluetooth 4.0, NFC and an IR blaster. As for the camera, there's an 8-megapixel sensor on the back and a 1.9-megapixel camera facing the front, with a 1,900mAh battery keeping everything humming along smoothly.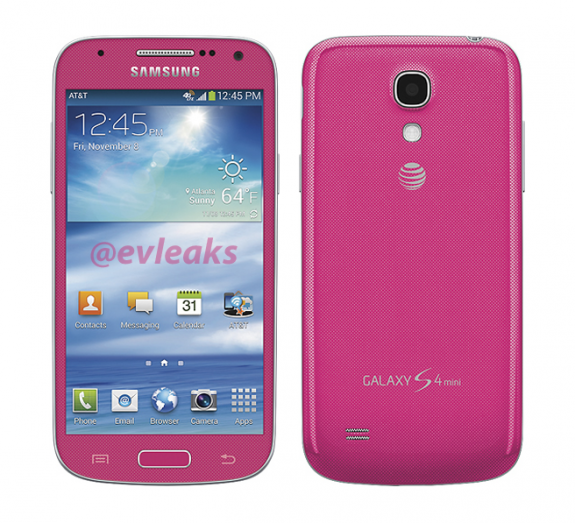 The US version that we keep hearing about will most likely come with similar specs and the same smaller display and body style. Price-wise, we're not sure how much Americans will pay for the device, but it should be a pretty cheap buy when you factor in subsidized carrier costs. It'll certainly be a lot cheaper than the regular Galaxy S4, but we're not sure how much cheaper exactly.
Back in August, we saw the Galaxy S4 Mini leak for Verizon, sitting next to the iPhone 5 for a size comparison. If these leaks are to be true, we'll see the Galaxy S4 Mini become available for AT&T, Sprint and Verizon when it hits the US at some point.
Compared to the Galaxy S4 flagship, the Mini is quite a step down, but still rocking much of the same design on the front, with the back looking a bit different. The Galaxy S4 sports a 5-inch full 1080p HD display running a quad-core Qualcomm Snapdragon 600 processor clocked at 1.9GHz with 2GB of RAM. It's certainly the phone to buy if you're comparing the two device side-by-side, and seeing how you'll pay thousands in service costs over two years, paying a little extra up front for the Galaxy S4 is probably the smarter move.

As an Amazon Associate I earn from qualifying purchases.