Samsung Galaxy S4 Mini Leaks for Verizon, Home Button Branding and All
The Samsung Galaxy S4 Mini is currently only available overseas, and thus far we haven't seen much interest from US carriers. This afternoon however we learned the 4-inch Samsung Galaxy S4 Mini was headed to AT&T and Sprint, and now the same famed leakster @evleaks has also confirmed it will hit Verizon Wireless.
Back in August we saw a leak suggesting the Mini smartphone could come to Verizon, but that aside both companies have been rather quiet. With leaks today of the device for AT&T, Sprint, and now Verizon it appears that Samsung is ready to flood the US market with its small budget friendly Galaxy S4 wannabe. Currently they aren't sharing any details on pricing and a release date, or anything for that matter.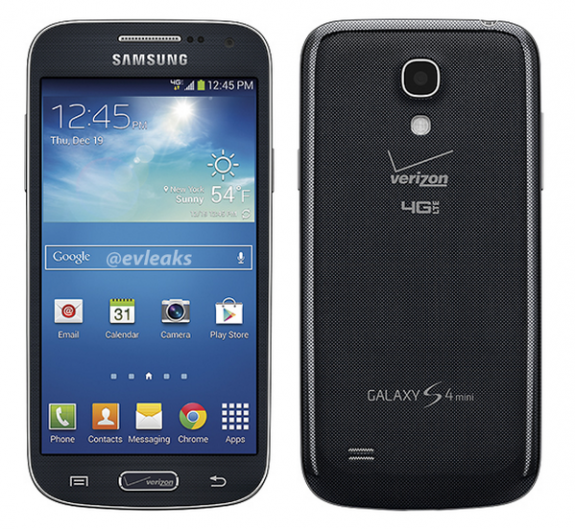 If you had any questions as to which carrier the device above would be launching, take just one peek at that home button and you'll know. After heavy criticism for branding the home button on the Galaxy Note 2, Verizon opted not to do it on the Galaxy S4 or Note 3. However it looks like they've decided to do this again, as you see the logo all over this mini smartphone.
In case you don't notice the Verizon logo tattooed on the front, they've gone ahead and thrown both the Verizon and 4G LTE logo on the rear as well. You'll know this is a Verizon smartphone, that's for sure.
Taking a look at the leaked press render we spotted the clock and weather widget mentions December 19th, a Thursday, which is usually when Verizon launches new products. While that can't be for certain, we've seen a similar approach in the past from multiple manufacturers. Whether this is just a tease, or to add additional hype is unknown.
As a refresher the device rocks a 4-inch 540 x 960 qHD AMOLED display, Qualcomm's Snapdragon 400 dual-core processor with 1.5GB of RAM. Then you'll get 8GB of internal storage and decent 8 megapixel camera on the rear. There's a 1.9 front camera for self portraits, and a 1,900 mAh battery that should keep the small screen lit up all day long. This phone should arrive just in time for the holidays with a nice wallet-friendly price attached to it.

As an Amazon Associate I earn from qualifying purchases.