Samsung Galaxy S4 Mini vs. HTC One Mini: What to Expect
Later this year, both Samsung and HTC are thought to be releasing smaller versions of their two respective flagships, the Samsung Galaxy S4 and the HTC One. Currently, the devices are known as the Samsung Galaxy S4 Mini and the HTC One Mini or HTC M4 and here, we take a look at what consumers should expect from the match up between these two "miniature" devices.
Last year, in the months after its Samsung Galaxy S3 launch, which took place in May, the company introduced a smaller version of its flagship device, dubbed the Samsung Galaxy S3 Mini, a device that mimicked the Galaxy S3 from a design standpoint, featured similar software but had lesser hardware and was of course, smaller than the flagship.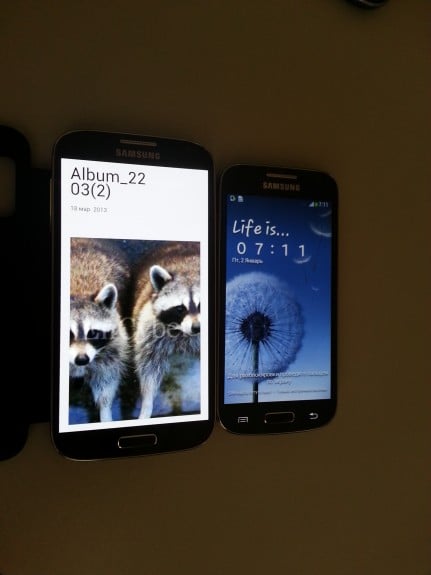 The device went on sale in several markets around the world as an alternative to some of the cheaper Android phones that we've seen flood the market in recent years. Samsung clearly hoped to capitalize on the Galaxy S3 name that resonated with consumers around the world. Oddly, the device launched under different names in the United States, but it still was a cheaper alternative to the flagship.
The Galaxy S3 had enough success to provoke Samsung into building another Galaxy S smartphone which arrived just a few days ago in the form of the Samsung Galaxy S4. And apparently, the Galaxy S3 Mini did so well that Samsung is planning another mini version of its flagship, a device currently dubbed the Samsung Galaxy S4 Mini.
The Galaxy S4 Mini has been rumored for many weeks now and Samsung has confirmed its arrival for some point after the Galaxy S4. And while it appeared not to have any big name rivals, today, we learned that HTC might be following Samsung's lead with a smaller version of its new flagship, the HTC One.
Last year's HTC One X did not have a mini version but it appears that HTC is prepping a smaller HTC One Mini, currently called the HTC M4, which is thought to be coming some time later this year to compete with the Samsung Galaxy S4 Mini.
Both devices remain in the shadows, but we still have enough to compare them and see what consumers should expect from this likely clash between the HTC One Mini and the Samsung Galaxy S4 Mini.
Summer Release Dates
While HTC and Samsung remain light on the details in regards to the Samsung Galaxy S4 Mini and the HTC M4/HTC One Mini, several reliable sources have chimed in with information about their upcoming releases.
In the case of the Samsung Galaxy S4 Mini, we've heard that device will be making its way to shelves in July. No specific date has been mentioned but one report put the release date somewhere between the days of July 15th and July 21st. Samsung has not confirmed that timing so it must be taken with a grain of salt.
Given the sources, we imagine that it will arrive at some point this summer, a few months after the Samsung Galaxy S4 touches down across the globe.
Rumor has it, the HTC One Mini will arrive sometime in the second quarter with the reliable @evleaks pegging it for an arrival in the late second quarter. The second quarter spans from April until June which means that a June release date is a possibility.
We imagine that HTC will want to give the HTC One release some space which it can do by releasing it in June or perhaps, even later in the summer. In any event, we expect both of these phones to collide head on with release dates within a few weeks of each other, kind of like the battle between the HTC One and the Samsung Galaxy S4.
Android 4.2 Jelly Bean, Not Android 5.0/4.3
While these phones might carry the brand names of HTC's and Samsung's flagship devices, they are not flagship devices, and won't get flagship treatment, especially when it comes to their stock software.
There is no way that HTC or Samsung would trump the current models when it comes to stock software so don't expect either the HTC One Mini to be rocking Android 4.3 or Android 5.0 Key Lime Pie, its version is uncertain, when they arrive. Especially since the HTC One is still on Android 4.1 Jelly Bean, the previous version.
In fact, both devices are currently pegged as having Android 4.2 Jelly Bean, something that seems to point to an HTC One Android 4.2 Jelly Bean update happening before the second quarter is over. Again, it would be extremely odd to see the Mini version of a flagship trump the flagship in any way.
Slower Updates for Both
Again, neither of these handsets will be a flagship handset. It's also probable that neither will be as widely adopted as their larger counterparts. Both of these things will contribute to a much slower update pace for owners which means slower bug fix updates and slower major Android releases.
As we've pointed out numerous times, companies like Samsung and HTC, in combination with carriers, typically update the big name devices, the ones with the most users, before they turn their attention to the smaller, less adopted devices.
This doesn't mean that the HTC One Mini and the Samsung Galaxy S4 Mini won't get support or see longevity, it just means that owners of the larger versions should get their updates in a more expedient manner.
U.S. Carriers
Despite only hearing one carrier rumor in regards to a U.S. release, we fully expect both the Samsung Galaxy S4 Mini and the HTC One Mini to arrive in the United States.
Last year, the Samsung Galaxy S4 Mini touched down on T-Mobile and U.S. Cellular and we expect either them, or other smaller carriers looking to make a bit of a splash, to offer the Galaxy S4 Mini at some point. Someone in the U.S. will opt to carry this device.
As for the HTC One Mini, it's a little more certain. For one, @evleaks says it will be coming to AT&T. That doesn't mean it's confirmed, but it does mean there is a good chance of it happening. We tend to believe him for this reason.
Last year, HTC launched the HTC One series which included not only the HTC One X but also the mid-range HTC One S and HTC One V. This year, it only has announced the HTC One so the HTC One Mini is a great addition to a 2013 lineup that is void of much choice.
Plastic vs. Metal
From the looks of things, both companies will be mirroring the designs of the larger devices. That means that when they arrive on shelves, the Galaxy S4 should be made of plastic and the HTC One Mini should be made of metal. This of course means more than just a difference in material, it likely means that consumers are going to have to make some sacrifices.
The unibody metal design of the HTC One means that it comes without a removable back and without a microSD card slot. That means that owners can remove the battery and that they can't expand beyond the internal storage. It does however mean that they have an extremely good looking design, one of the best in existence.
The plastic design of the Samsung Galaxy S4 means that it does come with a removable back and microSD card slot, two things that should be on board the Galaxy S4 Mini. Those luxuries come at the expense of a cheaper feeling design.
This is likely how HTC will position its HTC M4/One Mini against the Galaxy S4 Mini and we wouldn't be surprised to see it become its biggest selling point.
Cheaper Prices
We still aren't sure how much carriers or retailers will be charging for the miniature versions of the HTC One and Samsung Galaxy S4 but there is one thing that consumers can expect, the prices will be cheaper.
Carriers in the U.S. that offered last year's Galaxy S3 Mini offered it for $99 on-contract, a steep price for a phone of its caliber, but still, the price was less than the $199.99 starting price of the Galaxy S3.
That could wind up being the starting price of both the HTC One Mini and the Galaxy S4 Mini though we could also see one or both of them venture into the $150 arena.
No Delays
Finally, consumers should expect the devices to be released without the delays that hampered the launches of both the Samsung Galaxy S4 and the HTC One in the U.S.
HTC will likely have ironed out its manufacturing issues completely by the time it arrives and Samsung will likely not face the same type of demand for the Galaxy S4 Mini as it saw with the Galaxy S4.
We expect both of these devices to go on sale without any issues which means that once a date is given, both should be up for sale and available on that date.