Samsung Galaxy S4 Price Slashed to Insane Low
With the all-new Samsung Galaxy S5 finally here and readily available from multiple outlets and carriers around the US, deals are starting to appear more and more for the Galaxy S4.
With each new product launch users can always expect some awesome deals and discounts to arrive for older devices, but this weekend one in particular arrived for the Galaxy S4 on AT&T that is just insanely good. The device is "certified like-new" but don't let that fool you, this deal is too good to pass up.
Read: Samsung Galaxy S5 Deals Deliver Big Savings on Release Weekend
Lately most of the attention has been on the Galaxy S5, and where users can find a decent deal on the latest from Samsung, but today you can grab the Galaxy S4 from AT&T for just $179. That's outright, no contracts required. Read on for more details.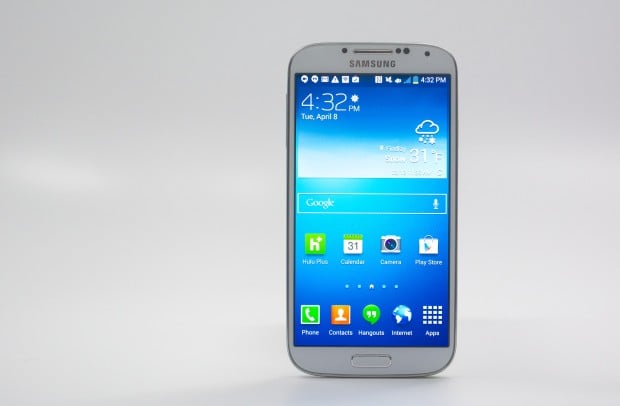 The Samsung Galaxy S4 arrived last year and was one of the best-selling smartphones of all of 2013, and the Galaxy S5 looks to continue that trend in 2014. However, instead of good deals appearing for the new Galaxy S5, this week AT&T is shaking things up by offering what is quite possibly the best smartphone deal we've seen in a long time.
Smartphones are expensive, and usually consumers can expect to pay $199 to $249 and sign a new 2-year contract in order to get that deal, otherwise pay a $499-$549 outright price out of contract. The Galaxy S4 off-contract price last year was $549, but we've seen deals come and go for the past six months. However, how about paying $179 total, off contract, for the Galaxy S4.
This week AT&T is offering the Galaxy S4 in White, Black, and Red for only $179 without a contract. Or for those who'd rather sign away a 2-year agreement, the device is absolutely free. That $179 outright price with no contracts is the lowest we've ever seen the Galaxy S4, and is surely a deal worth considering.
The  terminology of "Certified like-new" may turn some potential customers off, as you're essentially buying a re-certified smartphone, but that shouldn't concern users. When this smartphone usually sells for $199 on contract, and here it's being offered for $179 without any type of contract, it's simply too good to pass up.
It's worth nothing that this weekend AT&T had more than a few deals going on. The carrier also offered the Galaxy Note 3 for $249 off contract, which were also like-new, but those appear to be sold out. At the time of writing AT&T has all three color options of the 16GB Galaxy S4 still available for the $179 price mentioned here.
Read: Samsung Galaxy S5 vs LG G3: 5 Things You Should Know
Initial reports all suggested these were pricing errors, but we've received more than a few comments that buyers have received shipping notices, and this $179 price is indeed accurate and available now.
The Samsung Galaxy S5 has a slightly (0.1-inch) bigger display, a slightly faster and more efficient processor, and a few new features like a fingerprint scanner, but last year's Galaxy S4 is still one of the best all around smartphones available today.
Users will enjoy a 4.99-inch 1080p HD display, 1.9 GHz quad-core Snapdragon 600 processor with 2GB of RAM. The Galaxy S4 has a 13 megapixel camera, has been updated to the absolute latest Android 4.4.2 KitKat (on all carriers but Verizon) and is still one of the better smartphones available today.
Read: Samsung Galaxy S4 Review (2014)
After being available for nearly a year, the Samsung Galaxy S4 is still an excellent smartphone as you can see from our most recent review above. With the Galaxy S5 currently being offered for $649 outright or $19-$249 with a 2-year contract, taking up AT&T's offer for an outright Galaxy S4 for $179 is something many consumers and prospective buyers should heavily consider.
Even though a 2-year contract is not required for this $179 deal from AT&T, a line of service is. Meaning you'll need to at least sign up for a monthly pay as you go plan (no contract) to get the deal, but of course that can always be cancelled after a certain amount of time.
If you're looking for a brand new smartphone on AT&T and aren't completely sold on the Galaxy S5, HTC One M8, or the upcoming and highly anticipated LG G3, this is certainly one option to consider.
More details are available from AT&T.com

This article may contain affiliate links. Click here for more details.