Samsung Galaxy S4 Seidio Accessories to Protect and Charge
Seidio made one of our favorite Samsung Galaxy S3 cases. Now they've announced cases and charging tools for the Samsung Galaxy S4. These Samsung Galaxy S4 Seidio Accessories are already on sale, and users can pick them up online.
In addition to the accessories, keeping the screen of a smartphone free of scratches gets easier with the Ultimate Screen Guard in a single-pack for $9.95 or two-pack for $14.95. Seidio promises it will show no bubbles and that users can easily install the Ultimate Screen Guard. The 3H hardness rating ensures good protection, according their marketing materials.
Charging Docks
The accessory maker offers a pair of charging docks. The Innodock Jr. Desktop Cradle costs $29.95 and charges many Android devices with a micro-USB connector. It looks like a ball cut in half, and carved with a slot for the phone.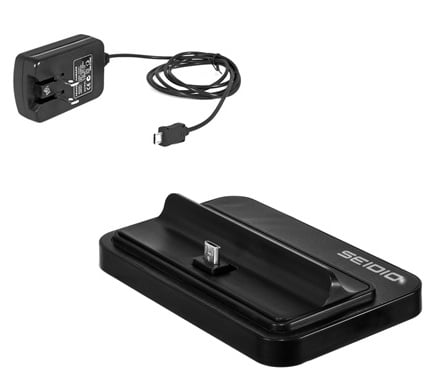 The larger Desktop Charging Cable costs the same and also works with many devices. The base offers a square shape and both will come with enough weight to let users insert the phone in an upright vertical arrangement without it toppling over. A slightly more expensive version of the Desktop Charging Cradle comes with a wall charging cable so users can keep the USB cable that came with their phones in their computer bag or car for charging on the go. Both of these models will work with Seidio's collection of Samsung Galaxy S4 cases, except for the Convert case seen in the image below.
Cases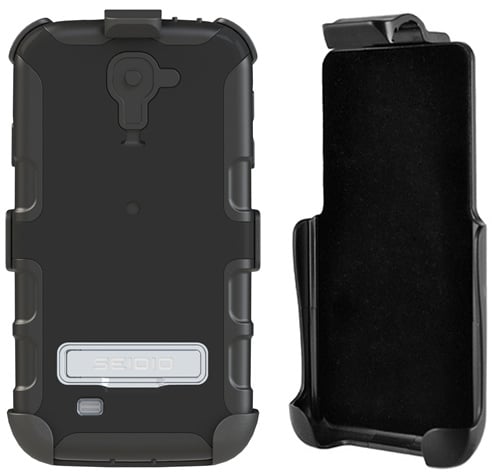 The Seidio Convert with Metal Kickstand for Samsung Galaxy S4 switches between a low profile case for normal use and a rugged case for harsh environments. Add to it the metal kickstand in the back and it turns the phone into a great video, photo or content viewing tool. The basic case costs $49.95, which may seem high, but compared to other rugged cases it's reasonable. Add a belt holster for a little more at $74.95.
Other Seidio Samsung Galaxy S4 cases include the following:
Surface – comes in six colors for $29.95 giving basic slide on protection
Surface Combo – adds a holster for $49.95
Surface with Metal Kickstand – same as Surface but includes a metal kickstand on the back to hold the phone up while watching video for $34.95
Surface with Metal Kickstand Combo – same as previous but with holster for $54.95
Active with Metal Kickstand – shock absorbing case with two layers and metal kickstand for $34.95
Active Combo with Metal Kickstand – same as previous with a holster for $54.95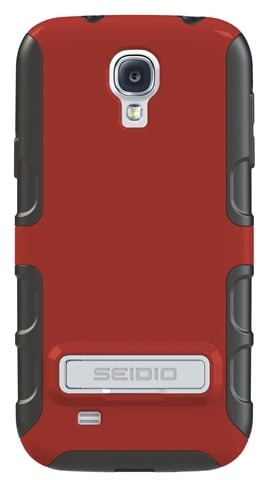 Seidio also sells a basic clip on holster for $29.95 that hugs a naked Samsung Galaxy S4 without a case.
The Seidio cases we've used impressed us. The Samsung Galaxy S3 stayed protected in a Surface case for a long time and it held up very well.

As an Amazon Associate I earn from qualifying purchases.