Samsung Galaxy S4 v. HTC One: Feature-by-Feature Showdown Before You Buy
You've probably read extensive reviews of the competing Samsung Galaxy S4 and HTC One Android flagships and are still indecisive about which one to take the plunge on, and we're here to help. Fortunately, for users looking at either top-of-the-line flagships for 2013 in the Android camp, both are great devices and it would be really hard to make a wrong turn. In this review, we're going to break down some of the key features that distinguish their experiences to help you decide.
With HTC redefining its HTC Sense experience for a cleaner, more modern approach moving into Sense 5.0 this year and Samsung adding everything but the kitchen sink into TouchWiz, we have two radically different experiences. In the end though, owning a smartphone should help you accomplish the tasks that matter most to you while at the same time helping you easily connect to the work and the people you care most about. Let's take a look at how Samsung and HTC each define the smartphone experience and how they stack up against each other.
Note that this review is not focused on specs–for that, we'll re-direct you to our Galaxy S4 review and HTC One review.
1. Productivity
Smartphones today are powerful computers housed inside your pockets that allow you to check email, look up contacts, edit and create documents and presentations, and run the numbers on spreadsheets. Manufacturers often pre-load productivity apps and define the productivity experience on high-end phones, so let's explore which device will make you more productive.
Galaxy S4:
Samsung did a bang up job in making the Galaxy S4 a powerhouse. It comes pre-loaded with a general office suite from Polaris for document creation and editing. An S-Translator app will help linguists master a foreign language and an optical scanner will help users scan QR codes and documents on the go as well as quickly input business cards with the rear-mounted 13-megapixel camera.
Alone, these features are impressive, but Samsung also includes its cloud-synchronized S Notes, which is similar to Microsoft's OneNote for tablets on the go. S Notes allows users to capture notes via typed text, handwriting, or diagramming  and also allows for quick conversion of written text when you're in the proper mode. Moreover, for students and business professionals in lectures or meetings, you can also record audio notes and synchronize it to your written or typed notes in S Note similar to the feature on the LiveScribe pen. This feature was was debuted on mobile by HTC, interestingly enough, with its HTC Flyer tablet and the HTC Scribe Magic Pen.
Multi-View windows is another welcomed Samsung innovation that we hope Google will adopt for future Android iterations natively. The feature works similar to snapping two windows together on Windows 7 side-by-side so you can perform two tasks simultaneously. Simul-tasking, as we'd like to refer it, is borrowed by Samsung from the Kyocera Echo and like the Echo, only a few apps are supported at this time.
And if you're in a meeting and your colleagues all have Galaxy products from Samsung or a Samsung HDTV, you can use Group Play, which enables you to stream your document, presentation, or photos in real time to all devices over WiFi or WiFi Direct. Moreover, if you mark up the slide or highlight a document, all devices will show the changes and anyone on the Group Play conference can create edits or notes, not just the host device.
An included file manager as well as USB on-the-go round out some of the major features that will appeal to power users looking towards their smartphone as a desktop replacement when away from their laptops.
HTC One:
In an effort to simplify, HTC went a little too minimalist and skimped out on the HTC One in terms of productivity features, at least on the Sprint edition. Our editor Josh Smith says that his unlocked One has Polaris Office pre-loaded, so your mileage may vary depending on which version or carrier edition you choose. The pre-loaded productivity folder that was pre-created on my Sprint unit has a couple of pre-loaded apps, including a Task, PDF Viewer, and Dropbox. Not much here, though users who want a documents viewer and/or editor for Microsoft Word, Excel, or Powerpoint files can download any number of free or paid apps on the Play Store.
Not pre-loading a slew of apps may be a good thing for HTC, however. Unlike the Galaxy S4, there is no USB on-the-go and no memory card slot on the One, so conserving storage for things that matter to the end user is likely at play here.
You do get a nice Stocks app for investors, though, on the One.
Update: Upon testing with a different USB on the go adapter, it appears that the HTC One does support this feature. 
Advantage: Samsung
2. Lockscreen & Homescreen
Galaxy S4
Again, lots of powers and tweaks on the Samsung flagship. You can now add pages of widgets to the lockscreen to enhance the functionality of the lockscreen. There's a page with some apps to quickly launch, which is nice as it allows these low-priority apps to bypass the passcode lock if you have one enabled. If you just want to check Twitter, for example, and don't care if Twitter is a protected app with your phone's content through Android's password security, then you can launch it from the lockscreen quickly without having to unlock your phone. Don't place important apps in this launcher as it may expose you if someone gains access to your phone.
A widget that I appreciate for the lockscreen is called Communications and Notifications. It's like the BlackBerry Hub on BlackBerry 10 and aggregates all your messages–from Gmail to your Exchange email accounts, from Twitter to Facebook, from SMS to LinkedIn notifications. This allows you to see your messages and not have to deal about other Android notifications and is a nice way to glance at your messages and deciding if you want to dive into your email app to handle all those unread messages.
Aside from the lock screen, Samsung also added widgets to the drop down notification so you can toggle some of the most accessed settings. It's a nice tweak so you don't have to dig through the settings menu and allows for a more visual UI.
HTC One
Though HTC's lockscreen doesn't have Samsung's added features, and also lacks the clutter as a result, HTC brought its innovations to the home screen with a pre-loaded widget called Blink Feed. Blink Feed uses a tiles-based UI that's not unlike Flipboard or Windows Phone 8 and each tile shows a message, update, or notification from Facebook, LinkedIn, or Twitter. It's a nice visual way to stay in touch with your conacts and is more visually appealing than the preloaded Flipboard app on the Galaxy S4. Unfortunately, you can't disable or turn off Blink Feed, but I doubt many users would want to given its attractive UI and utility.
Advantage: Draw. This is a matter of personal preference on what aesthetic and design you value more.
3. Security
Galaxy S4
Samsung is approaching security from the enterprise side. If you're a corporate user and want your IT department to support your Galaxy S4 at work, Samsung is saying that its phones is perfect for the task with its SAFE and Knox security suites. SAFE allows users to add an Exchange email and a number of security-level enhancements on top of Android so that enterprises will adopt the Galaxy S4. And Knox is a feature that's intended as a direct challenger to the BlackBerry Balance feature so that the Galaxy S4 can have separate partitions for work and personal use. This way, your personal data is kept away from big brother at work and the sensitive work information can be nicely secured in case you lose your phone. At launch, Knox isn't available yet and Samsung says it will introduce the software at a later date.
HTC One
HTC is mainly relying on Google to provide the enterprise-class security measures. The HTC One does have an email app that supports Exchange email. HTC, unlike Samsung, is more focused on making sure that the phone is safe for kids to use and play with. Whether you allow your young ones to play with your own phone or if you give them their own One, the pre-loaded Zoodles Kid Zone apps makes sure that kids will only have content that's deemed safe and appropriate for them. It's similar to what Microsoft introduced on Windows Phone 8, and it's a nice feature to have to ensure that your child is safe on a smartphone. Kid Zone may not be available on all carriers. Xavier Lanier told me it's not on his AT&T branded device.
Advantage: Draw. It depends on how you use your phone. We find both Knox and Kid Zone to be equally useful features. We just wish we could have both and not have to choose.
4. Gestures & Smart Modes
Galaxy S4
Samsung is quickly proving that there is a gesture for that on the Galaxy S4. With touchless ways to interact with and control your phone, including hovering your finger over the screen to get more information through Air View, waving your hands over the front sensor to answer a call or scroll through webpages called Air Gesture, and Smart Stay, Smart Rotation, Smart Scroll, and automatically pausing videos when you're not looking at your phone, Samsung is letting you choose how you want to use your phone. There may be a learning curve for users who may be unaccustomed to the new additions Samsung has made, and intelligently Samsung knows not to intimidate new smartphone owners by creating an Easy Mode to ease the transition between feature phone and smartphone.
HTC One
HTC's gesture and smart support is nowhere near as robust as Samsung's. We do, however, prefer Car Mode over Samsung's Driving Mode as it presents a wholly skinned UI to keep users safe if they need to manipulate their phones while the device is docked. In Car Mode, you have large buttons, an HTC voice command UI that's accessible via a three-finger tap on the screen, and easy access to Google's Navigation app.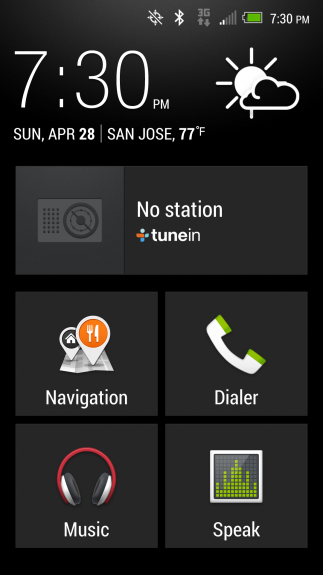 Advantage: Samsung
5. Camera
Galaxy S4
Samsung is equipping the Galaxy S4 with a rear-facing 13-megapixel camera that does decent low-light captures and in good lighting the camera can retain a lot of details. The highlight of the camera is that it's essentially designed with point-and-shoot owners in mind. You have readily accessible settings from the camera display–no deep diving into menus–and there is a mode dial so you can access the various scenes.
Samsung also added a number of cool features here. A dual-camera shot allows photographers to insert themselves into a photo or a video by capturing videos or photos with both the rear- and front-facing camera. It makes for great group photos where someone is usually left out of the picture cause they're the photographer and it also is useful with kids and pets as you can film your reaction to what you're seeing.
Other 'animated' modes include creating simple animated photos with GIFs and merging together a series of shots so you get one resulting images showing a time lapsed view of some action. In this Action Shot mode, you can show one image of–for example–a basketball player going in for the dunk to create the illusion of action through a flipbook.
Samsung also has a Samsung Storybook app that allows users to create digital albums with themed layouts of their favorite photos. Users can also order their favorite Storybooks to have a paper copy of the albums as well.
HTC One
HTC is leading its camera innovation with its Ultrapixel camera, which is a four-megapixel shooter with ultra large pixels. There is an optical image stabilization engine as well. All this results to is better low light photography without the need for a flash, similar to what Nokia is doing with its PureView 2.0 technology. And while images are surprisingly good, you do lose a bit of details by not having as many pixels. Dynamic range suffers a tiny bit, though this is hard to perceive on such a small sensor anyways, when compared to the Galaxy S4.
The really cool thing about the camera mode is the HTC Zoe mode. Instead of capturing just an instant, HTC Zoe captures a short video clip that's a few seconds long. And HTC not only allows users to create traditional slide shows, like on traditional Android phones, but pulls in Zoe clips and still photos to create an animated, themed video presentation with nice transitions, effects, and some background audio to go along with it. These Zoe videos can be shared, and are usually culled together by events, or dates. It's a nice feature if you have kids or pets, and can add life to still photos as well. I found myself pleasantly surprised by how fun and useful Zoe clips can be.
Advantage: HTC One
6. Entertainment
IR blasters, Peel-based remote control user interfaces for controlling your living room, and large 1080p displays are standard on both smartphones. Here's how some of the entertainment experiences differ:
Galaxy S4
Samsung is expanding the available content from Google Play with its own Samsung Hub, providing access to more TV shows, movies, music, and e-books. The problem with the Samsung Hub is still incomplete content, and the experience may be worse, with TV shows, than Google as seasons are missing episodes due to an issue with negotiating rights. If you can get over some of these quirks, the Galaxy S4 offers a nice way for owners to experience entertainment.
And if you're a video watcher, the hover Air View allows you to hover your finger over the screen in the video player to see clips of the video. Once you figured out where you want to fast forward to, tap on that point on the video progress bar and you'll jump there without any guesswork.
Smart features such as pausing the video when you're looking away and resuming video playback is a nice feature. The 1080p HD Super AMOLED panel is also improved for more natural and less hyper-saturation of colors.
If you're jamming to a song and want to share it with a friend who's sitting near you, you can do that so the same song can play synchronously between both Galaxy S4 devices. In this case, you can have it played where one phone serves as the left speaker and one phone serves as the right speaker for stereo song play, or you can have both phones play it as two speakers that are playing in sync with each other. This Group Play feature also enables multiplayer gaming as well. And if you have your own content stored at another location–like songs that are on your work computer, tablet, or PC at home, you can remotely access that same content from your phone while you're away through the Samsung Link app.
The last major entertainment feature on the Galaxy S4 is Samsung's Watch On app, which is built upon Peel's TV remote control software. Samsung added its own touch to the visual program guide that allows users to search for videos from different sources, including YouTube, Samsung Hub, on-demand from your cable provider, and the company says more sources are coming. If you have a Samsung TV paired on the same network as your phone, Samsung will even allow you–if you need to move from the living room where your TV is to the kitchen–to take your video with you on your phone. This placeshifting is a nice feature, though it's only limited to the same home network, so you won't be able to watch what's at home at your favorite coffee shop.
HTC One
HTC's entertainment feature is more limited than Samsung, though the company has thoughtfully included some nice enhancements to the experience. In Car Mode, for example, a pre-loaded Tune In radio app will allow users to find any radio station in the world to listen to. The pre-loaded HTC Watch app is similar to the Samsung Hub on the Galaxy S4 and allows users to augment content that's available on Google Play. HTC Watch is limited, however, to just videos, so you'll only find TV shows and movies, so it's not as expansive as Samsung Hub. The upside is that content on HTC Watch is more complete and TV seasons aren't missing episodes, though unlike iTunes you still cannot just download an entire season in one click and instead will have to purchase individual TV episodes.
The included HTC Media Share app works in a similar way to Samsung Link in that you can share media files over a WiFi network of PCs, TVs and other devices around the house. It's not as built out as Samsung's solution as Samsung allows your phone to be on 3G, 4G, or a different network and you can still listen to songs on either your home or work PC, for example. It's a remote, self-hosted cloud where the cloud is your PC's hard drive.
HTC also includes an FM radio tuner, though you'll need to use your headphones for the radio antenna for song playback. Going with the FM radio app, rather than the Tune In radio app will allow you save on data charges as Tune In is streamed over an Internet connection.
Combined with HTC's front-facing stereo BoomSound speakers, a full 1080p Super LCD 3.0 HD display, and Beats Audio technology, the HTC does entertainment in a nice way.
Advantage: HTC. Though Samsung has more features, HTC's features are more thoughtfully implemented.
Conclusion
We've dug more than skin-deep on design aesthetics, material choices, and construction, so hopefully after reading this review you've been able to narrow down the features that matter to you. We hope this guide has served its purpose in helping you choose a high-end device that will last you for at least two years, or the typical length of a wireless contract in the U.S. market. There are enough innovations on both devices that it's hard to go wrong with HTC or Samsung.
Josh Smith and Xavier Lanier contributed to this review. This article has been amended to reflect that the HTC One does support the USB on the go feature under the productivity section.