Samsung Galaxy S4 v. LG G2: What to Buy
Between the Samsung Galaxy S4 and the LG G2, we have among two of the best Android flagship phones on the market today, both coming out of South Korea. Both devices are proven multitasking powerhouses with the specs to back them up. And though consumers likely won't be making use of all the innovations that LG and Samsung each put on their flagship, these features represent a vision of automation where users may not necessarily have to control their smartphones through traditional means–mainly by finger and tapping on a touchscreen. So how do these powerhouses stack up, and is there even a clear victor in this battle?
Design
Both the LG G2 and the Samsung Galaxy S4 share similar design attributes–mainly a polycarbonate construction. Yet, don't dismiss these glossy plastic faces as what lies underneath the plastic chassis is where the power is.
Galaxy S4. Rather than reinventing the wheel, Samsung is choosing to update and evolve its Galaxy S3 design when the Galaxy S4 debuted in the earlier part of 2013. This means that we have a roughly similar design between these two generations of flagship phones. Impressively, though, Samsung was able to cram in a larger display in a similar footprint as the Galaxy S3.
To say that not much has changed between the Galaxy S3 and the Galaxy S4 would be untrue as looks can be deceiving. Though the changes appear subtle on paper, in the hands the Galaxy S4 feels instantly leaner and slimmer–not as bulbous as the Galaxy S3–due to straightened side edges and a slightly slimmer footprint. This is quite impressive considering all the new tech that Samsung's managed to cram into the Galaxy S4 from the Galaxy S3.
Still, Samsung has also managed to maintaining some powerful features for its flagship phone–a removable battery, a feature that's not available on the LG G2 nor on the rival HTC One, as well as access to a memory card slot. Connectivity to the fastest LTE networks in the land and a brilliant 5-inch full HD 1080p Super AMOLED display top off the specs sheet. Additionally, there is also an IR sensor for interacting with your device via gestures, and an IR blaster to control your home entertainment system.
LG G2. The LG G2 has undergone a more radical design change moving from the Optimus G to the G2 flagship in the series. Aside from the new naming convention, LG has also done something different here by moving the power and volume buttons, which are typically found on the side edges of a phone, over to the center back. The move, LG says, will make the phone feel more natural and ergonomic. According to the manufacturer, most users rest their index, or pointer, finger at that very spot anyways when they are holding the phone to their heads to make a voice call.
In theory, this should allow you to quickly manipulate the volume easily in the middle of a call by feeling your way around the rear of the phone. While the logic is sound, I am not sure I fully buy into LG's design decision here as it does take some adjusting to get used to having the power button on the back side of the device. Moreover, on a Lumia, iPhone, and Galaxy smartphone where the volume rocker is located on the side of the device, I had no problems feeling my way around the phone to quickly adjust the volume in mid-call.
And though the LG G2 share the same polycarbonate build with a shiny gloss as its chief rival, unlike the Galaxy S4 you won't have access to the battery. Though this isn't quite a big deal as battery life is generally good on the G2, power users or those who use their phones heavily in the field won't be able to swap batteries as their battery level depletes. However, a step better than the HTC One, the LG G2 comes with a micro SDXC card slot so you can always add more memory as your storage needs expand.
Additionally, in terms of specs, the LG G2 is very evenly matched with the Samsung Galaxy S4. The phone has a slightly larger 5.2-inch display with the same full HD 1080p resolution. However, LG utilizes an LCD IPS display, rather than Samsung's Super AMOLED for the technology. Though there is a lengthy debate over the merits of AMOLED and LCD screen technologies, I actually preferred Samsung's Full HD Super AMOLED panel over the LCD panel on the G2. However, that doesn't mean that the LCD IPS panel is inferior as the panel used by LG is still superb; it's just a matter of preference.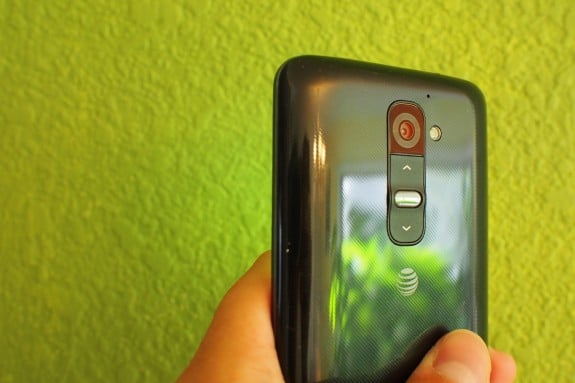 And like the Galaxy S4, the LG G2 benefits from snappy 4G LTE network connectivity, ample RAM, and and IR blaster used to control your home entertainment system. Where the LG G2 pulls ahead a little is in the processor department as LG's flagship, released later during 2013, comes with a newer quad-core Snapdragon 800 CPU versus a Snapdragon 600 on the Galaxy S4. In reality, you shouldn't notice much of a performance difference on either handsets despite Samsung's heavy customization–read: bloatware–on its Galaxy S4 which can cause some slowdowns in the OS experience.
Verdict. From a design and hardware perspective, both handsets are evenly matched in terms of build quality, specs, and design. Both are constructed of polycarbonate plastic though the Galaxy S4 benefits from having a removable back cover giving users access to the battery and memory card. The main difference from a hardware perspective is which display you like better, and that's the most visible difference as the differences in processors is not significant enough in every day use to warrant a debate.
Skilled Multitasking
When Apple introduced us to the post-PC revolution, it turned mobile users into single-taskers. To launch a new app, you'd have to close your old app. Apple later introduced push notifications and also the ability to run apps in the background, but that's not the same experience as you would have on a desktop Windows system where you can juggle multiple windows at the same time. Thanks to the phablet revolution that Samsung stumbled on, both Samsung and LG are getting customers to realize that you can do more and open more windows on a larger, but still mobile 5-inch display. The LG G2 and the Galaxy S4 both come with unique tweaks to allow apps to run simultaneously at the same time. We won't debate on the merits of trying to have multiple windows opened on a smaller display, but it's definitely a nice feature to have should you need it, and we're going to cover the differences in implementation here.
LG G2. Unless you're a power user, chances are you probably won't notice many of the hidden or embedded features of the LG G2. Though often overshadowed by rival Samsung, one of these features enables multitasking and makes the LG G2 a powerful computer. LG has implemented several different ways of handling multitasking, and though multitasking is still limited at this time, it beats what's available on other phones and most major tablets.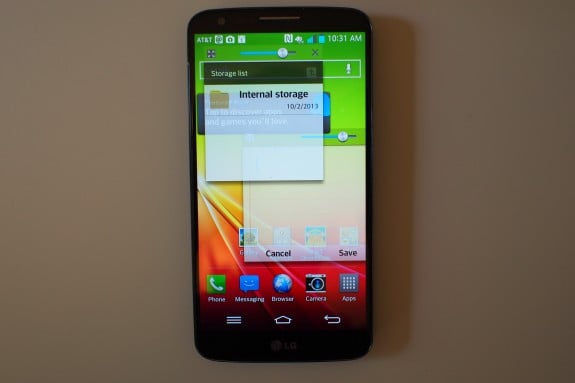 The first way is handled through floating, or cascading windows. This is similar to how you can run multiple windows inside systems based on Microsoft's Windows 8 or Apple's OS X. Here, you can open QSlide Apps on LG's G2 and resize the windows as well as move them around on the 5.2-inch full HD display. Additionally, you can adjust the transparency to see through the floating apps. Essentially, you can run two floating apps and a normal app in full screen and the transparency factor will help you juggle between the two smaller windows and the larger full screen window.
The second way is akin to minimizing apps to the dock or task bar on OS X or Windows. Using a three-finger swipe from the right edge towards the center, apps will be minimized and you can have quick access to those minimized apps by swiping using the same three-finger gesture from the left edge towards the center. It's another way of handling Android's multitasking and the more consolidated method, which limits to three docked apps, makes it convenient to juggle several tasks at the same time without being inundated with all opened apps that Android multitasks with.
Whereas QSlide Apps and Samsung's multitasking implementation only works with a limited number of apps, the minimized dock method works with all standard apps, even those installed through the Google Play Store.
Galaxy S4. On the Galaxy S4, Samsung's Multi Window View has garnered the most attention in the media with the way that it juggles two apps simultaneously side-by-side. Samsung's implementation is akin to Windows 8 and how users can snap two Metro UI apps together. It's elegant and you can adjust how much space each app occupies when sharing the same 5-inch display on the Galaxy S4.
Rival LG did bring Samsung's Multi Window View to its LG G Flex, and we're postulating that a future firmware upgrade will bring a similar capability to the LG G2. On the G Flex, you can activate Multi Window View by pressing and holding the back button.
Verdict. LG's implementation for multitasking is often overlooked as Samsung usually gets most of the spotlight. However, LG does have a more robust system if you need it all. Both multitasking systems expand beyond Android's system of running a single app at a single time while allowing opened apps to remain operating in the background. Both LG and Samsung expand this by allowing apps to run simultaneously, giving the phones a more PC feel. However, LG seems to pull ahead and offer a little more variety if you can learn, remember, and adapt to the gestures.
Camera
Cameras have not only quickly improved on smartphones, but the small photographic modules are now a staple of measuring smartphone performance. This is due to the fact that for many people, smartphones have become a ubiquitous part of life and as they say the best camera is the one you have with you. So which of these phones offer the better camera experience?
LG G2. The LG G2 camera is one without many hidden menus, but on the Verizon model which we have on hand, there are a lot of convoluted settings. You have an Intelligent Auto (iAuto) mode, various scenes mode, and shot modes that occupy the left hand interface along with the normal buttons for shutter, jumping to the gallery, and switching to video recording. Though using the camera is simple enough in iAuto mode, for new consumers who are just stepping into photography, having all the scenes and shot modes and having to juggle between the two may be a bit overwhelming. LG could use more work on the UI.
Once you step beyond the UI, the camera is easy and a joy to use. A 13-megapixel camera sensor coupled with optical image stabilization makes this one of the better smartphone cameras out there. The technology allows the camera to function admirably well in low light situations–even without the assistance of the single LED flash on the rear–and videos benefit from not being shaky.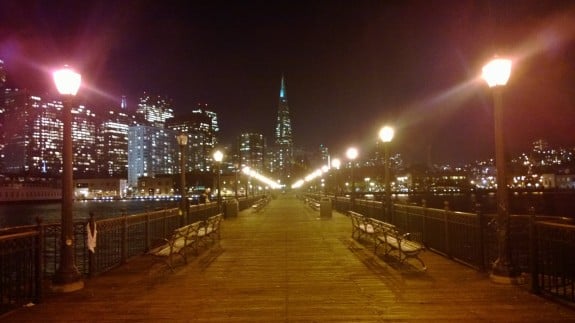 In normal daylight, the G2 also is capable of retaining a great amount of details thanks to the 13-megapixel sensor. We were generally impressed with the G2's camera and OIS places the device on a short list with the likes of the HTC One and high-end Lumia phones from Nokia.
Galaxy S4. The Samsung flagship shares a similar 13-megapixel shooter as its chief South Korean rival, however the Galaxy S4 lacks the optical image stabilization mechanism that benefits the G2. Thanks to Samsung's experience with cameras, we're seeing more scenes modes hit the Galaxy S4 and the overall camera UI is attractive. Samsung is moving to combine expertise in mobile phone development with camera development so likely over time, we'll see more intuitive camera menus.
On the Galaxy S4, you'll find a bunch of options as well, some of which can come in useful. My favorites are the live filters, which gives your photos an Instagram-like effect to your images when you're taking them, as well as a dual-shot mode that uses the front and rear-facing cameras at the same time to put you in the same photo or video. This way, you can take a group shot and place yourself in the scene as well.
The 13-megapixel camera sensor retains a lot of details and it's performance generally was good. In daylight, you have strong performance. In low light situations, the single rear LED flash was bright and works great in illuminating people while still retaining the mood of the scene, for those late night portraits at restaurants and bars.
Overall, consumers will have a lot of fun with the Galaxy S4's camera, though inherently most of the pre-bundled camera features can be accomplished via a third-party app.
Verdict. Both LG and Samsung are delivering strong cameras with strong performance to match, but again LG edges out Samsung a little with the inclusion of optical image stabilization, making for better low light performance without the need for a flash.
Conclusion
Samsung has met its match in 2013 with LG. Never before have we seen Samsung's flagship features matched or bested by any of its competitors and in the G2, LG has managed to edge out Samsung's Galaxy S4 in a number of key areas, including inclusion of advanced features that paves way for better multitasking, an elegant UI with a home screen that's equally adept in landscape and portrait orientation, smarter software that takes advantage of all the cameras and sensors, and a camera with optical image stabilization.
Samsung does have some key features that LG doesn't bundle with its phones. S Health is a central app that integrates a food log and pedometer on the Galaxy S5 and the Samsung Hub is yet another means to get digital content onto your device if you've already bought into the Samsung ecosystem for your other computing or home entertainment needs.
Regardless of the phone model you pick, there's a lot to love, but don't dismiss the G2 given Samsung's more robust marketing push in the U.S.