Samsung Galaxy S4 vs. HTC One (M8): 5 Key Differences
Now that the new HTC One (M8) is finally here and readily available from most U.S. carriers and already making the rounds in TV ads, it's starting to gain attention and traction from consumers and potential buyers.
Those looking to buy a new smartphone may be considering a lot of options, and here we'll compare the latest from HTC to Samsung's flagship Galaxy S4 from last year. With the Galaxy S5 release date close approaching, the Galaxy S4 will soon be getting a price drop so consumers will really have multiple excellent options next month.
Read: 5 Ways the New HTC One Beats the Galaxy S5
Samsung's Galaxy S4 is no slouch, even though it was released nearly a year ago, and here we'll be comparing what the all new HTC One (M8) has to offer and how it compares to Samsung's previous generation. They're both excellent phones, and below is five key differences potential buyers will want to know before they make a purchase.
With the new HTC One (M8) going on sale this week online, and in stores April 10th, consumers are likely looking for more details while considering all of their options. Not to mention possible future phones like the iPhone 6 or LG G3.
With the phone just being announced we haven't had enough time for a full review or can compare it to the Galaxy S4 as a whole, we can point out five or so differences between the two. These are key differences that potential buyers will want to consider and keep in mind when spending the $600+ for the phone, or signing a new 2-year contract.
Design
The biggest difference initially, is the design. Then we'll move into software and price later. The biggest difference the HTC One (M8) will have to offer over nearly every other Android device released this year will be the impressive build quality, and all aluminum design.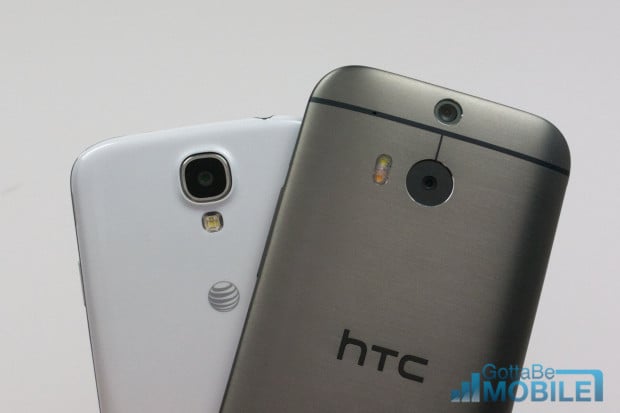 HTC's new brushed aluminum Gunmetal finish is simply stunning. While the phone comes in silver and gold, the Gunmetal is a piece of work. It's hard to explain but it looks and feels right. The aluminum doesn't feel as hard or rough in the hands as the original HTC One either, for what it's worth. The curves are smooth and the edges round. Nothing can compare, expect for maybe Apple.
Flipping the script a bit we all know Samusng's received heavy criticism for the continued use of plastics on its phones. That being said, some love it, and some hate it. The Galaxy S4 is thinner, lighter, easier to hold, won't slip from your grip as easy, and certainly doesn't show noticeable scratches as easy as aluminum. Samsung does have a nice ring of metal around the edges to keep the frame durable and protected from drops, but that's about it on this otherwise plastic device.
Holding both of these phones the HTC One certainly feels better and more expensive. It's also a lot heavier and may take some getting use to. Not only that, but the device is actually bit longer too. Many buyers love that premium feel, but we can't help but think some Samsung owners can appreciate the lightweight and durable plastics on the Galaxy S4.
One huge part of the design which makes for an excellent feature, is the front facing speakers. Samsung actually beat all manufacturers to this with a few of its tablets, but then stopped the awesome idea. HTC took advantage, and has the best speakers on any smartphone we've ever used. In the end though, there's one clear winner here with design. No surprises, that's HTC. While both phones feel excellent and durable, the all aluminum frame and design of the HTC One (M8) can't be beat, at least not by Samsung.
Software
The second major difference you'll notice and something buyers will want to look into, is the software. While both of these phones are running Android 4.4 KitKat (well, most Galaxy S4's) they are extremely different all around. Samsung's TouchWiz UX has plenty of advantages, but so does HTC Sense UI 6.0 which is brand new with the HTC M8. The icons, settings, colors, options, and advanced settings are all different here. Both manufacturers add features with their Android skin (software overlays) so check them out below.
While Sense hasn't been our favorite in the past, it's slowly but steadily getting better with each new generation. Sense 6 is much improved, we finally have on-screen buttons, and Android 4.4 KitKat offers fullscreen immersive mode. The phone is fast, fluid, and the changes aren't too extreme.
Blinkfeed delivers content unlike most Android phones, and is something that buyers will love, as is HTC Zoe. Zoe makes short production-style feature films from the pictures and videos on the device, and you can make your own. It's neat, but we'll need more time with Sense 6 and the HTC One (M8) before we say too much.
Above is a look at Android 4.4.2 KitKat on the Samsung Galaxy S4 from AT&T. Most Galaxy S4 units around the globe have KitKat already, so this is a representation of what most users are enjoying. Samsung has its usual array of motion controls, S-Health and S apps, remote control features with the IR blaster, and much more. Samsung's had a similar look and feel for a few years now, and many buyers will know what they're getting into.
Personally, I prefer stock Android and have a Google Play Edition Galaxy S4, but the battle between TouchWiz and Sense will play out over the next few months as the HTC One (M8) and Galaxy S5 hit the streets in April.
Software updates are important. In the past this battle would go to Samsung, but lately HTC has been pushing hard for timely updates, not to mention is more transparent on the process and timing vs Samsung.
Specs
Both of these phones are extremely powerful, not to mention Android 4.4 KitKat is designed to run on the lowest of Android phones. This means performance will be excellent either way, but users should still know what both have to offer. HTC has the latest and greatest gear, which beats the year old Galaxy S4, but not by much. This won't play a huge role in a buyers choice. As the software and price should probably be the deciding factor.
HTC One (M8)
5-inch 1920 x 1080p HD display
2.3 GHz Quad-core Snapdragon 801 with 2GB RAM
32GB internal storage (Micro-SD expansion support)
4 Ultrapixel camera (new second Duo Camera) and 5MP front, dual flash
Android 4.4.2 KitKat with Sense 6
Front facing speakers, infrared port for remote
2,600 mAh battery
Samsung Galaxy S4
5-inch 1920 x 1080p HD display
1.9 GHz Quad-core Snapdragon 600 with 2GB RAM
16GB internal storage (Micro-SD expansion included)
13 Megapixel camera, 2MP front shooter, single flash
Android 4.4.2 KitKat with TouchWiz UX
Single rear speaker, infrared port for remote
Hardware home button
2,650 mAh battery
The new Snapdragon 801 is faster, more efficient, sips battery, and charges faster with Qualcomm Quick Charge 2.0. It employs a much faster and more powerful graphics card. Meaning games and graphic intensive apps will be better on the HTC One (M8) but overall the specs are close. The Snapdragon 801 is actually two steps above Samsung's Galaxy S4, but average users won't notice a huge drop in performance. Both phones are silly fast, and run excellent.
After our full review we'll be able to compare the specs more regarding battery life, screen expectations, and the new Duo camera on the HTC One (m8). For now though, both are pretty impressive, but of course the new HTC One M8 is the clear winner here under the specs category.
Price
A major deciding factor for most of the public will actually be the price. The HTC One (M8) aluminum may look gorgeous, but can you justify spending the extra cash on it? That's something consumers will need to decide themselves. Currently the HTC One (M8) is $199 for the 32GB model with a new 2-year contract. Or buyers can purchase it outright, no contracts, for anywhere from $599 with Verizon, to $639 and $649 on AT&T and Sprint. There's also a stock Google Play Edition coming soon for $699.
On the other hand, Samsung's Galaxy S4 is about to be replaced by the new Galaxy S5. So while we've already been seeing it sold for $99 with a new 2-year contract for months and months, users can expect it to drop even more once the Galaxy S5 arrives on April 11th. Some users have even snagged one for $49.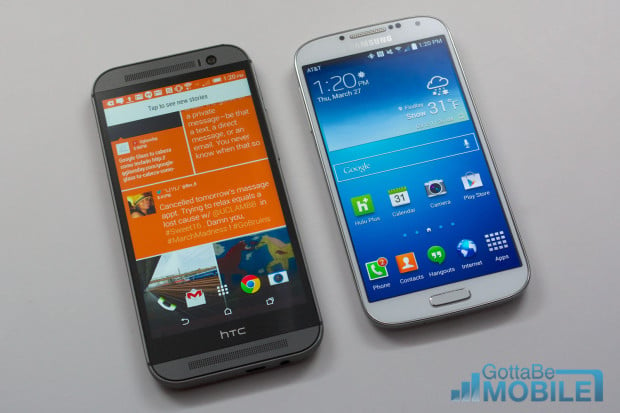 The Galaxy S4 is obviously cheaper, both with a contract and outright, but the HTC One (M8) will likely have the longer life-cycle. Any way you look at it you can get the Galaxy S4 for less, so this is a choice you'll need to decide. The GS4 is still a top-tier smartphone, but it is approaching the year old mark. Things move fast in the technology world. Don't forget carriers are also offering pay as you go $25-27 for 24 month plans on the HTC One (M8), which could help you get into a new phone without spending as much as you thought.
Carriers
The last major hurdle and deciding factor between buying the HTC One (M8) and Samsung's Galaxy S4 will be carrier options and availability. The HTC One (M8) is brand new, and only on Verizon, AT&T, and Sprint, at least for now. We expect T-Mobile and US Cellular to offer it come April 10th. That being said, the Galaxy S4 is on every major US carrier, and almost every smaller regional carrier as well. We're talking US Cellular, Metro PCS, Cricket, AIO, and more.
The options and availability are much greater for the Galaxy S4, but we expect the HTC One (M8) to arrive on more and more carriers as the summer months progress.
Final Thoughts
In the end trying to compare these phones, not to mention suggest which one a consumer should buy is tough work. They both offer excellent experiences and top tier hardware. Both manufacturers are dedicated to software updates, and both have awesome 5-inch HD screens and excellent cameras.
At the end of the day the HTC One (M8) is aiming for the Galaxy S5 and iPhone 6, but could sway some potential budget buyers to get into the latest and greatest too, rather than snagging an on-sale Galaxy S4. You can't go wrong with either one, but will need to decide this one for yourself. Prospective buyers will want to consider the price, software, and designs mentioned above before making a choice.

As an Amazon Associate I earn from qualifying purchases.