Samsung Galaxy S4 with LTE-Advanced is Ready, U.S. Carriers Aren't
A version of Samsung's popular Galaxy S4 will ship with compatibility for next generation LTE-Advanced technology.
That's according to the company's Co-CEO JK Shin, who spoke with Reuters on the subject this week. According to estimates from Samsung cited by the outlet, a Samsung Galaxy S4 with LTE-Advanced instead of standard LTE could have movie downloads that wrapped up in as little about a minute. A movie of that same exact size would take about three minutes using today's LTE data technology.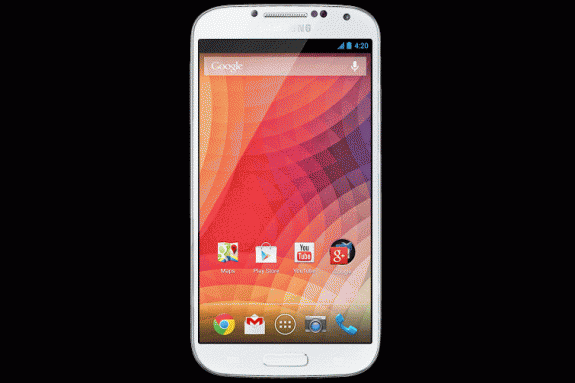 The company has plans to make the upgraded Galaxy S4 with LTE-Advanced available in South Korea this month. It remains to be seen if the device will see carrier adoption in the United States due to the network upgrades that it requires. Both Sprint and T-Mobile have only just began to cover a significant amount of users with LTE. Though both Verizon and AT&T do have large LTE networks, Verizon has already announced plans to introduce LTE-A sometime in 2014. By then Samsung may already have another flagship.
Read: Verizon Next-Generation 4G LTE-Advanced on the Road Map
According to the report, network upgrade costs aren't something that's lost on the executives at Samsung. The company's telecommunications arm is already expecting that pushing the new LTE-Advanced could result in higher income from mobile carriers looking to be among the first to provide the service to users.
Shin also took the opportunity to talk about the sales of the Galaxy S4 that is currently available to consumers. According to Shin, "S4 sales remain strong. It's selling far stronger than the S3 did".
Read: LTE-Advanced: Faster Data Speeds, But Will Require Even Larger Phones
"The new LTE-Advanced phone will be another addition to our high-end segment offerings that ensure healthy profit margins". That's interesting since analysts had lowered their forecasts for sales of the Galaxy S4 on the belief that the high-end smartphone market had begun to approach the point of market saturation.
Once a market becomes saturated, it's theorized that Samsung would have a harder time making sales as it would have to rely more on the upgrade cycles of users than attracting new smartphone converts. It's this belief that's also effected Wall Street's assessment of Apple's iPhone 5 sales as well, which have also began to show signs of slowing down.

As an Amazon Associate I earn from qualifying purchases.