Samsung Galaxy S5 Ad and Galaxy Note 3 Selfie Wins the Oscars
While Leonardo Dicaprio sadly missed out on another chance to win an Oscar during the annual award show this weekend, there's still plenty to talk about from a technology and mobile perspective.
If you watched the Oscars then you all know who the real winner was. Samsung of course. The company had sponsored devices all over the red carpet, including a Galaxy Note 3 being used by the host throughout not only the entire show, but for what is now a very popular selfie photo. Not to mention a slew of well-placed ads for the entire Samsung Galaxy lineup, including the just announced Samsung Galaxy S5.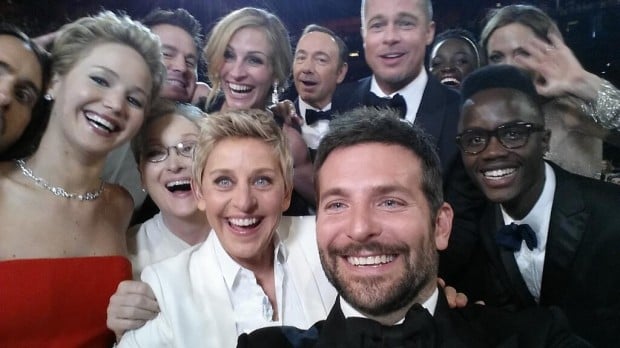 According to Twitter Samsung won the Oscars all around. Of course the ads for the Galaxy S5 and later the Gear 2 smartwatch were perfectly timed, but it's the Ellen DeGeneres selfie photo that is getting the most attention. A center of attention Galaxy Note 3 was used by the host to capture what is possibly the best selfie photo ever. Snapped by Bradley Cooper.
Everyone from Ellen, Jennifer Lawrence, Julia Roberts, Brad & Angelina, Meryl Streep, and even Mr. Underwood himself, Kevin Spacey. Too bad the Note 3 doesn't have a wider lens, because the photo missed a few.
https://www.youtube.com/watch?v=rhvaAEcRz-Q
According to FoxNews and Twitter the selfie actually broke Twitter for roughly 20 minutes, and has since received almost 2.8 million retweets in less than a day. That's nice and all, but the Samsung Galaxy Note and selfie photos are nothing new. What is new? The Samsung Galaxy S5, which made its first appearance in a brand new ad-spot or two, which we have for you below.
https://www.youtube.com/watch?v=nKuVnYntDvA
Samsung was teasing the upcoming ad campaign, but no one expected two well timed ad spots and the selfie to take over the Oscars. Here's a few more brand new commercials of the Samsung Galaxy S5, Gear 2, and the entire family of devices provided by Samsung Mobile.
https://www.youtube.com/watch?v=PmF-1WGwdhw
https://www.youtube.com/watch?v=0bmkigBxBqE
Everything from the Galaxy S5 to the Tizen-powered Gear 2 smartwatch made an appearance last night from Samsung. The company is certainly coming on strong here in 2014 as it prepares to launch the Galaxy S5 early next month.
Read: 5 Exciting Samsung Galaxy S5 Features Worth Talking About
So far we're hearing the Galaxy S5 will land in the first few weeks of April across multiple US carriers, possibly around or before April 11th. The same date has been tossed around as a global launch for the new Gear 2 and Gear 2 Neo smartwatches, as well as the Samsung Gear Fit smartband.
Samsung has a lot planned for 2014, and it's obvious already they'll be front and center for consumers to see in everything from the Super Bowl, NBA games, Oscars, and much more. We'll update the moment we have more details regarding the Galaxy S5 US launch date.

As an Amazon Associate I earn from qualifying purchases.