Samsung Galaxy S5 Google Play Edition Release Imminent
After months of waiting the Samsung Galaxy S5 is finally here, but there are still multiple questions that need to be answered. One of which being whether or not a Google Play Edition Galaxy S5 will be released.
Last year Google and Samsung surprised many Android users and enthusiasts by releasing a Galaxy S4 Google Play Edition offering stock Android as Google designs it, rather than Samsung's interface changes and overlay. It was the first device of its kind, and has since been followed by similar offerings from HTC, Motorola, Sony, and even LG with the G Pad 8.3 tablet.
Read: Why the Galaxy S5 Google Play Edition is Worth Waiting For
The all-new HTC One M8 was announced and released at the end of March, and from day one a Google Play Edition was promised and eventually released. For those who love the HTC One M8 or Galaxy S5 designs and features, but don't want their respective manufacturers software, Google Play edition devices are the perfect solution. Samsung and Google have both been silent regarding a Google Play edition Galaxy S5, but today we got our first hint that it is coming soon, and a release is imminent.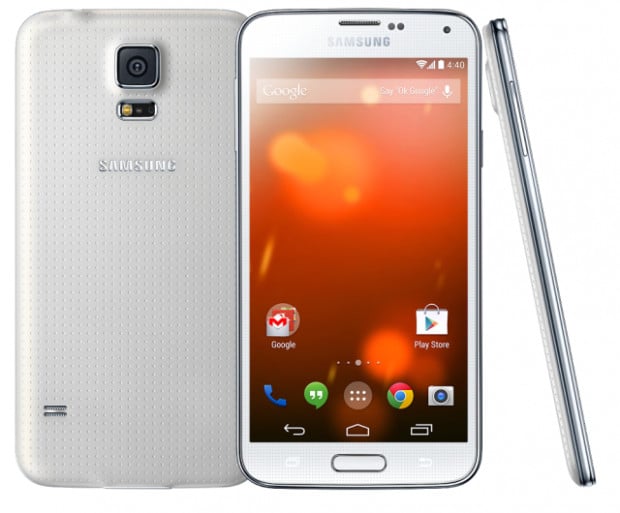 There's an ongoing debate with many Android users and enthusiasts as to whether or not manufacturers like Samsung and HTC should offer all owners a choice to use stock Android how Google designed it, or with the custom changes like Samsung's TouchWiz UX or HTC Sense. They both have pros and cons, and the answer to that is offering Google Play Edition phones.
The benefit of buying a Google Play Edition device is the software on board, and a promise of quick and timely software updates. The Samsung Galaxy S4 Google Play Edition was updated to Android 4.4 KitKat back in November, yet the regular Galaxy S4 from carriers didn't start receiving the same until February. Verizon's Galaxy S4 received Android 4.4 KitKat last week, nearly 5 months later than a Google Edition device.
Those who'd like to have the latest and greatest software, and fast updates, have the choice to choose Google Play edition devices, and one that many are hoping will be released is the Galaxy S5. So far there has been zero word from Samsung or Google whether the Galaxy S5 will be available, but today the Google Play Store gave us our first hint. The photo above and below are both right from the Play Store. It clearly shows the Galaxy S5 running stock Android, but the listing is still for the Galaxy S4.
Again, no announcement has been made that the Galaxy S5 Google Play Edition is real, but given the teaser today on the Google Play Store, the release is surely coming any day now. For some reason Google switched out the image on the Galaxy S4 listing with a Galaxy S5, which is either a giant mistake, or Google simply teasing fans ahead of the announcement.
At the moment it appears that a Google Play Edition Samsung Galaxy S5 is indeed real and coming soon, but we have no idea when it will actually be available. Most likely the delay was in order to get the fingerprint sensor technology all working with stock Android, as well as a few other enhancements of the Galaxy S5, and a release could be coming later this week.
The Galaxy S5 Google Play Edition will be the same 5.1-inch 1080p HD smartphone available today. The only changes will be the software on board, and all features like the 16 megapixel camera, heart rate monitor, water resistance and more will all be included.
Read: 5 Best Wallet Cases for the Samsung Galaxy S5
As a reminder the Google Play edition devices won't work with Verizon, but for those on AT&T and T-Mobile this is an excellent alternative to the regular option available from your carrier. If stock Android and fast updates are important to consumers, this is one phone worth looking at once it arrives.
Google hasn't announced the phone, and we've yet to hear back from Samsung regarding a Google Play Edition Galaxy S5, but all signs are pointing to it being available sooner rather than later.
The Samsung Galaxy S5 launched around the globe on April 11th and has been available for a few weeks, and it looks like one more option could be arriving in the very near future for smartphone buyers. Google Play Edition devices usually come at a price, and we're assuming this will retail for $649-$699. Expect more details to be announced soon, and we'll update the moment the Galaxy S5 Google Play Edition goes on sale.

As an Amazon Associate I earn from qualifying purchases.