Samsung Galaxy S5 Hands-On Video
The wait is over as Samsung took the stage at Mobile World Congress and unveiled the fifth generation of it's flagship smartphone. After months of waiting and speculation here it is, the Samsung Galaxy S5.
This latest smartphone from Samsung comes with a collection of new features, improvements from the previous generation, and a brand new design around back. While many of the rumors of a 5.2-inch QHD display turned up false (for now) not to mention reports of an aluminum design, this is still one of the best Galaxy devices yet, and we have plenty of pictures and video below.
Sadly there's hardly any changes in terms of the general design, but Samsung's doing what works. While many were hoping for a radical new design with front facing speakers and something completely different, the Galaxy S range is extremely popular, and they've continued to improve it with each and every release. We didn't get everything we wanted, but a few minutes with the device will have many extremely excited and pleased with what Samsung has released.
To sum things up we have a bigger display, better camera, faster internals, a new fingerprint sensor and heart rate monitor, and a tweaked design around back. That said, there's plenty of other hidden gems you'll still be extremely happy about. Things like IP67 water resistant out of the box, low-power modes to save battery, an IR blaster and more.
Design
Something that wasn't totally unexpected, was the design, as Samsung stuck to what they knew. They could be hesitant to try something new, and we don't blame them, but these days many were expecting more. This device in every way, shape, look, and form is a Samsung Galaxy device. We have the same look on all sides, the all too familiar dedicated home button, and the camera bulge on back.
The biggest difference won't be the screen size or the camera, but the design on back. Samsung's replaced the cheap and shiny plastic with something more casual. We're still using plastic, no aluminum sadly, but the soft-touch textured design is rather nice. It looks and feels like the original ASUS Nexus 7. My first thoughts were quite negative, but once you hold the Galaxy S5 you'll love the feel. It's the best feeling Galaxy device I've held yet, and actually is rather durable in the hand while remaining lightweight.
Everything remains the same here from the Galaxy S3 and the Galaxy S4. The power and volume rockers remain unchanged, the camera and flash are smack dab in the middle on back, and the speaker is on back. This was something I was really hoping to see change, but nope, Samsung still has a tiny, unassuming speaker setup.
The device is actually a bit thicker and heavier than the Galaxy S4 flagship from 2013, coming in at 8.1mm and heavier at 145 grams, but with a bigger battery and water resistant features many won't complain.
While enthusiasts may be quick to hate on Samsung, making this device waterproof is a huge feature that many are simply choosing to ignore. In closing the design is extremely similar, the screen is barely any bigger, but overall the device is larger. The bezels are pretty fat around the display, and it's a bit heavy for a Samsung device. Mixed feelings, that's for sure.
Specs
The specs, while not as extreme as rumors had us believe, are still rather nice. Starting with a 5.1-inch 1080p display running Android 4.4.2 KitKat, you'll instantly notice the big bright display and fast speeds. This phone is blazing fast and smooth. We have an unknown 2.5 GHz quad-core processor and only 2GB of RAM, most likely a Snapdragon 800 or 805 from Qualcomm.
Read: Galaxy S5 Announced: Here's What Buyers Need to Know
The Galaxy S5 will come in 16 and 32GB configurations, sports a micro-SD slot for user expandable storage, and is paired with a new and seriously improved 16 megapixel camera on the rear. A camera which takes amazing photos, has one of the fastest and most accurate auto-focus sensors I've ever used, and even lets you change focus points. It's pretty impressive.
No device is waterproof, but the Galaxy S5 is IP67 water resistant up to 1 meter. It will handle drops, splashes, or if you fall in the pool. Thanks to an irritating flap on the micro-USB (USB 3.0 by the way) charging port on bottom, it will keep the water out in case of emergency.
We have 802.11 ac Wifi, with MIMIO (2×2) for faster data input and output, Bluetooth LE 4.0, NFC, and we can't forget the IR port for using Samsung's remote control app. Then another underwhelming spec (considering the competition) is the 2,800 mAh battery. It's 200 mAh higher than last years model, running a more efficient processor, so should get substantially better battery life. That being said many devices in 2013 came with 3,000 mAh or bigger in similar sized devices, so this was disappointing.
Then the last two major inclusions is a fingerprint scanner built into the home button, which requires a quick swipe to use, and a heart rate monitor on back by the camera flash. Similar to the iPhone 5s the Galaxy S5 can be secured with a fingerprint, not to mention open dedicated apps with it, but we'll have to see how this is in real-life to get a better idea of what to expect.
There's no metal design, 2K display resolution, front facing speakers, or any crazy eye recognition tech from rumors, but don't let that fool you. This is still one of the best Galaxy devices to date, and will please millions of customers.
Camera
As mentioned above the camera received a major overhaul. Pixels aren't everything but the 16 megapixel camera seems rather impressive. Snapping photos in the poorly lit Samsung studio returned excellent results, and the 0.03 second auto-focus was generally on point, and extremely fast. It's a noticeable difference, one users will enjoy.
Samsung's new Galaxy S5 also shoots in full 4k resolution, has an improved HDR mode, and the new "selective focus" feature lets you change depth of field after you snap a photo. That's neat. While we talk about the camera, there's one more thing worth mentioning. The dual-LED flash doubles as a heart rate monitor. Yes you read that right, a quick scan of your finger will give you an accurate reading in the S-Health app.
Software
We'll need much more than a few minutes with the new Galaxy S5 to get a good feel for the software, but initial impressions are favorable. Of course we're covered in TouchWiz UX over Android 4.4 KitKat, and many aspects are completely flat in design, similar to iOS 7. The pulldown bar quick shortcuts are nice, but the settings menu is a mess if I don't say so myself. Everything is laid out in a flat iOS type design with round icons in a grid view. For those familiar with Android's settings menu, this'll take some serious getting use to.
Thankfully you can switch it back to list view, which helps, but all the usual Android-esque settings icons are completely gone.
However, Samsung has some neat new features in the software that could be extremely useful. There's a new super dim screen mode that will allow the screen to dim lower than most devices on the market, which could save battery in those important moments. That isn't all either. The battery is decent being 2,800 mAh, but when you really need it the new Ultra Power saving mode is actually one of the key things that stood out to me.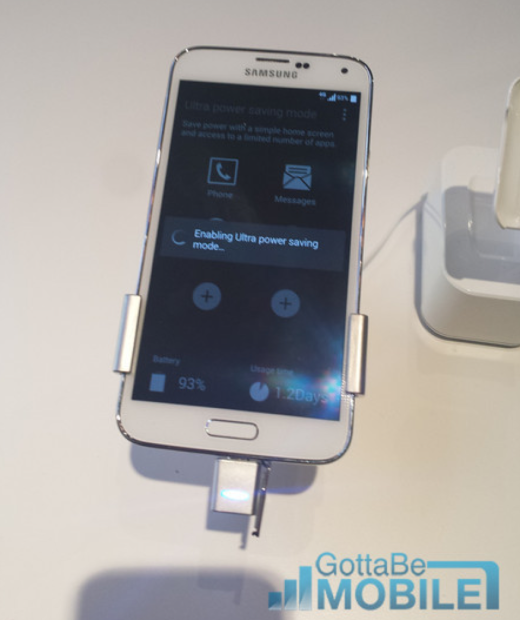 Turning on the Ultra Power saving mode essentially turns the Galaxy S5 into a 5-inch feature phone for calls, texts, and browsing the web, all with a large black and white display. It's an extreme low-power state, and Samsung claims with 10% battery left it can last 24 hours in standy. As in not being used. If you're down to that last 10-15% and need another 6-8 hours of calls and texts, this should get you through it minus all those "smartphone" features.
It makes perfect sense, although I'd gladly take a bigger battery at the same time. Samsung also integrated a new Private Mode. This lets you keep pictures, music, video and even voice or documents behind a secondary password and away from prying eyes. But this won't stop those friends and family from swiping right or left in the gallery while you're showing off pictures, you can't fix that.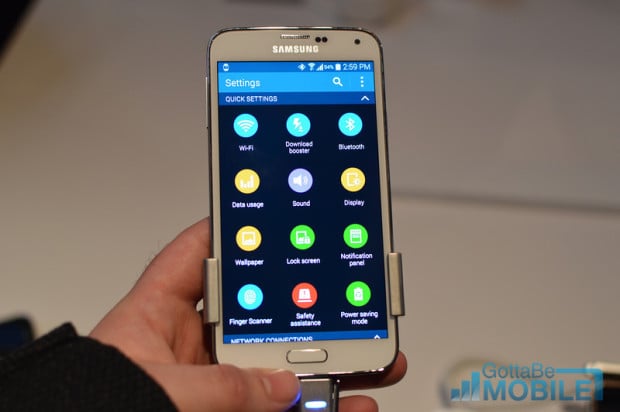 Final Thoughts
There's a biometric fingerprint scanner for security, a heart rate monitor, it's completely water resistant, a seriously improved and faster camera, the latest version of Android, an improved design (even without metal), and received a bump in specs across the board. It may not be the "next big thing" or groundbreaking radical change some were expecting, but Samsung still has a winner here. At least from our first initial few minutes with the device.
It feels better than any Galaxy S device I've used to date. The size is barely noticeable yet we receive a better device in every sense of the word over the Galaxy S4. All while getting the things mentioned above in nearly the same package. So again, it isn't revolutionary, but it's certainly an evolutionary step and the best Galaxy S smartphone to date. Samsung stuck to what they knew. It's hard not to think of Apple's minimal changes in regards to updates with the S5, but there is still plenty to love, and plenty of features customers should want.
The Samsung Galaxy S5 is reportedly arriving April 11th, but that date isn't 100% confirmed by Samsung. We were told early April here in NYC, and will find out more shortly as US carriers announce dates. We have plenty more pictures and videos coming soon so stay tuned for more details and comparisons.

As an Amazon Associate I earn from qualifying purchases.