Samsung Galaxy S5 Prime Details Emerge
In the weeks and months leading up to the Samsung Galaxy S5 reveal and launch back in February, reports and rumors were running rampant talking about all sorts of crazy specs and features that never made the cut.
Since the announcement and release of the Galaxy S5 around the globe in early April, a few details have started to once again surface about a different Galaxy S5. Before the release all the rumors were about a crazy 2560 x 1440 Quad-HD display, a brand new design with a unibody aluminum frame, and possibly even a curved AMOLED display like the Samsung Galaxy Round.
Read: Samsung Galaxy S5 Hands-on Video
Sadly the bigger rumors never came true. The Galaxy S5 arrived with tons of awesome features, a stunning camera and beautiful 5.1-inch 1080p HD display, but most of the rumors had everything wrong. That said, new reports have continued to arrive that a new Galaxy S5 Prime is still in the works, and coming later this year.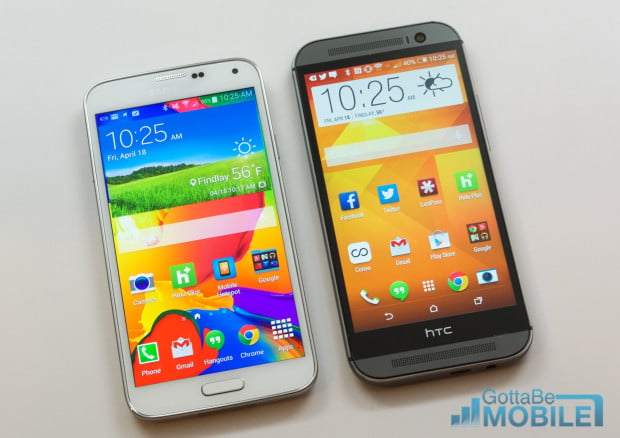 New rumors are starting to emerge at an alarming rate that a brand new variant is coming, one which could potentially trump the current version available today and selling by the millions. It's being called the Samsung Galaxy S5 Prime, and could arrive late this summer or in the early fall.
We've seen the name "Galaxy S5 Prime" turn up in multiple benchmarks, shipping manifests and even a few other random places. What exactly the Prime is still remains to be seen, but if all the reports tell us anything, it's that this device is coming soon.
This week we received another major hint towards what exactly the Samsung Galaxy S5 Prime could be, as well as a confirmation that it indeed is coming soon, and will at least launch in Korea. Thanks to the always accurate evleaks we know it's coming in at least five colors.
Confirmed as the Samsung SM-G906 the "Galaxy S5 Prime" for Korea will arrive with the same colors as the original, as well as a few more. His tipster confirms Black, White, Blue, Gold, and Sweet Pink. This basically confirms the device is real, but that's all we have thus far. The details and real information is still quite scarce.
Users and prospective buyers are looking for any sign that this device is real, or that it could arrive in the United States, but sadly nothing of that sort has arrived. This is the first major leak revealing the model number for Korea, and we're hoping a few US models or US carrier branding makes an appearance sooner rather than later.
Read: LG G3: 5 Must Have Features to Take on the Galaxy S5
The new Samsung Galaxy S5 Prime is rumored to come with a few stunning specs and features we wanted the first time around. Those include a newly redesigned smartphone with a brand new shape, subtle curves, and possibly a device largely made out of a durable lightweight unibody shell. The iPhone 5S and HTC One M8 are both beautiful smartphones, but Samsung's been a fan of plastic devices for years.
Arguments will continue to arrive on whether plastic vs aluminum is the best route, and in the end it's all up to the consumer, but the push to a more durable medium has been haunting Samsung for the past few major device releases. Not to mention the Galaxy S5 looks largely similar to the past two devices, and doesn't show too many signs of evolution.
What to Expect
Reports suggest a 5.2-inch 2560 x 1440 Quad HD display, a new Snapdragon 805 quad-core processor with 2/3GB of RAM, or possibly even Samsung's own 8-core Exynos processor. We're hearing Android 4.4.2 KitKat will be on board, the same 16 megapixel camera from the S5, and of course the new aluminum unibody design. Samsung's speakers could also use some improvements, but whether or not they move to front facing speakers remains to be seen.
One report suggests Samsung Exynos processors with a new Intel 4G LTE and 2k resolution support is in the works. Meaning the Galaxy S5 Prime could skip the popular Qualcomm Snapdragon processor in favor of Samsung's own with a little help from Intel. Again, all rumors for now, but if the leaks continue it's only a matter of time before we know more. We've heard a June release date is in the works, but there's no way Samsung would release a device in the US that close to the Galaxy S5 launch, so we'll have to wait and see.
Competition
A large part of these rumors are stemming from the simple fact that Samsung is going to be outdone in 2014 by a smaller manufacturer. The company has been leading the smartphone charge for years, especially on Android, but this year LG could be taking the crown.
The LG G3 release date is quickly approaching, and all the leaks we've seen thus far have it coming in as a serious Galaxy S5 competitor, if not a killer. We hate to use such a word, but it offers everything the Galaxy S5 does and more. LG will have the latest quad-core processor, and be the first to launch a Quad-HD 2560 x 1440 display in the United States. The LG G3 5.5-inch screen will be large, crisp, offer four times that of a 720p display's resolution, yet still have sleek bezels to keep the device small and portable.
The LG G3 sports a new 13 megapixel Optical Image Stabilization + camera, as well as an all-new laser auto focus technology on the rear, the latest version of Android, 2/3GB of RAM, and a removable back for a user replaceable battery and micro-SD card like most Samsung devices. The company is clearly aiming for Samsung and the Galaxy S5, and they look right on target.
The LG G3 will be announced later this month, and is scheduled to be readily available around the glove before the end of June. This means that is Samsung is preparing a new Galaxy S5 Prime with stunning new features and a new design, they better reveal more details sooner than later.
In the past Samsung has been silent, and leaks have been few and far between, but hopefully more details continue to arrive about the upcoming and highly rumored Samsung Galaxy S5 Prime.