Samsung Galaxy S5 Software Leak Highlights New Design
The Samsung Galaxy S5 will likely bring a new look to the aging TouchWiz user interface with a new color scheme, Google Now-like cards and fast access to updates and information like we've seen on the HTC One.
This Galaxy S5 software leak is the second from noted leakster evleaks that shows the new design and direction that Samsung appears to be heading with an updated TouchWiz for Android 4.4 KitKat.
Read: Samsung Galaxy S5 – Everything We Know So Far
While the Samsung Galaxy S5 will run on Android, Samsung is well-known for the Android overlay TouchWiz to put a unique cover on the software and the user experience that delivers a decidedly Samsung experience that users love or hate.
Samsung is reportedly working on the Galaxy S5, a follow up to the Galaxy S 4 that launched in March of 2013 with a new version of TouchWiz that includes new apps and software features that users won't find on competing smartphones. Samsung will undoubtedly focus on a new Galaxy S5 design which some rumors suggest may use metal, but the biggest part of the Galaxy S5 reveal will likely be the software features that Samsung bakes into the Galaxy S5 software.
The first Samsung Galaxy S5 software leak from evleaks said that Samsung is "exploring" the new look with more pastel colors and a updated user interface, which we see again in the new Samsung TouchWiz software leak.  The new TouchWiz software update borrows from the Magazine software layout and design we saw on the Galaxy Note Pro 12.2 at CES 2014, but goes further to rely on cards that remind us of Google Now and the HTC BlinkFeed software.
The latest image stitches together many of these cards to show what some of the update style notifications could look like on the Samsung Galaxy S5. This is not one continuous screenshot, so don't expect the home screen to look like this. While the notifications are much like Google Now, Samsung traditionally pushes users to S Voice instead of Google Now, so this may be part of a new TouchWiz for the Galaxy S5 that further enhances S Voice or adds a Google Now competitor to the TouchWiz apps that are pre-loaded on the Galaxy S5.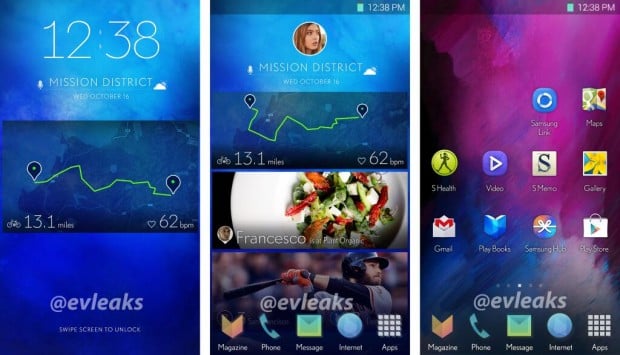 If this is the new version of TouchWiz for the Samsung Galaxy S5 it remains a work in progress, but like many other Samsung features and updates could make an appearance on the Samsung Galaxy S4 and Galaxy Note 3, and if it is the future of TouchWiz it will surely see a Note specific update with a Galaxy Note 4 release later this year.
TouchWiz is a overlay that many consumers know from the Samsung Galaxy smartphones which run Android, but it is also on Samsung's Bada, Tizen and Windows Phone devices.
TouchWiz 3.0 (2010)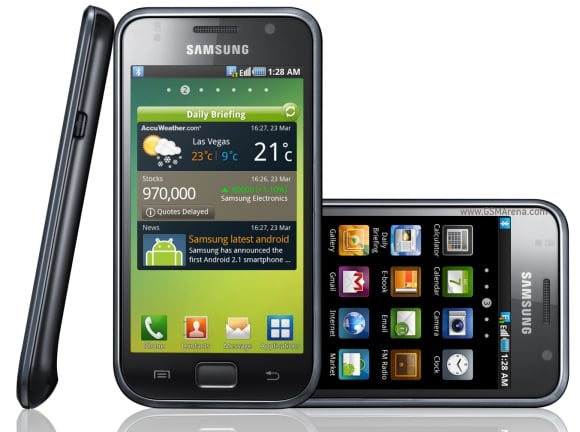 TouchWiz debuted 3.0 is the first major incarnation that U.S. Consumers are familiar with as this software debuted on the Samsung Galaxy S smartphone in 2010 and looked like the screenshot above.  This was a fairly early version of TouchWiz for Android.