Samsung Galaxy S5 vs Galaxy Alpha: What Buyers Can Expect
Samsung is gearing up to launch two major smartphones next month. One being the highly anticipated Galaxy Note 4 which is expected to be unveiled on September 3rd, and the other is a somewhat of a mystery, but being called the Samsung Galaxy Alpha.
The new Samsung Galaxy Alpha is reportedly being developed to help battle against Apple's upcoming 4.7-inch iPhone 6, but it will also be a perfect middle ground for those who'd love a Galaxy S5, but don't want a large smartphone in their pocket. While the full details have yet to be confirmed, we do know nearly everything about the upcoming device already.
Read: Samsung Galaxy Alpha Release Nears
For Android users, the iPhone 6 isn't a concern. Instead, the real question will be whether buyers will want to purchase the new Samsung Galaxy S5 that's been available since April, the massive 5.7-inch Galaxy Note 4, or the newcomer to the party, the Samsung Galaxy Alpha. Below we'll go over the flagship Galaxy S5, and how it compares against the newly leaked Galaxy Alpha.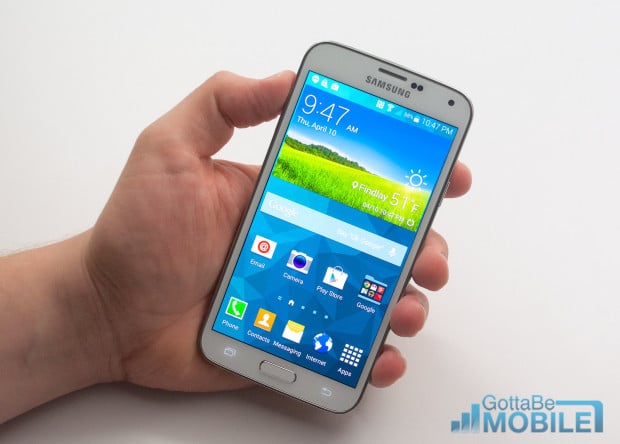 The Samsung Galaxy S5 was announced back in February and eventually arrived around the globe in April. It's one of the best smartphones currently available today, if not the best, and has tons of features to help it stand out against the competition. And that includes Apple's iPhone 6.
We're not sure if the new Samsung Galaxy Alpha is a product for niche markets or exclusive for certain regions, or if it will be a global rollout available to all carriers in the United States. However, either way consumers will want to know what makes it different from the Galaxy S5, how they compare, and what to expect.
Better Design
The most important thing about the new Samsung Galaxy Alpha is that it will reportedly be built with metal. With either an aluminum or magnesium ring around the entire device for added protection, durability, and to give it a more premium feel. All of Samsung's previous devices were made from plastic, and that includes the aluminum-looking plastic ring around the Galaxy S5 or Note 3.
Multiple rumors have confirmed the Galaxy Alpha and Note 4 will finally be built with metal, and Samsung themselves even said a new smartphone is coming this fall built with "new materials" which we can only speculate to be metal.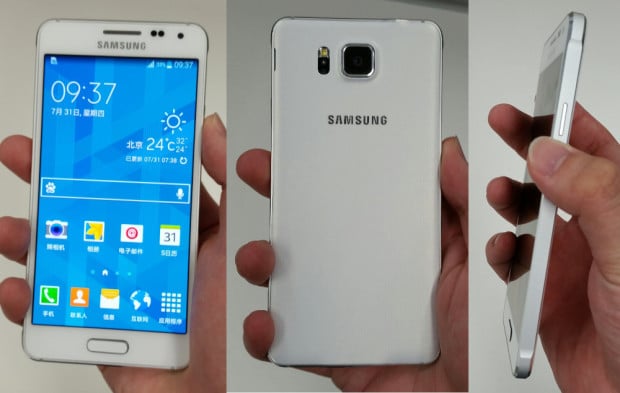 Whether or not this is a big deal remains to be seen, as their prior devices are still extremely popular and wrapped in plastic. Do we even need an aluminum smartphone like the HTC One M8? It isn't selling as well as they expected.
That being said, the new Samsung Galaxy Alpha will reportedly be one of the first smartphones from Samsung with aluminum around the edges. Many recent pictures (like the one above) show a sleek design, and beautifully curved edges as it wraps around the entire 4.7-inch screen, and even chamfered aluminum edges like the iPhone. This will be a huge improvement over the lightweight (but cheap feeling) plastic materials from years past.
Display
Smartphones keep getting bigger and bigger. Just look at the 5.9-inch HTC One Max, or even the upcoming 5.7-inch Galaxy Note 4. Everyone is making bigger devices these days, and Apple is even going to finally do the same in 2014 with a 4.7-inch iPhone 6. As a result, Samsung's actually taking a step the other direction and making the Alpha smaller, not bigger.
Read: Samsung Galaxy Alpha Rumored to Battle iPhone 6
The Galaxy S5 sports one of the best displays on any smartphone. It's 5.1-inches in size and has a 1920 x 1080p full HD resolution. However, the new Galaxy Alpha is the same size as the iPhone 6 and will only be 4.7-inches, and lowered to 720p. This will keep costs down, allow for better materials like aluminum around the sides, and potentially help with battery life.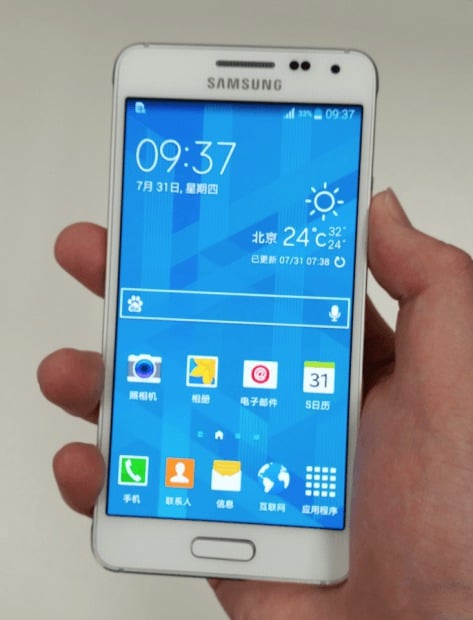 The new LG G3 has a crazy 2560 x 1440 Quad-HD resolution, something we may see in the Note 4, but the new Alpha is going the other direction for whatever reason. We'll reserve judgement until we've seen it in person, as it could be a good thing for buyers.
Specs
Another thing buyers look at are specs, and how a phone will hold up over a span of a 2-year contract. The Galaxy S5 is one of the most powerful devices available, but will the Alpha be the same? If latest leaks are accurate, yes it will be.
The image below shows the Galaxy Alpha outperforming the Galaxy S5 and HTC One M8 in a popular benchmark, but then again it has an 8-core processor and isn't pushing as many pixels or a huge display.
Here's the impressive specs of the Samsung Galaxy S5, and what we think we know about the Alpha.
Galaxy S5 Specs
5.1-inch 1080p Full HD Display
2.5 GHz Quad-core Snapdragon 801 with 2GB of RAM
16/32GB of storage and Micro-SD support
Android 4.4.2 KitKat
16 Megapixel rear and 2.1 front Camera
2,800 mAh battery
Dust and Water-resistant
Fingerprint Scanner
Heart Rate Sensor
Plastic Design
Galaxy Alpha Specs (Rumored)
4.7-inch 1280 x 720p HD Display
1.8 GHz 8-core Samsung Exynos Processor with 2GB of RAM
32GB storage and no Micro-SD slot
Android 4.4.4 KitKat (rumored)
12 Megapixel rear and 2.1 front Camera
1,860 mAh Battery
Fingerprint Scanner
Heart Rate Sensor
Aluminum Design
As you cans see from the breakdown above, there isn't a lot of differences here. Of course the screen is smaller, and the resolution is lower, but it features nearly everything else the Galaxy S5 offers that made it so popular. You won't have a water-resistant phone, but the aluminum design and premium feel will make up for that. We suppose.
The only other downsides are the small battery (which could be bigger at launch) and the lack of a micro-SD slot in favor of adding new metal materials to the overall design. Here's a look of the Alpha next to the Galaxy S5 in a leaked photo.
Aside from the change in specs and the aluminum around the sides, the device is nearly the same. The camera setup around back is slightly rearranged, and it features the same plastic removable back battery cover. It isn't a complete redesign, and stays in line with the Samsung style, but that's both a good and a bad thing.
Price & Release
Of course the most important thing for most prospective buyers is how much the new Galaxy Alpha will cost, and if it's worth passing up the readily available Galaxy S5 for. It's a hard question to answer, as everyone has individual needs, wants, or budgets. The Galaxy Alpha will likely cost less, and a few rumors have suggested it will be under $500, but we'll have to take those with a grain of salt.
Read: Samsung Galaxy Alpha Details Leak Ahead of Release
The Samsung Galaxy S5 is available today from carriers throughout the United States and around the globe. Here it's $599 outright from most, or $199 with a new 2-year contract, as well as monthly payment plans for around $27 a month. The Galaxy Alpha though, has plenty of lower specs that should help them keep the price a little lower.
The Samsung Galaxy Alpha has yet to be officially confirmed or announced by Samsung, but could be any day now. A few reports suggested it will actually be announced in Korea, Brazil, and a few other regions tomorrow, August 13th, but that's yet to be confirmed. If this indeed is accurate, we'll know more information very soon.
For now there's no release date in sight, a price that can be confirmed, or even an announcement event scheduled. That being said, it has leaked more times than many recent Samsung devices and is poised for launch considering it has already cleared the FCC.
Final Thoughts
While we're not sure exactly what Samsung has planned for the Galaxy Alpha, it's a highly impressive sounding device and surely coming soon. Initial rumors suggested it was aimed at taking on the iPhone 6, but without further details we can't know if it will be for niche markets, or a global release.
Read: Samsung Galaxy Alpha Rumored to Take on iPhone 6
In the end, the new Samsung Galaxy Alpha isn't some brand new device that will change the Galaxy line. Instead it's more of a stop-gap between the Galaxy S5 Mini (or Galaxy S4 from 2013) and the new Galaxy S5 that's extremely popular so far in 2014. It features nearly everything the flagship Galaxy S5 does, but has a few compromises to keep the price down and fit inside the smaller 4.7-inch iPhone 6-like shell.
For years we've seen Samsung, Motorola, HTC, LG, and others release impressive phones only to later reveal a "Mini" version with terrible specs that would be considered a mid-range or low end smartphone. With the Galaxy Alpha though, Samsung appears to have found a happy-medium spot that may pay off. It's too early to tell, but once it gets announced and revealed to the world we'll know exactly what to expect, and when to expect it.

As an Amazon Associate I earn from qualifying purchases.