Samsung Galaxy S5 vs Galaxy S4 Video Shows Improved Durability
The Samsung Galaxy S5 release brings a new design that is water-resistant and dust-resistant, but it is not a rugged smartphone. With a new design potential buyers want to know if in addition to withstanding water, the Galaxy S5 can survive drops and other abuse. A new video shows the Galaxy S5 vs Galaxy S4 in a series of increasingly high drops, which illustrate how well the new design can withstand the other hazards smartphones face on a daily basis.
The Samsung Galaxy S5 is rated IP 67 for dust and water, but it is not certified for protection against shock from drops like the Casio Commando G'zOne 4G LTE and other rugged phones.
One of the biggest benefits to the Galaxy S5 water-resistant feature is the ability to carry it without a case and not worry about water damage, but how will it handle a drop?
We recently saw the dangers of dropping a new smartphone like the HTC One M8, which shattered form a small drop to the corner. Thankfully HTC replaces a broken screen free one time, Something Samsung does not do.
While you wait for the Galaxy S5 release you can see how well the new design stands up to drops from varying heights and see how it handles being run over by a truck.
This Galaxy S5 vs Galaxy S4 video won't show you the different features or help you decide which to buy, but it does show which phone is more durable from a series of drops. For that type of information check out our Galaxy S5 vs Galaxy S4 in-depth comparison, reasons to buy the Galaxy S4 and reasons to buy the Galaxy S5.
Galaxy S5 vs Galaxy S4 Video – Durability
The team at TechSmarrt managed to get a Galaxy S5 early and quickly decided to drop the Galaxy S5 and the Galaxy S4 to see which one survives the longest. In a six-minute drop test video each phone is dropped three times, before the screen finally cracks on one device.
It is not surprising to see the Galaxy S5 come out on top of this comparison. A new design helps, and some luck with where and how the phone lands, but ultimately this drop test shows a Galaxy S5 that is more durable than the Galaxy S4.
For clumsy users there are a growing number of Galaxy S5 cases that can add protection. Even a small layer of plastic or protection can absorb enough impact to protect the frame and the display, and there are heavy-duty Galaxy S5 cases for users that need more protection.
The Samsung Galaxy S5 release is April 11th on most U.S. carriers, we are still waiting for the official Verizon Galaxy S5 release details, but the website says pre-orders are coming soon. The Galaxy S5 starts at $199 on contract and $0 down with payment plan options.
Best Samsung Galaxy S5 Cases
Spigen Galaxy S5 Case Neo Hybrid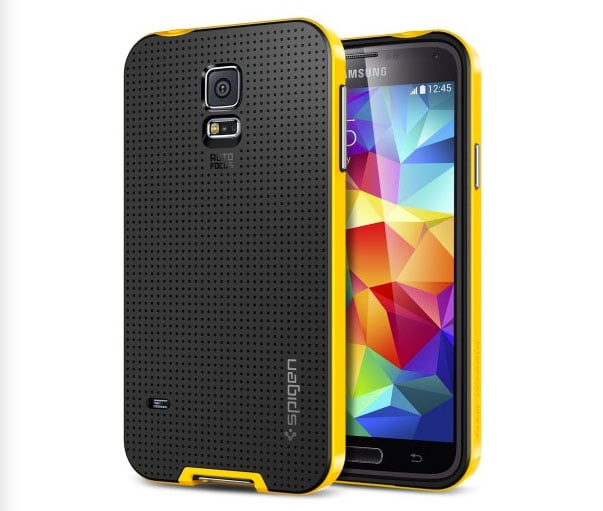 There are many Spigen Galaxy S5 case options, but the Neo is one of the most interesting cases thanks to a six color options. Users get a soft back that is grip-able thanks to dimples like the Galaxy S5's original design.
The back of this case is available in black only, but users can pick from six colors for the hard polycarbonate edges that accent the black finish of the back of this case. The red and yellow color options both look very sharp as accents.
This case offers protection for the edges of the device and while it will not add to the water-resistant properties of the Galaxy S5, it should stand up to water as well.
$29.99 at Spigen