Samsung Galaxy S5 vs. HTC M8: Early Look at What To Expect
When it comes to flagship smartphones for 2014 there are two main Android devices on most consumers minds and radar. Samsung's Galaxy S5, and the follow up to the HTC One which is being called the HTC M8.
The next few months will be extremely pivotal for both companies, as they try compete with each other, the other players in the mobile market, and beat the clock to deliver an exceptional smartphone all in a timely fashion. As it stands HTC appears to be headed to the market first, but recent reports suggest Samsung is aiming for a late February announcement as well. But that's yet to be confirmed.
With multiple leaks and rumors pointing to a February announcement, many potential customers are left wondering what these devices have in store, if it's worth waiting for them, and what to expect. While we obviously don't have all the answers yet, especially for the Galaxy S5, we can make a few predictions and point out important differences for those who may be on the fence, and waiting before they make a purchase.
Here we're taking an early and uncertain look at what we think users and buyers can expect when these two flagship devices arrive stateside, and how they'll stack up against each other.
At this point it's pretty clear the Samsung Galaxy smartphones range is in the lead. It's the most popular smartphone on the planet, selling by the millions, and the company has a lot riding on the upcoming Galaxy S5 to replace last year's popular Galaxy S4. However, HTC made an impressive One device last year that stole some sales and momentum, and will be looking to capitalize on that early this year.
Release Date
Both of these smartphones are still doing quite well in their respective markets, even if we'd suggest you hold off on buying one until we see what's next from both companies. With that being said, we have plenty of leaks, reports, rumors, and yearly cycles all blending together giving us a prediction on when we can expect to see the Galaxy S5 and HTC One M8 on store shelves.
This being the second phase of HTC's new One series we have no real timeline of previous releases to follow, even though past smartphones have all been announced at Mobile World Congress at the tail end of February. Following several leaks and "confirmations" its been all but confirmed the HTC One M8 will be announced at the end of February, released in multiple regions in March, and probably hit all major US carriers in late March or the first weeks of April.
If all goes according to plan we'll see a new HTC One, rumored as the HTC One+ or HTC Two come to market in March and launch with four colors, but let's not forget about the competition.
Read: HTC One M8 Release & Rumor Roundup
The Samsung Galaxy S5 is a high profile device, and as a result we've heard countless different reports and rumors. The latest "insider sources" are claiming Samsung will debut the S5 in February at the same MWC Event in Spain to fight off HTC, but we don't see that happening.
Samsung needs months and months to prepare stock of the device, considering they'll be expecting 10's of millions of sales, but launch too late in the year and they risk competition from Apple and the iPhone 6. As a result, we're expecting a March unveil with a fast and swift launch the end March and the first few weeks of April. Nearly the same time as HTC.
The reason we feel we won't see the Galaxy S5 at Mobile World Congress is because the last 2-3 product launches Samsung's avoided exactly that, big trade shows. They'd rather have a completely different stage, all to themselves, on a week where its new device can be the focus, and that's exactly what they'll do with the Galaxy S5. That being said, it could be announced in the middle of February, a week before MWC, but that's doubtful, and a bit of a rush job.
For those waiting, there's only a few more weeks before we start to learn all the final details, and see what both teams have to offer.
Design
Another important factor for many is the design and build quality. As we all know, Samsung's been under heavy fire for the use of cheap plastics in all its devices, even if the Note 3 had a beautiful faux-leather design on the rear. HTC's already known for its "premium" build qualities, and Samsung will be looking to match that this year. Well, at least one Galaxy S5 will. As we're hearing they'll have a few options. Just like the Galaxy S4 Active and Mini.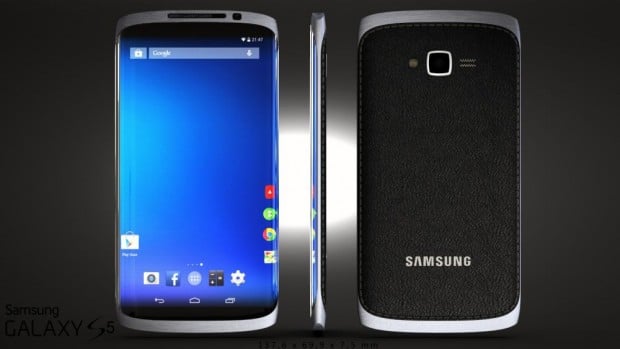 The HTC One is a premium device in every sense of the word. It's got a sleek design wrapped in a unibody aluminum shell, but it's quite heavy. I for one, prefer the lightweight properties of plastic, but Samsung could still improve the feel in the hand.
The obvious approach for HTC is to offer the same design, and that's what they'll be doing. All signs point to a nearly identical look and design as last year, only with subtle improvements. The screen is bigger, and we may have a fingerprint scanner, but the general design will remain the same, and they'll keep those excellent front-facing speakers. And that's all fine, because it was one of our favorite devices and Editors' Choice.
Samsung however, will finally be taking a different approach many have been waiting for. Samsung keeps its designs under a lock and key, and they do a great job. The final S4 design didn't leak until a week before the announcement date. It's difficult to predict, but we have a few ideas.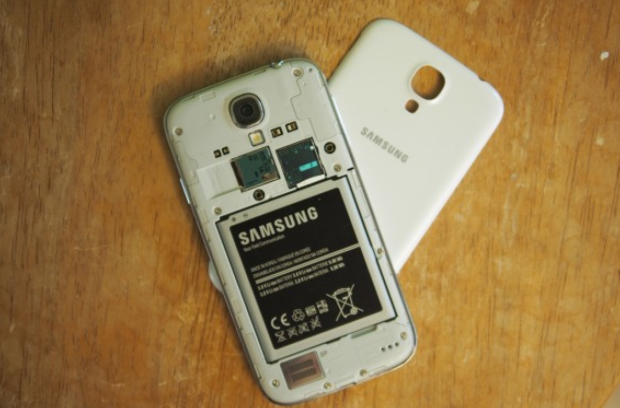 Samsung will improve the general look and feel, and likely finally use some sort of metal or aluminum design materials. It will be thinner, yet slightly heavier due to the new aluminum shell and bigger 5.25-inch screen, but probably still be lighter than the HTC One.
Most renders show Samsung adding front facing speakers, since most of the public wants that feature, but we don't see them completely abandoning the design language of previous devices. We'd be shocked to see Samsung use plastic again, given all the rumors of late, but you never know. Ming-Chi Kuo seems to think so. Why change what works? The plastic design and replaceable battery option works, so they might as well continue.
Display
2014 will be the year of QHD displays. The year we move past 1920 x 1080p full HD displays and into something even higher. Only HTC won't be coming along for the ride. As it stands, Samsung will outright win the war on the display, as HTC's One successor is rumored to stay with 1080p.
Samsung's Galaxy S5 has all but been confirmed to be rocking a QHD 2560 x 1440 resolution AMOLED panel that will be gorgeous. The 1080p of HTC isn't a bad thing though, as it will likely help battery life out, as more pixels requires more work from the smartphone.
All reports have the HTC One going from 4.7 last year to a 5-inch 1080p HD display with sleek bezels to keep the overall device size in check. Samsung however will do the same. Offering a slightly larger 5.25-inch QHD panel in roughly the same size as the Galaxy S4. However the aluminum and new screen tech may cause the bezels to stay the same size around the display frame.
Curves? Could we see a bendable or flexible display as Samsung's been working so hard on? Not with the Galaxy S5. Samsung's flagship and cream of the crop S5 won't be a test bed for the new technology, not to mention they'd need to manufacture millions of them. Instead, it could be a feature on a new Galaxy Round 2, or the upcoming Galaxy Note 4. Samsung could surprise us with a curved display, but again, it's hard to say.
All we know, based on leaks and reports, is the QHD will be exceptional, and probably edge out HTC in looks, but will come at the price of being slightly larger. Which is a good and bad thing, depending on the user.
Specs
It's all about the specs. Or is it? The war never stops and our displays are getting bigger, processors are getting faster, and our devices could outperform most laptops from a few years ago. Both of these smartphones will have quad-core processors, but some Galaxy S5's will actually have 8-cores. Yes Octa-core processors from Samsung, but not in the US.
Samsung rumors claim the S5 will have the Exynos 5 Octa 8-core processor with 64-bit support to take on Apple and the iPhone, but the US models and other regions could have a Qualcomm Snapdrgon 805 quad-core at 2.5 GHz instead. That isn't a bad thing though, and there's a reason the past two Galaxy S smartphones have Qualcomm, and not Samsung's own Exynos. Qualcomm is experienced, offers the best 4G LTE modem, and can supply the millions and millions needed for Samsung.
HTC could use the Snapdragon 805 too, but most reports have them using the already available and proven Snapdragon 800 2.3 GHz quad-core like the Note 3 has today. We're hearing 3GB of RAM for Samsung, but only 2GB for HTC, which could effect multi-tasking, although we feel 2GB is more than enough, and will be for at least another year or two.
Lighting round. Samsung's S5 could have a 5.25-inch QHD AMOLED display, come with a quad and 8-core processor and 3GB of RAM, 32 or 64GB of storage options with micro-SD support, 16 megapixel camera, 2.1 front camera, and a large 3,200 mAh battery. We've heard talk of a 4,000 mAh, but that's almost certainly unrealistic.
HTC's One (M8) should have a 5-inch 1080p HD LCD display, come with a quad-core Snapdragon processor with 2GB of RAM, yet only offer 16GB of internal storage but will be the first device from them in the recent past to offer micro-SD support. So that's a huge plus. Offer an improved UltraPixel camera with 4 or 6 Ultrapixels, a 2.9 wide-angle front facing camera, and a 2,950 mAh battery is the word of the street.
We'll know for sure in the next month or so.
Software
Software will be a bit tricky this time around, simply because there's so much at play. Both Samsung and HTC make the most changes to stock Android as Google builds it, and offers tons of additional features, apps, tweaks, and more. Many Android users aren't big on the UI changes, but recent reports suggest Samsung could be toning things down after a deal with Google.
Both smartphones will come with Android 4.4.2 KitKat, Google's latest release, but be heavily skinned and changed to meet each groups own desires and vision of what mobile software should be.
Read: HTC M8 Leaks Confirm a Major Change for HTC
The new HTC One M8 will run KitKat but the new Sense UI 6.0 software tweaks. Full of Blinkfeed news aggregators taking over your homescreen, HTC Zoe camera features and highlights, and aim to offer something different than any other phone. One major change however, is HTC will finally kill the awful button options they've used in the past and move to on-screen keys. Just like Google is doing with all Nexus devices. That's also why the screen has been increased to 5-inches.
Most of the stock features shown above in the Android 4.4 KitKat video will be somewhat present, but covered in Sense UI and Samsung's Touchwiz interface. However, due to recent license agreements between Samsung and Google we'll see a lighter Samsung experience, and more Google undertones and integrated Google apps. Essentially this could be the best Galaxy S device yet.
Samsung will still bundle an array of S-apps and air-gesture controls, which some view as gimmicks, but do add something unique to the handset. Hands-free tools are becoming more and more useful, and Samsung will continue to capitalize on that.
The last software detail is regarding a fingerprint sensor. We expect both HTC and Samsung to try and compete with Apple's TouchID, although some reports have HTC ditching the sensor and focusing on a dual-stage camera on the rear instead. Samsung's Galaxy S5 will have a fingerprint sensor, the question is where, and how exactly they plan to use it. We'll have to wait and see.
Carriers
There really isn't a lot to say here when it comes to the US, as we all know both the HTC One M8 and Galaxy S5 will be available from all major US carriers, and probably all arrive within the same few weeks. Verizon sometimes takes longer than the rest, and both devices last year came over a month later than AT&T, T-Mobile, and Sprint. AT&T is usually first, and we expect that trend to continue.
It's already been confirmed that both phones will hit all major US carriers nearly at the same time, so now all we need is an actual release date, which will come after the international release, and vary by carrier here in the US.
Price
The price point in the US has been relatively the same regarding flagship smartphones, except for bigger devices like the Note 3 and HTC One Max costing an arm and a leg. If previous models and pricing strategies are in place, which likely they will be, both of these new phones will arrive for $199 with a new 2-year contract.
However, we've heard Samsung could also have a budget plastic model in mind to take the iPhone 5S and 5C strategy, but we just don't see that happening in the US, but maybe elsewhere. T-Mobile doesn't have contracts, so could offer the device for $49 with monthly payments under $25 per month, and other carriers could follow.
In the end we're expecting both devices to be priced around $199 with a new 2-year carrier contract, and anywhere from $549 to $649 outright. If Samsung offers different internal storage options, we could see one Galaxy S5 be $50 more than the other, but they've traditionally stayed away from that strategy in the US.
Competition
The competition will surely be strong, but at the moment it looks like HTC and Samsung will be first to market with their flagship devices of 2014, but LG could be a surprise showstopper. The LG G2 tried to do that in 2013, and we're expecting a new LG G3 to be shown off at MWC as well.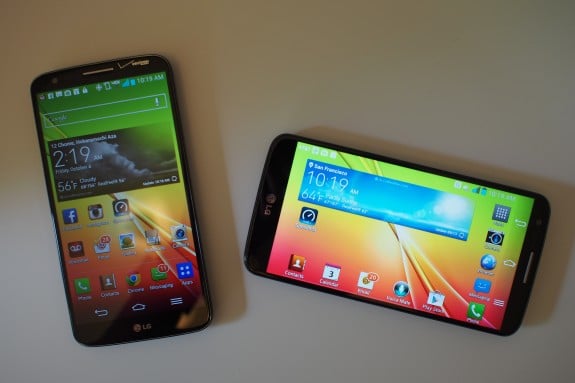 While the state of Motorola is unknown after being sold to Lenovo we're uncertain of their future, but still expect a DROID lineup to arrive on Verizon in the fall, with a new Moto X2 in the works as well. Then of course after summer we'll start anticipating the new iPhone 6, which could be the first iPhone to embrace the bigscreen.

This article may contain affiliate links. Click here for more details.