Samsung Galaxy S5 vs LG G3: What We Know So Far
With the Samsung Galaxy S5 now official and the upcoming HTC One just days away, many consumers are starting to look at what else is on the horizon for Android phones in 2014.
One major device launch that's expected to arrive sometime this summer is from LG. They aim to take on Samsung's Galaxy S5 and any other competition with the all new LG G3. We've heard plenty about it, leaks are teasing the specs this phone may offer over the competition, and here's what you need to know.
Read: LG G3: 6 Things We Know So Far
While most the details are rumors and speculation for now, there's a lot we can assume based on previous devices, options available in the technology world, and the rumors we've heard thus far. With that said, here's what we know so far about the LG G3 and how it will compare to the Samsung Galaxy S5.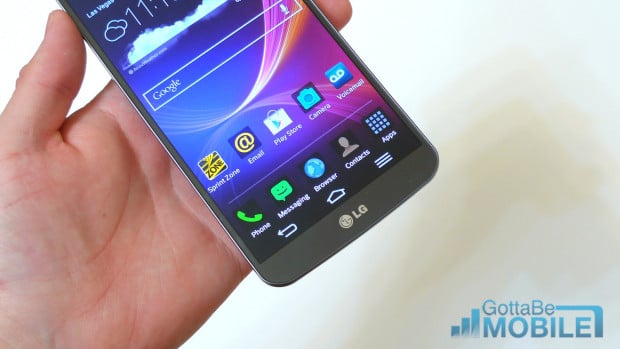 The Samsung Galaxy S5 was announced back in February to plenty of excitement, but sadly fell short of many of the rumors and hype that surrounded it for months. It's a quality smartphone that will be released in the first half of April, but here's how it compares to what we think will arrive in the LG G3.
Design
The Samsung Galaxy S5 rumors went pretty crazy this year. Talks of a flexible or curved display, metal unibody designs like the iPhone 5, and even front facing speakers to challenge the HTC One. Sadly none of that arrived, nor did the rumored 2560 x 1440 QHD 2K resolution display. The phone is still excellent, but it could be better.
Samsung's Galaxy S5 has a slightly larger 5.1-inch 1920 x 1080p HD display, and the main focus of the design was to  improve security with a fingerprint scanner, add a heart rate monitor scanner on back for health, and create a device that's completely IP67 certified dust and water resistant. They did exactly that. The design isn't very different from last year, save for the new textured plastic back, and the durability features only made the device slightly thicker and heavier.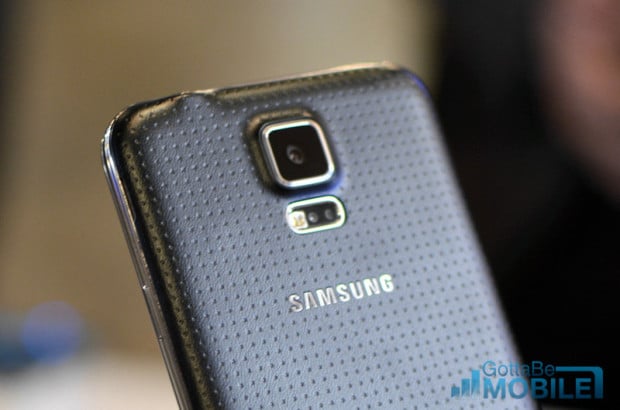 Samsung's Galaxy S5 has a 16 megapixel camera and some other fancy features like a fingerprint scanner, but the other specs barely beat the LG G2 from last year. We're expecting the LG G3 to take things even further in 2014.
Rumor has it the LG G3 will sport a 5.3 or 5.5-inch QHD 2k display. Coming in at 2560 x 1440 resolution it will be one of the highest res phones to date. Then, given the later release cycle the LG G3 will take advantage of the latest and greatest mobile technology, so it should offer cutting edge features. These are the rumors, ones which have the LG G3 beating the Galaxy S5 with ease, but more on the full specs below.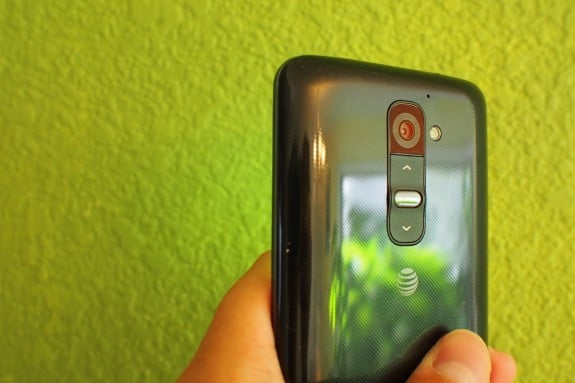 The LG G2 last year had stereo speakers on the bottom, and a brand new rear-button configuration that was actually quite useful. They even managed to pack a 5.2-inch screen onto a rather sleek device, yet still offer a huge 3,000 mAh battery. It offered better battery life last year than the Galaxy S5 this year, and the LG G3 will likely offer the same, if not more. Meaning the LG G3 will should have substantially better battery life than the GS5.
Of course, we'll have to wait and see more leaks and rumors arrive before any of this is official, but most reports as of late have the LG G3 being quite the powerhouse that will take on the Galaxy S5 and beyond. Lastly, we've also heard the LG G3 will be fully dust and water resistant too, so that's a plus.
Specs
Samsung's Galaxy S5 offers a 5.1-inch 1080p display, a powerful 2.5 GHz quad-core Snapdragon 801 processor with 2GB of RAM, and even 16/32GB of storage. The improved 16 megapixel camera is stunning from our short time with it, and the inclusion of a fingerprint scanner for security in the home button is nice too.
Again, the Galaxy S5 only has a 2,800 mAh battery, all while having faster more demanding specs and a bigger display. LG though, is aiming to offer quite a bit themselves. Arriving later in the year means it will get the latest tech. Reports of the Qualcomm Snapdragon 805 quad-core at 2.5 GHz with 2/3GB of RAM have appeared, and that's on top of a 2K resolution display. Having a 16 megapixel optical image stabilization camera that records in 4k, and some reports state LG will use their own in-house 8-core chip over the Snapdragon.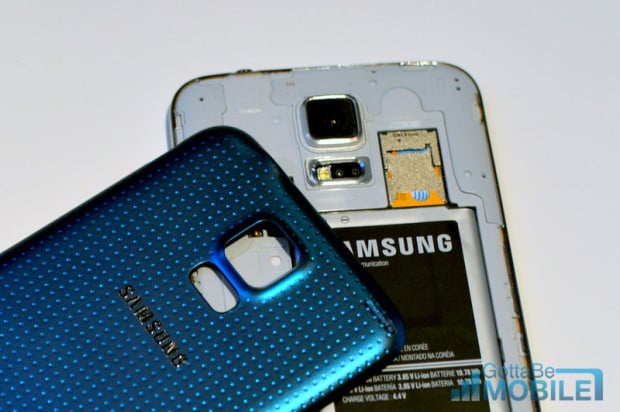 While specs are only numbers for the most part, it is worth nothing that LG should have improved hardware over the Galaxy S5 simply because it will be released later in the year. Most the reports coming out of Korea have LG doing everything in its power to complete directly with Samsung, so it will be interesting to see what all they have to offer.
We've heard a fingerprint scanner will also debut on the LG G3, but that's yet to be confirmed. That all said, if the LG G3 has the specs we've been hearing, it will be the best smartphone (on paper) available this summer.
Release Date
Speaking of being the best phone this summer, many consumers are wondering what other choices they'll have besides Samsung and HTC over the next few months. Well, we're not entirely sure. Initial reports and rumors suggested the LG G3 would launch in May, a whole 3 months earlier than expected. The Optimus G and LG G2 both launched in late September, but we're hearing LG moved up the timeline significantly to compete with Samsung's earlier release.
While a May release would be ideal, new rumors have arrived claiming LG won't be able to make that happen, and instead we can expect a July release date for the LG G3. That's still two months sooner than initial expectations, and it could really help LG steal some sales from Samsung and HTC as the summer winds down.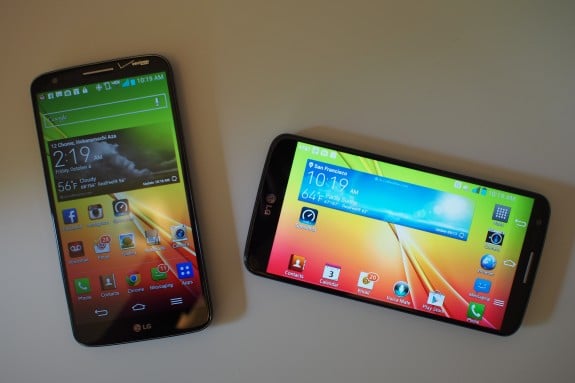 As a reminder, the Samsung Galaxy S5 is set to launch inside the first two weeks of April. So in less than 20 days. AT&T just confirmed pre-orders, dates, and pricing for the Galaxy S5.
Software
The software side of things will also be a determining factor between these two smartphones. As we all know, neither run stock Android as Google creates it. Instead Samsung TouchWiz covers up Android, and LGs software appears like a ripoff of TouchWiz to many users.
Putting that aside, both will likely run Android 4.4.2 KitKat out of the box, and the important factor won't be software, but updates. Samsung's one of the best when it comes to software updates for its devices, and LG has had a few struggles in this area. The LG G2 launched with Android 4.2, even though 4.3 was readily available, and Android 4.4 arrived less than a month after the LG G2 hit the streets. While LG was certainly behind on software, they've already pushed Android 4.4 KitKat to most users LG G2.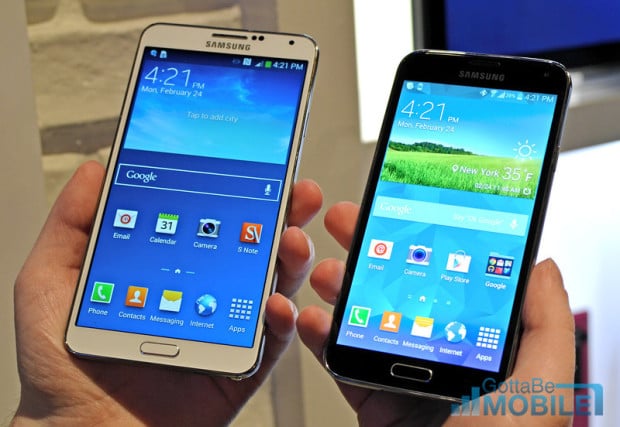 Moving forward software updates should be a big part of LG's plans, as they continue to try and compete with the likes of Samsung and HTC. We're assuming the Galaxy S5 will get the better software update treatment, but that's only because of past history with LG.
Price
Finally, we can't forget about the price. Given the past history of most flagship devices from US carriers both of these phones will cost roughly the same amount on contract. That being $199 with a new 2-year agreement. AT&T confirmed the price for the Galaxy S5 today, and even stated it will be $649 outright for those who'd rather not sign a contract.
The LG G2 launched at the same $199 price point, and all reasoning points to the same thing happening this year with the LG G3. That being said, we often see LG phones go on sale much sooner than Samsung, and the LG G3 could see a price drop to $149 or $99 within the first 3-4 months of release.
Most carriers offer monthly payment options these days for phones, for those who'd still like to buy outright but can't afford the $600 price, so look for that to be an option from all major US carriers for both devices.
Final Thoughts
In the end we'll have to wait and see. The Samsung Galaxy S5 has a loyal following and is guaranteed to sell millions, but LG has slowly been climbing the ranks and will have a compelling option come later this summer. It may be worthwhile to wait a month or two to see if these LG G3 rumors firm up before diving into the Galaxy S5 next month.

As an Amazon Associate I earn from qualifying purchases.