Samsung Galaxy S5 vs. Samsung Galaxy Note 2: What We Know So Far
Despite the arrival of the Samsung Galaxy Note 3 late last year, the Samsung Galaxy Note 2 remains relevant. Relevant because it's still on shelves, relevant because it's still in the hands of millions of users, many of whom come off contract later this year. With that in mind, there is reason to compare the rumored Samsung Galaxy S5 to the company's aging Galaxy Note.
In late 2012, Samsung released the T-Mobile Galaxy Note, a device that joined the AT&T Galaxy Note on shelves. The device lasted all of a couple of weeks before Samsung detailed a brand new device, a Galaxy Note 2, that trumped the Galaxy Note in a number of ways. It featured better hardware, it featured improved software and maybe most importantly, it came to a number of carriers in the United States, including T-Mobile.
For the tail end of 2012 and most of 2013, the Galaxy Note 2 was the go-to Galaxy Note model and really, one of the best devices available on the smartphone market. So, it's no surprise that Samsung sold millions of these devices around the world. It's also not surprising to see the Galaxy Note 2 alive and kicking.
While it's no longer advertised, the Galaxy Note 2 is still an option for those looking for a solid smartphone with a fairly budget price tag. Thus, it's a device that consumers are likely looking at and comparing to the current, and future, crop of smartphones. Current Galaxy Note 2 owners who come off contract later this year are likely keeping tabs on devices both new and old as well.
One of the blips on the radar is probably Samsung's Galaxy S5, a rumored successor to the Galaxy S4 that is rumored to be coming out sometime in the next few weeks.
The Samsung Galaxy S5 isn't official but there are enough rumors and pieces of credible information to start making some comparisons to current devices. Today, we want to take a look at how the rumored Galaxy S5 currently stacks up with the Galaxy Note 2 as we continue on the road to the Galaxy S5 launch.
Release Date
Current Samsung Galaxy Note 2 owners weighing their options in the coming and those currently thinking about buying the Galaxy Note 2 likely have only a few weeks left before the Samsung Galaxy S5 presents itself as an option. Nothing has been set in stone but there is enough out there to narrow down the Samsung Galaxy S5 launch window.
Since last year, Samsung Galaxy S5 rumors have centered around February and March as potential launch months for Samsung's brand new Galaxy S smartphone. In recent days, we've started to see these rumors start to firm up. First, Bloomberg suggested that the Galaxy S5 would arrive by the end of April, suggesting a launch either in February or March. Samsung typically releases its devices about a month after announcing them. We also saw an executive confirm a Galaxy S release for spring, throwing some more weight behind this report.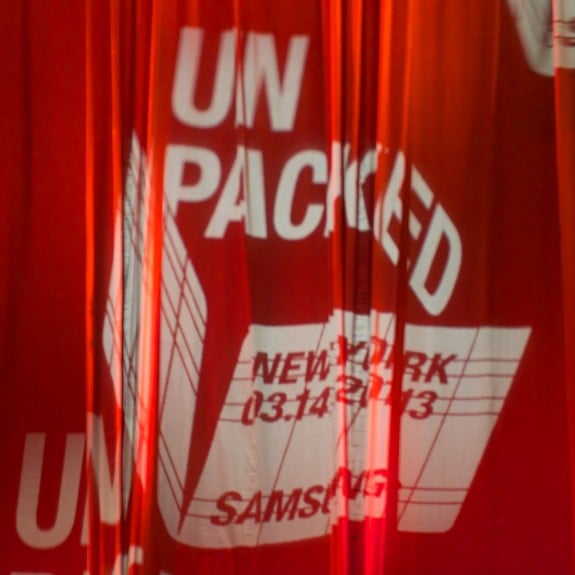 More recently, we've seen Italian-based Flavio claim that the Galaxy S5 launch will take place in London in mid-March, something that echoed a report from SamMobile that parroted the same thing. Russian blogger Eldur Murtazin suggested that Samsung could announce the Galaxy S5 on February 23rd just ahead of Mobile World Congress 2014, but he has since rescinded those comments.
At the moment, March is the front-runner though the important thing to note is that everything seems centered on a launch between late February and early March with a release coming in April, possibly late April like the Galaxy S4.
We expect Samsung to send out invites sometime within the next few weeks to solidify a date.
Design
The Samsung Galaxy S5 might still be a rumored device but the Galaxy Note 2 certainly isn't. This is a smartphone that we've spent a great deal of time with over the past year.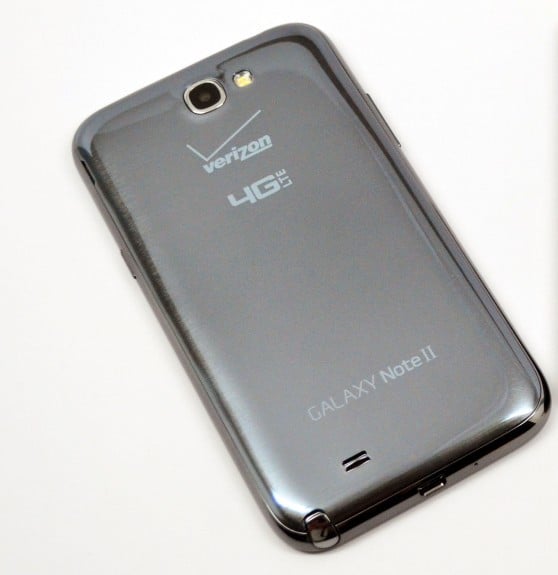 Samsung's Galaxy Note 2 design is a giant piece of polycarbonate plastic. It's of the same mold as the Samsung Galaxy S3 design which means that it's both durable and comfortable to hold. It's thin but it's heavier than a typical smartphone given the size of its footprint. The Galaxy Note 2 is an extremely large phone.
One of the unique things about the Galaxy Note 2's design is that it comes with a holster for the S Pen, the device's built-in stylus. This is not found on the Galaxy S as it does not feature a stylus. It also comes with a microSD card slot and a removable back for use with an extended battery.
Here's what we know. All signs point to the Samsung Galaxy S5 featuring a design that is different, not only from the Galaxy Note 2's, but from the Galaxy S4's as well.
We know that Samsung changes its flagship designs every single year but Galaxy S5 rumors have been much more specific. The report from  SamMobile mirrored earlier rumors claiming that the Galaxy S5 will come in metal and plastic. The metal version will supposedly have a metal back, though nothing else was revealed.
This seemed to close the book on the Galaxy S5′s design, given that it matched up with numerous other rumors out of Korea. That is, until this past weekend, when respected KGI Securities analyst Ming-Cho Kuo released his Galaxy S5 predictions.
Kuo is known for his inside information which is believed to primarily be based on details garnered from supply chain contacts in Asia. He was able to accurately predict many of the iPhone 5s features, so when he speaks up about a flagship, it's hard to ignore the claims.
He agrees with SamMobile and says that the Galaxy S5 will come in two models, a premium model and a budget one. However,  he also says that both of these models will be made out of plastic. He did not mention a metal design. For the moment, this has thrown the Galaxy S5 design into limbo, where we expect it to stay for several weeks.
Samsung always does a good job of disguising its flagship designs, the Galaxy Note 3's was not seen until it arrived on stage last September, and so we may not know exactly how the Galaxy S5 stacks up with the Galaxy Note 2 until its finally announced.
One thing that seems clear though is that the Galaxy S5 will be different than the Galaxy S4 and likely, the Galaxy Note 2 as well. In comments made to Bloomberg, a Samsung executive said that when the company "moved to S4 from S3, it's partly true that consumers couldn't really feel much difference between the two products from the physical perspective, so the market reaction wasn't as big."
She also added that for "the S5, we will go back to the basics. Mostly, it's about the display and the feel of the cover."
Display
Samsung Galaxy Note displays are always larger than Galaxy S displays. The Galaxy Note 2's 5.5-inch display is larger than the Galaxy S4's by .5-inches and it's that extra space that affords users more space for use with the S Pen, an easier time viewing movies and television shows and an improved gaming experience. The large screen also helps to make the Galaxy Note 2 an ideal device for the road warrior.
Galaxy Note 2 users interested in the Galaxy S5 or those weighing the two will likely find a smaller display on board the Galaxy S5. The report from SamMobile points to a 5.2-inch display, something that has been rumored several times. Kuo agrees with this assessment. That doesn't make a 5.2-inch display a definite but it makes it likely.
The sources also agree on the quality of the Galaxy S5's display. It appears that at least one of the Galaxy S5 variants will use a QHD display. That means 2560 x 1440 resolution and a 500+ pixel-per-inch count. This would translate into better looking, sharper content, something that is important for content consumers and gamers.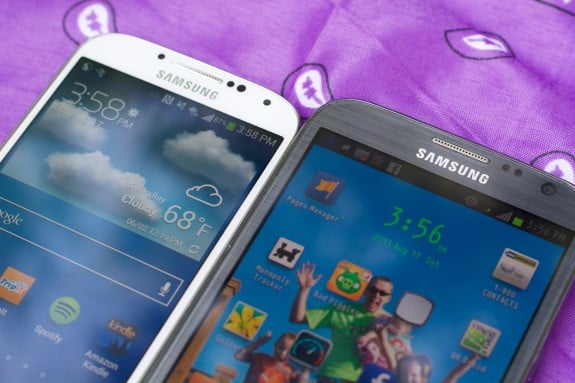 Kuo goes a bit more in depth. He claims that the budget Galaxy S5 variant will offer 1080p resolution, something that benchmarks for an AT&T Galaxy S4 model seem to back up.
So at the very least, we're probably looking at 1080p resolution which is a big improvement over the 720p resolution found on the Galaxy Note 2. At the very best, we're looking at resolution that puts 1080p to shame. Either way, it's looking like the Galaxy Note 2 display is going to get left in the dust.
Camera, Processor, Battery
The Samsung Galaxy Note 2 used to sport some of the best specifications around. Its 8MP camera didn't win any awards but it provided solid photos and video. It still does, though, technology has passed it by.
Its Samsung Exynos 4 quad-core processor was one of the first quad-core chips put inside of a mass-produced phone. It's still a good CPU but like the camera sensor, it's getting old. The Galaxy Note 2 is also powered by a solid 2GB of RAM, something that is more common these days.
Finally, its 3,100 mAh battery was large back then and quite frankly, it's still large now. Galaxy Note 2 owners rarely complain about battery life and it seems to be holding up quite well in its old age.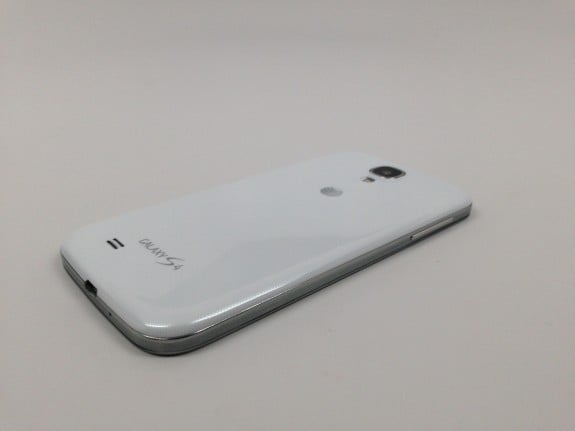 Mobile technology is moving extremely fast and the Galaxy S5 is unsurprisingly rumored to be coming with cutting edge tech. Rumors suggest that it will have a 16MP sensor that could improve over the Galaxy S4's camera. The Galaxy S4 camera was, and is, better than the Galaxy Note 2's so we should see a distinct advantage here.
Processor rumors have been plentiful but they haven't firmed up. SamMobile believes the device will have a Snapdragon 805 processor from Qualcomm or a Exynos 6 from Samsung. A 64-bit processor has also been rumored which, if true, would match up with the iPhone 5s' 64-bit A7 chip. Kuo believes that 64-bit is out and that the device will use 32-bit processors across the board with the Qualcomm Snapdragon 800 and Exynos 5 both rumored.
What matters here is that any way consumers slice it, the Galaxy S5 is going to deliver better performance than the Galaxy Note 2, a device from 2012.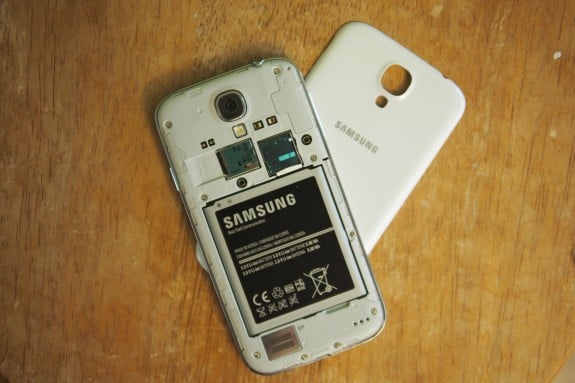 Finally, battery rumors are centered around 2,900 mAh, or, a tad smaller than the Galaxy Note 2's battery. PhoneArena believes it will feature a fast-charging 2,900 lithium ion battery that is capable of holding 20% more charge than other batteries in its class. Kuo thinks the battery will be 2,850 mAh though he does not suggest anything special.
How the smaller, but allegedly beefed up Galaxy S5 battery compares to the Galaxy Note 2's remains unclear at this point.
Software
Right now, the Samsung Galaxy Note 2 runs Android 4.3 Jelly Bean. The update rolled out starting in November. There are rumors that Android 4.4 KitKat will touch down next though Samsung still hasn't confirmed anything.
Android isn't that important to Samsung devices. What's really important is the TouchWiz interface that Samsung lays over the top because it's the software the dominates the user experience.
The Samsung Galaxy Note 2 utilizes a unique version of TouchWiz because the software is tied into the device's S Pen stylus that's bundled on board. The Galaxy Note 2 offers S Pen specific apps that allow users to easily take notes, share files, and preview files. The Galaxy Note 2 was also recently outfitted with an updated version of Multi-Window View, a feature that first arrived with the Galaxy Note 2 but was improved inside the Galaxy Note 3's software.
The Samsung Galaxy S5 software is going to be different because it won't utilize the S Pen. Samsung also always adds tweaks and enhancements to its flagship devices as well. The big question right now is how much different.
Rumors pointed to Samsung adopting a new look for the Galaxy S5 software. The look appears based on the Magazine UI that debuted on Samsung's new tablet line at CES 2014 earlier this month. It can be seen running on the Samsung Galaxy NotePRO 12.2 in the video below.
Leaks also point to improvements to the device's touch less gestures and a new interface with touchpoints in the corners that would allow users to activate shortcuts to apps and settings. Thanks to a new report released today though, things are a little murkier than they once were.
Recode claims that Google is pressuring Samsung into slimming down its UI in the future. Whether this applies to the Galaxy S5, a device that is already in development, is unclear. Specifically, it looks like Google isn't pleased with the Magazine UI and how much different it looks from stock Android so it could be that pressure from Google forces Samsung to make some changes to the final version.
Carriers
The Samsung Galaxy Note has always been limited to the major U.S. carriers. AT&T, Sprint, T-Mobile, U.S. Cellular, Verizon all carry the Galaxy Note 2 but the device is not found on any smaller pre-paid or regional carriers. This is not the case with the Samsung Galaxy S series which is found on a widespread number of carriers in the United States.
The Galaxy S4, for example, is on AT&T, Sprint, T-Mobile, U.S. Cellular, Verizon, and a host of smaller and pre-paid providers. The Samsung Galaxy S5 looks like it will follow in its footsteps. Already, we've see the device rumored for the big five and we expect Samsung to make it available on a large swath of U.S. carriers once it arrives.
Price
Samsung's Galaxy Note 2 was once as expensive as the $299.99 Galaxy Note 3. No more. Instead, the price has dropped significantly, particularly through third-party retailers like Amazon. There, an AT&T Galaxy Note 2 can be found for a mere $50 on-contract, a far cry from its price point a year ago.
The same report from SamMobile states that the Galaxy S5 will come in at two different price points, mirroring Apple's iPhone 5s and iPhone 5c. The publication says that a premium Galaxy S5 will cost about 800 Euros while the budget model will cost around 650 Euros. When converted to U.S. dollars, the premium model would be over $1000. More likely, the Galaxy S5 will land in the vicinity of the iPhone 5s' starting price of $199.99.
Whatever the case, the Galaxy Note 2 will be the cheaper of the two given its age.

This article may contain affiliate links. Click here for more details.