Samsung Galaxy S5 vs. Samsung Galaxy Note 4: What We Know So Far
Last week, the Samsung Galaxy S5 joined the Samsung Galaxy Note 3 on shelves for the first time, bolstering Samsung's smartphone lineup ahead of the summer. And while Samsung's new look lineup will likely remain the same for much of 2014, we're already hearing questions about the device that is expected to join the Galaxy S5 later on this year, the rumored Samsung Galaxy Note 4.
At IFA 2013, Samsung introduced the Galaxy Note 3, its Galaxy Note 2 successor, and a device that joined the Galaxy S4 on shelves to combat the likes of the iPhone 5s, HTC One, LG G3, and more ahead of the holiday shopping season. Samsung's two pronged approach mimicked what the company had done in years past with the Galaxy S3 and Galaxy Note 2 and the Galaxy S2 and Galaxy Note.
This year, it appears that the company will do the same. In February, Samsung announced the all new Galaxy S5, its Galaxy S4 successor. The device went on sale last week in the United States and elsewhere and joins the Samsung Galaxy Note 3 in the company's fight against the new HTC One M8 and more.
Samsung's Galaxy S5 is a tempting smartphone thanks to its powerful hardware and software. We've heard from numerous friends, family and readers who are extremely interested in Samsung's Next Big Thing. However, we've also received a ton of questions about the company's next Galaxy Note, a device that is currently dubbed Galaxy Note 4.
Samsung Galaxy Note 4 rumors have been swirling around since late last year though they have begun to emerge with greater frequency as we head deeper into the new year. Many prospective smartphone buyers, including friends and family, have been unable to tune out rumors concerning the Samsung Galaxy Note 4. Those rumors have in turn sparked questions about Samsung's new Galaxy S and its upcoming Galaxy Note 4.
While we can't say exactly how the Galaxy Note 4 will compare to the Galaxy S5, we can take a look at how the current Galaxy Note 4 rumors stack up next to the Galaxy S5 and offer our own assessment of the situation.
This comparison is certainly not definitive but it will give prospective Samsung Galaxy S5 and Galaxy Note 4 buyers an idea about what to expect from Samsung later on this year.
Launch Date & Release Date
At this point, the Samsung Galaxy Note 4 can be considered the elephant in the room. Samsung still hasn't confirmed the device outright but it has all but confirmed its arrival on shelves later this year.
Last year, Samsung took the stage at IFA 2013 in September and announced the Galaxy Note 3. The company's event was called Unpacked Episode 2 and followed its Unpacked Episode 1 event that served as the Samsung Galaxy S4's launching pad earlier in the year. Unsurprisingly, the Galaxy S5's launch event at MWC was called Unpacked Episode 1. And while nothing is confirmed, Samsung has set the stage for another big launch party later this year.
Samsung Galaxy Note 4 rumors all point to an arrival in the second half of the year. And while nothing is set in stone, it's clear that those who are waiting to fully compare the Galaxy S5 with the Galaxy Note 4 are going to have to wait several months to do so.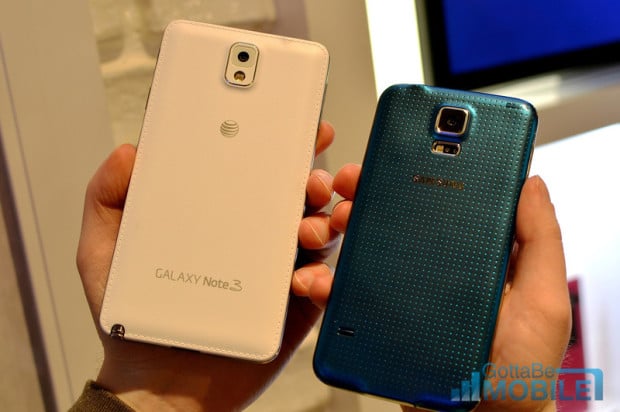 In January, a Samsung executive hinted at a typical spring Galaxy S5 release and a typical fall release for the next Samsung Galaxy Note. Shortly after that, a Bloomberg report pegged the Samsung Galaxy Note 4 for the second half of the year. This fits in with the executive's comments and Samsung's launch pattern.
More recently, another Samsung executive affirmed that the Galaxy Note 4 launch would take place this fall. A short time later, yet another Samsung executive reportedly said that the company was looking at using IFA for the device's launch. A Samsung executive also recently told Reuters that it plans to release the device later in the year. Samsung has used IFA for its last three Galaxy Note launches and it would make sense that the company is at least considering it for this year's Galaxy Note 4 launch.
This year's IFA 2014 opens on September 5th which means that the Galaxy Note 4 will probably arrive sometime between September 1st and September 5th.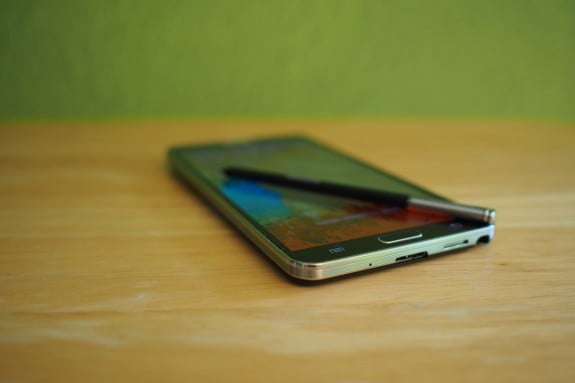 In other words, those who are hoping for a quick release following the Samsung Galaxy S5 are going to be disappointed. Instead, those who are looking to switch to one or the other are going to have to contend with the Galaxy S5 for quite some time. It's looking like the earliest the Galaxy Note 4 release will arrive is September. Samsung almost always releases its devices several weeks after launch.
We feel very confident about these launch date rumors.
Display
Samsung's Galaxy S5 display is 5.1-inches in size and comes with full HD resolution, more commonly known as 1080p. This is a little bit larger than the Galaxy S4's display but the same resolution. And while the display might offer the same resolution as the Galaxy S4 and Galaxy Note 3, it comes with some perks that make it superior.
DisplayMate, the industry voice on mobile display quality says that "the Galaxy S5 is the best performing smartphone display that we have ever tested" and that "it has raised the bar for top display performance up by another notch." We also find the Galaxy S5 display to be one of the best that we've ever used. It's that good.
What's more is that Samsung's new Adapt Display, Super Bright Mode, Ultra Dimming and other Galaxy S5 display features and options are more than just the usual gimmicks. They're nice additions to one of the year's best smartphones. Exactly how the Galaxy Note 4 will compare isn't know but rumors have at least started painting a picture for consumers.
While the Galaxy S5 didn't come with a QHD display, rumors point to the possibility on board the Galaxy Note 4. New information from The Korea Times asserts that Galaxy Note 4 could come with support for both high-definition and ultra high-definition.
Details weren't shared but we assume that this could mean that the Galaxy Note 4 could come with support for full HD, QHD or quite possibly, UHD. Rumors point to QHD on devices like the LG G3 but we still haven't seen UHD rumored for 2014, which to us, makes an appearance unlikely. With the LG G3's QHD display all but confirmed, there is a very good chance that we could see the Galaxy Note 4's display trump the Galaxy S5's.
Indeed, rumors have pointed to the arrival of a new Galaxy smartphone using a QHD display but it's not clear if it's a Galaxy Note, a Galaxy S variant or something else entirely.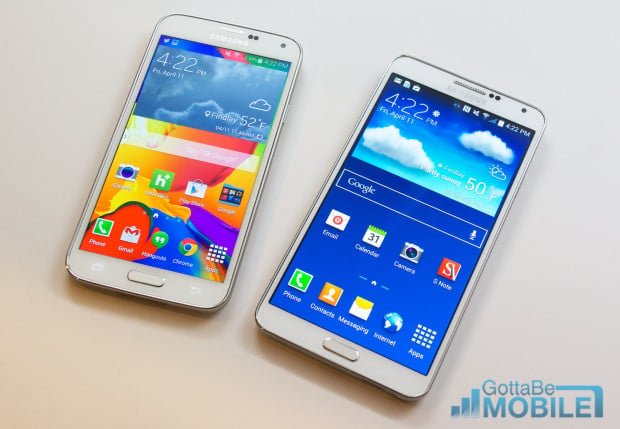 The same Korea Times report also claims that a curved Galaxy Note 4 display is still a possibility. Early Galaxy Note 4 rumors suggested that Samsung was at least exploring the idea of a curved or bent display on the next Galaxy Note but it's still not clear if Samsung will be able to get the technology ready in time for launch.
Galaxy Note 4 display rumors probably won't align until later this year. Samsung is likely testing a number of different Galaxy Note 4 prototypes before deciding on a final version.
At the very least though, we expect the Samsung Galaxy Note 4 display to be on par with the Galaxy S5's. For most people, full HD 1080p will be enough.
Design
While Samsung loves to flaunt its designs after launch, it likes to keep them wrapped up out of the public eye ahead of launch. The Galaxy Note 3 design, for instance, remained out of sight until the device emerged on stage.
The Galaxy S5 design was a mystery right up until its launch in February. In other words, those wanting to compare the Galaxy S5 and Galaxy Note 4 designs will likely be working with bits and pieces in the build up to the Galaxy Note 4's debut.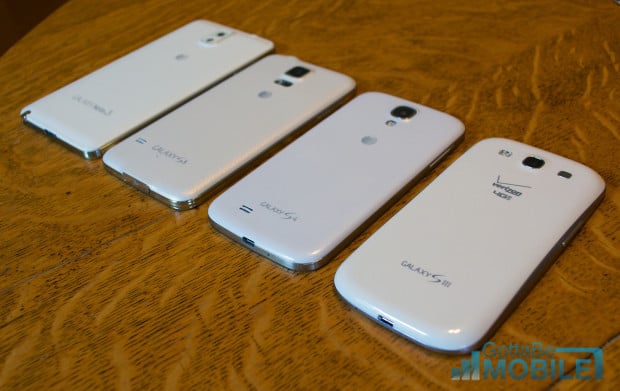 Thus far, we know two things when it comes to the Samsung Galaxy Note 4 design. We know that Samsung loves to change up its designs year-after-year, a sign that we could see a new design emerge on the next Galaxy Note. And we also know that the Galaxy Note 4 design is rumored to have one of the Galaxy S5's killer aspects.
Every year, Samsung changes up its designs and so it's not surprising to see a Samsung executive tell Reuters that the Samsung Galaxy Note 4  will have a "new form factor." The executive did not elaborate but it lines up with Samsung's launch pattern.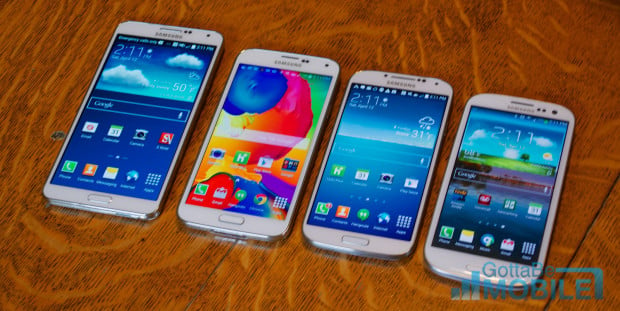 One of the perks of the Samsung Galaxy S5 is its IP67 certified design. The certification means that the design is both water and dust resistant, something that many other top tier smartphones don't have. Rumors suggest that the Galaxy Note 4 will borrow this feature from the Samsung Galaxy S5.
Specs
According to one Samsung executive, the next Galaxy Note is going to be a premium smartphone that targets consumers "who want more professional use and tend to be willing to pay more for handsets." In other words, the Galaxy Note 4 could potentially have a number of high-end hardware features on board.
An early report suggested that Samsung would be putting fingerprint scanning technology on board the next Galaxy Note for added security and convenience. This makes sense given that the Galaxy S5's home button comes with biometric security on board, embedded inside of the device's home button.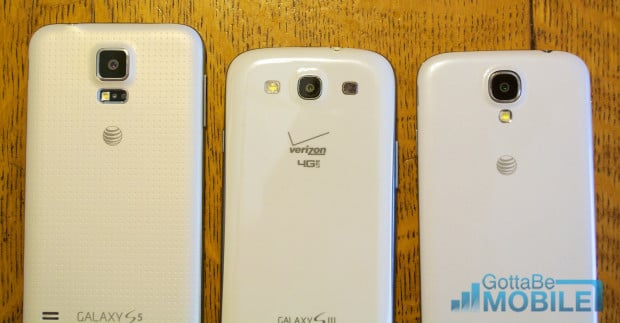 Rumors also suggest that the Galaxy Note 4 will come with LTE-Advanced and perhaps, a 64-bit processor. U.S. carriers have been slow to adopt the new LTE technology though Verizon plans to deploy LTE-A by the middle of 2014. LTE-A offers faster data speeds for compatible devices but it also requires networks to offer the capability. The Galaxy S5 takes advantage of LTE-A and will be one of the first devices to run on the more advanced LTE network.
As for the processor, the Galaxy Note 3 utilizes a powerful Qualcomm Snapdragon 800 while the Galaxy S5 comes with a Snapdragon 801 processor. Both are 32-bit. The inclusion of a new 64-bit processor on the Galaxy Note 4 would put it on par with the iPhone and enable faster speeds and better graphics for gaming.
Samsung almost always swaps out its processors for something new so the addition of something new for a multitasking, gaming beast like the Galaxy Note 4 makes a lot of sense.
Advice
We've heard a number of Samsung Galaxy Note 4 rumors already but we should hear a lot more as the year moves on and we get closer to the Galaxy Note 4 release date.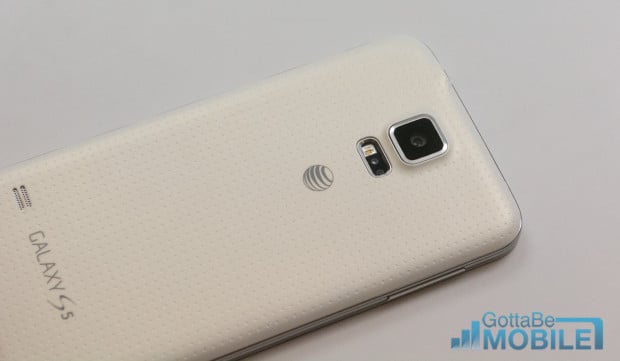 There are, however, several takeaways from this comparison, things that we think prospective Galaxy S5 and Galaxy Note 4 buyers should keep in mind as the Galaxy Note 4 rumor mill continues to spin.
The Samsung Galaxy Note 4 launch and release will almost certainly take place during the fall. Those looking to fully compare it to the Galaxy S5 will need to wait several more months at least.
Samsung has never kept the same design two years in a row so if you don't like the Galaxy Note 3 design, there is a very good chance the Galaxy Note 4 will have a different design. IP67 certification is likely given that it's on board the Galaxy S5.
We almost always see a new processor on board Samsung's new flagships so a 64-bit processor isn't out of the question. Look for the Galaxy Note 4 to be more powerful than the Galaxy Note 3, and perhaps, the Galaxy S5 as well.
Its display will be on par, or better, than the Galaxy S5's. So consumers should go hands-on right now to see if they need something more than full HD. Most won't.
Samsung almost always brings new Galaxy S TouchWiz software features to its new Galaxy Note. Expect the Galaxy Note 4 to boast some Galaxy S5 software features and boast S Pen tweaks and enhancements of its own.

This article may contain affiliate links. Click here for more details.