Samsung Galaxy S5 Water Test Videos Show Off Major Feature
The Samsung Galaxy S5 is a new water-resistant smartphone that can survive underwater for up to 30 minutes according to Samsung. A new series of videos put the water-resistant claims to the test, and show how the Galaxy S5 camera performs underwater.
While the Galaxy S5 is not waterproof or designed to be used underwater for long periods of time, it does surprisingly well in the series of Galaxy S5 water tests performed by GadgetGuru HD and TechSmartt on YouTube.
Many smartphones can survive a small splash while you are on the edge of a pool, but an actual submersion is out of the question. The Galaxy S5 is rated to handle 30 minutes in up to 1 meter of water. In These two videos we see two examples of there this is incredibly important for the average user. Walking by a pool and dropping the phone in, or dropping it into a sink full of water.
In the first video you can see the Galaxy S5 underwater in a sink for 30 minutes. The Galaxy S5 survives this water test without any issues, which is not surprising. The removable plastic back includes a seal to keep water out and there is a cover over the charging port. There is no need to plug up the headphone jack, which is a nice touch.
In the Galaxy S5 water test video above we can see the new smartphone from Samsung underwater for 30 minutes. The video is sped up so you don't need to watch for a full 30-minutes.
If you were to put an iPhone 5s in this same situation the result would not be good. The Galaxy S5 is designed to keep water away from the important parts of the phone, and it lives up to this promise. If you want to take an iPhone 5s underwater in a similar way you'll need a waterproof iPhone case.
This leads to the next question we hear, "Is the Galaxy S5 waterproof?" The short answer is no, but the Galaxy S5 is water-resistant. This means the Galaxy S5 is not going to survive for hours or at deeper levels, but it will stand up to daily run-ins with water. In this next Galaxy S5 water-test we can see how the Galaxy S5 works in a pool. Pay attention to the audio in this one as we hear the reviewer explain that the Galaxy S5 camera cuts out when it is too deep.
That is a major difference between the Galaxy S5 and the rumored Galaxy S5 active that could come out in the next several months with a higher waterproof or water-resistant rating.
This video also includes a Galaxy S5 4k sample video shot underwater, with action thanks to a dog swimming through the shot.
Another example is a more extreme water test from TechSmartt which shows the Galaxy S5 going through a 50-minute washing machine cycle, which could easily happen if you aren't careful.
Read: Samsung Galaxy S5 Release Date Breakdown
The Samsung Galaxy S5 release date arrives on April 11th on Verizon, T-Mobile, AT&T, Sprint and US Cellular. The Samsung Galaxy S5 price is set at $199 on contract on most carriers, with a two-year contract and users can grab a buy-one-get-one deal at Verizon.
Best Samsung Galaxy S5 Cases
Spigen Galaxy S5 Case Neo Hybrid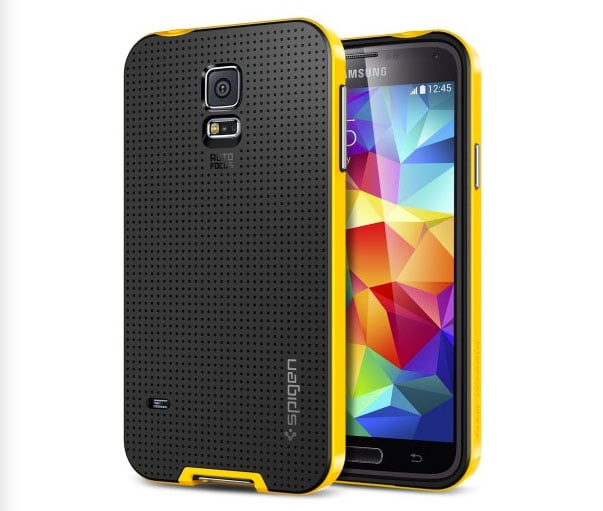 There are many Spigen Galaxy S5 case options, but the Neo is one of the most interesting cases thanks to a six color options. Users get a soft back that is grip-able thanks to dimples like the Galaxy S5's original design.
The back of this case is available in black only, but users can pick from six colors for the hard polycarbonate edges that accent the black finish of the back of this case. The red and yellow color options both look very sharp as accents.
This case offers protection for the edges of the device and while it will not add to the water-resistant properties of the Galaxy S5, it should stand up to water as well.
$29.99 at Spigen