Samsung Galaxy S6 Active: 5 Things You Need to Know
Now that the Samsung Galaxy S6 and Galaxy S6 Edge have been available for a few months, a 3rd Galaxy S6 variant has just been announced. Today after months of rumors and speculation AT&T and Samsung unveiled the new extremely rugged and durable Samsung Galaxy S6 Active with a huge battery. Here's everything you need to know about the release.
As expected, just like Samsung has done for the past two years, today the company released a third version of the flagship Galaxy S6. Only this one is a durable, waterproof and industrial version for those who need something a little more tough that can handle an active lifestyle.
Read: Samsung Galaxy S6 Edge Review
The new Samsung Galaxy S6 Active is essentially the same stunning and impressive premium flagship Galaxy S6 that has been available for the past few months, only it has a much bigger battery and is extremely rugged and durable. There are a few things buyers need to know, so read on for all the details.
Over the past few weeks more and more rumors surfaced that Samsung and AT&T were working on another version of the Galaxy S6, and Samsung even detailed the device last week in a blog post on its own website but didn't share anything else about the phone.
Today though, the AT&T Galaxy S6 Active is official and coming soon. It has plenty to offer and here's five things you need to know.
Galaxy S6 Active Release Date
After months of rumors and leaks, the Galaxy S6 Active is now official, but it's still not available, yet. However, confirmed moments ago the exclusive to AT&T Galaxy S6 Active will be released on June 12th for $199 with a new 2-year contract and will be available in Camo White, Camo Blue or Gray.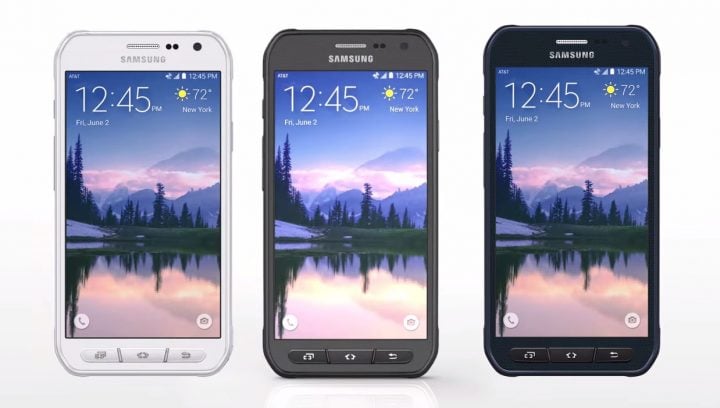 The device doesn't have the same aluminum and glass premium look as its siblings, but that's because this is a durable device meant to handle the outdoor elements. Just like prior versions they've included all physical buttons, made it waterproof and more, but we'll go over all of that below.
Galaxy S6 Active Pricing
The Samsung Galaxy S6 Active will be available in the United States exclusively from AT&T and will be $199 with a new 2-year contract. However, you can also use AT&T Next and pay $23.17 per month for 30 payments with Next 24, $28.96 for 24 payments with Next 18, or $34.75 for 20 payments with Next 12.
Those are payment plans where most well qualified buyers can get the phone for $0 down and leave an AT&T store with a brand new Galaxy S6 Active without spending a dime, then make monthly payments on top of your regular monthly service bill.
Galaxy S6 Active Durability and Water Resistance
Being the Galaxy S6 "Active" this phone is built around the idea of being extremely durable and water resistant. Most phones that claim to be water resistant have an IP67 rating, which basically means it can handle being under a few feet of water for 10 minutes or so.
AT&T's Galaxy S6 Active claims to be able to be completely submerged in over 5 feet of water for over 30 minutes. The rating lists 1.5 meters, but most likely it'll be just fine at the beach, or in a 15 feet deep pool, but don't test your luck.
However, the Galaxy S6 Active has a military-grade IP68 rating. This means it's completely dust proof, shock proof in case you drop it down a few rocks while hiking, can handle extremely high heat, high altitude, humidity, and heavy vibrations.
Galaxy S6 Active Features & Specs
The Samsung Galaxy S6 Active is almost exactly like the Galaxy S6 phones that were released in April, only it has a few important changes for the better. Of course the phone doesn't look as elegant or premium, but it's built to last. Here's the full breakdown.
Galaxy S6 Active Specs
5.1-inch 2560 x 1440 Quad-HD display
8-core Samsung Processor with 3GB of RAM
32 of storage (appears to have no micro-SD slot)
16 megapixel rear and 5MP front camera
Android 5.0.2 Lollipop
Massive 3,500 mAh battery with wireless & turbo charging
IP68 Shock, Drop, and Water Resistant
Camo White, Camo Blue, or Gray colors
more
The Active has three dedicated hardware buttons on the front, vs the home button and regular capacitive keys found on other Galaxy smartphones. The design is very industrial, and it will be slightly thicker than the regular version. This is due to the durable design and bigger battery.
Activity Zone & Button
New to the Samsung Galaxy S6 Active is a brand new "Activity Zone" and button. Which is on the left side of the phone near the top. With one tap it launches an app that is essentially a users outdoor companion.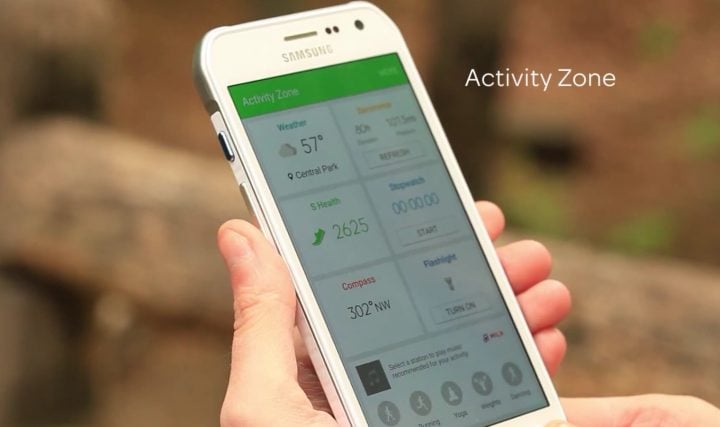 Featuring a compass, flashlight, stopwatch, weather, barometer, and all the usual Samsung S-Health fitness tools. Activity Zone will track your steps, running, distance traveled, calories lost. Then let you use the heart rate sensor on the back to check your pulse, heart rate, stress levels, blood pressure and more.
It's worth nothing the Samsung Galaxy S6 Active no longer features a fingerprint scanner like the regular model, but in return buyers get tons of additional options and controls. The durable design and huge 3,500 mAh battery should be more than enough to sway a few potential buyers. This phone hits AT&T shelves on June 12th.

As an Amazon Associate I earn from qualifying purchases.