3 Samsung Galaxy S6 Deals You Need to Know About
The brand new Samsung Galaxy S6 is finally available for pre-order from most carriers in the United States as of this morning, and you can even try one in select stores now to get a feel for it before you buy. For those interested in Samsung's latest and greatest, below are three Samsung Galaxy S6 deals you need to know about.
On March 1st Samsung took the stage in Barcelona Spain, and officially unveiled the brand new and impressive Galaxy S6, and the Galaxy S6 Edge with a curved screen on both sides of the display. Both phones had been rumored for months, and they even confirmed the April 10th release date. However, we didn't know when carriers would offer it, but pre-orders went live today from all major US carriers, except Verizon which will kicks things off April 1st.
Read: Samsung Galaxy S6 Active Rumors Ignite
While today is the official pre-order date for the new Galaxy S6, the release date isn't until April 10th. However, many retail stores and carriers are trying to take advantage of the launch by offering impressive Galaxy S6 deals already, and below we have three that all buyers should know about before laying down cash on a pre-order.
Both the Galaxy S6 and its curved GS6 Edge brother will be available on all four major U.S. carriers and in retail locations such as Amazon, Best Buy, Target, Walmart, Costco and Sam's Club. Then, regional carriers such as U.S. Cellular, Cricket, Boost Mobile and MetroPCS will all carry the Galaxy S6 as well, we're just not exactly sure when.
Today is the official pre-order release date for both the Samsung Galaxy S6, and the competition from HTC in the new HTC One M9. They both have plenty to offer, are the latest and greatest from two great manufacturers, so buyers have a tough decision. However, whatever way you're learning, we have three deals you'll want to know about before buying.
Free Wireless Charger at Best Buy
The new Galaxy S6 features wireless charging, similar to other smartphones released over the past few years. That said, Samsung integrated more than just one type of wireless charging solution, allowing for any and all wireless charging technologies to power its new smartphone. This was an excellent move, especially considering wireless charging mats, car docks, and even stock car integration is growing by the day.
To help steal some buyers from carriers and other retail stores, this morning Best Buy announced that for anyone who pre-orders the Galaxy S6 or Galaxy S6 Edge from them, they'll get a free wireless charging pad. These are typically around $50 or more from most manufacturers, including Samsung, so this is one excellent deal you'll want to consider.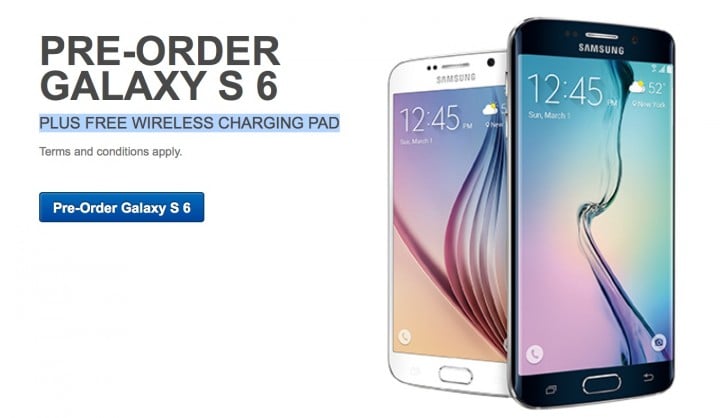 We don't have all the details just yet, but according to the official Best Buy page and image below (from BestBuy.com) users will be getting the official Samsung wireless charger for free, a $59 value. Making the device essentially $60 off for anyone who was already considering getting a wireless charger. The only "fine print" here is that Best Buy is charging $50 more than Verizon for off-contract pricing, but the same for everyone else, so keep that in mind, and see our 3rd deal below.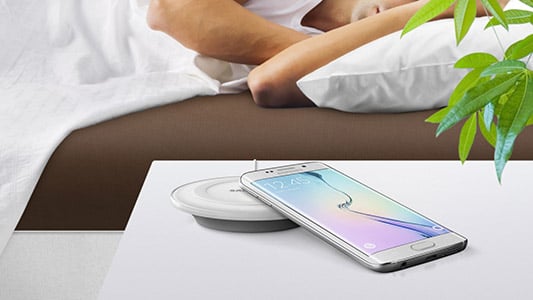 This deal is only valid from today March 27th, and ends on April 11th which is the day after the Galaxy S6 officially gets released in the United States on all major carriers. Meaning you have a few weeks to decide, put in your pre-order, and enjoy a free wireless charging pad. Head into a nearby Best Buy or order the Galaxy S6 or Edge online today.
Free Year of Netflix from T-Mobile
The wireless charger is nice, but what's arguably an even better deal in the long run is the impressive Galaxy S6 deal announced earlier this week by T-Mobile. The carrier is giving all users who buy the Galaxy S6 or Galaxy S6 Edge from T-Mobile a free 1-year subscription to Netflix. This is valued at well over $100, and will give you endless movies, TV, and content to enjoy on your new 5.1-inch Quad-HD device.
T-Mobile CEO John Legere states you "can" get a year of Netflix for free, so we don't have all the details just yet, or if there will be some fine print making this deal less appealing than it sounds, but we'll have to wait and see. From what we're hearing nearly everyone will be eligible, and you'll get a year free with your new phone. Cant beat that, right?
Verizon Has the Lowest Galaxy S6 Price
Believe it or not, but Verizon actually has the lowest price for the Samsung Galaxy S6 and the Galaxy S6 Edge. Usually carriers all offer devices for roughly the same price, but Verizon did something similar last year too with the LG G3 and HTC One M8. The Verizon Galaxy S6 and S6 Edge from Verizon are around $80 (for some) less than AT&T, T-Mobile and Sprint. And other variants of the device with different storage configurations are up to $65 less, but this is all for the off-contract pricing.
The Verizon Galaxy S6 and S6 Edge bought outright, without a contract on Verizon is much cheaper than AT&T, T-Mobile and US Cellular. Sprint hasn't released all its prices yet, but we don't expect them to compete with Big Red here either.
Even the monthly payment plans with Verizon Edge are $4-5 less per month than AT&T, T-Mobile and US Cellular. For whatever reason Verizon has undercut all the competition, and this is a great thing for Verizon customers looking to snag the Galaxy S6. It's worth noting that many of Verizon's carrier plans cost more than the others, so you could end up paying more in the long run when you're spending $130 per month with Verizon, so take that into account before running down to a nearby Verizon location.
Other Thoughts
Pre-orders have only just begun today, and prospective buyers can expect other deals to start surfacing as the April 10th Galaxy S6 and Galaxy S6 release date nears. Costco usually offers some sort of bundle, as do some other retail locations, so be sure to check back for more details as we'll surely keep an eye out for any and all Galaxy S6 deals.
All said and done, the Galaxy S6 is finally available for pre-order and will be in buyers hands soon enough. If you've been eying the new Galaxy, get one from the sources we've outlined above. You'll be glad you did.