Samsung Galaxy S6 Edge Problems: 5 Things You Need to Know
The Samsung Galaxy S6 Edge is one of the best smartphones on the market, but it isn't perfect. After almost a month of use we've discovered a collection of Galaxy S6 Edge problems that users need to know about and some potential fixes.
Samsung confirmed a serious memory bug for the Galaxy S6 Edge and the basic Galaxy S6 model, but that's not the only problem that users are facing. We are taking a look at what owners and buyers need to know about the Galaxy S6 Edge problems a month after the release.
Read: 65+ Galaxy S6 Tips & Tricks
For the most part the Galaxy S6 Edge owners report a good experience with the device and in our Galaxy S6 Edge review we discovered just how impressive this new phone is and were surprised how much we liked the curved edges of this phone. The bulk of the Galaxy S6 Edge problems are related to battery life and to WiFi or Bluetooth issues.
As more users buy the Galaxy S6 Edge we wanted to take a closer look at the Galaxy S6 Edge problems impacting users. In this roundup we look at bugs, issues and problems and when possible will help you solve the issue.
Samsung Galaxy S6 Edge Problems
Any new smartphone release brings problems and issues as the device makes it into the hands of millions of users instead of the testing hands of Samsung and parter employees. We routinely see small and large issues occur during this phase and updates or bug fixes may be needed to solve the early Galaxy S6 Edge problems that some users run into.
In April and May we've heard complaints about some galaxy S6 Edge problems including battery life, which is important because there is no way to swap in a spare Galaxy S6 battery when the phone is dead. Although there are definitely some legitimate problems, we have not seen widespread issues outside of the one that Samsung confirmed in the last week.
Apparently, one accessory I forgot to purchase for my Samsung Galaxy S6 Edge is a freakin' car battery. pic.twitter.com/J3qxkjKkl0

— Mark Thibault (@rocxsoft) May 1, 2015
Galaxy S6 Edge, I love thee. Truly I do. One of the best phones I have ever laid my hands on but by God! Does your battery life suck…

— Richard Rankin (@RikRankin) May 1, 2015
Galaxy S6 Edge con: Battery life

— Giancarlo Reyes (@GiancarloReyes0) May 3, 2015
@fenix_app please solve this problem. It drains my battery while im not using it. Galaxy s6 edge pic.twitter.com/YVgyOKeVDw

— Abdulaziz AlSowaigh (@Aazizalsowaigh) May 4, 2015
While a common Galaxy S6 Edge complaint is battery life, there are other problems frustrating users. We've heard from Galaxy S6 Edge owners who are dealing with Galaxy S6 Edge Bluetooth problems in cars, problems rotating the Galaxy S6 Edge screen, signal problems, the Galaxy S6 Edge not turning on and others.
It is important to remember that although some of these problems come from vocal users, most of these do not appear to be widespread Galaxy S6 edge problems.
By calling attention to these problems other users can discuss the performance and issues and Samsung can get a better idea of the overall list of Galaxy S6 Edge problems that need fixed in an upcoming update.
Our Experiences
After using the Galaxy S6 Edge for a month I have yet to run into these annoying Galaxy S6 Edge problems. The Verizon Galaxy S6 Edge review unit that we used for our full Galaxy S6 edge review and out Galaxy S6 Edge tips and tricks, performs just as expected.
The Galaxy S6, without the edge screen, lags slightly compared to the Galaxy S6 Edge and I plan to wipe the phone and start over from scratch to see if that fixes the problem.
Read: Galaxy S6 Edge Settings to Change
One annoyance is that the AT&T Galaxy S6 Edge doesn't include a personal hotspot shortcut and no hotspot widgets that we found work with this device yet. On the Verizon model you can turn the hotspot on and off from the Notification drawer.
The biggest problem I ran into was an occasional app crash, but after updating apps and weeks of use these are not as common as during the first week of using the phone.
Samsung Confirms Major Galaxy S6 Edge Problem
If you experience Galaxy S6 Edge lag after using the phone for a period of time, your phone may be victim of a Galaxy S6 and Galaxy S6 Edge memory problem. Last week Samsung confirmed on the Samsung Mobile UK Facebook page that there is a problem with the Galaxy S6 and S6 Edge memory management.
On some devices the Galaxy S6 or S6 Edge will not release the memory in a timely manner and this leads to poor performance. We experience lag on the Galaxy S6, but not on our Galaxy S6 Edge.
If you run into this problem, you can try closing all apps or rebooting the device. Samsung is rolling out micro updates to fix the problem. You can check for a software update.
Galaxy S6 Edge Android 5.1 Update
We are already seeing some movement on the next Android Lollipop update for the Galaxy S6 Edge. The Android 5.1.1 update delivers a collection of bug fixes, rather than new features, and one report suggests the T-Mobile Galaxy S6 Edge Android 5.1 update is already rolling out.
The Android 5.1 and Android 5.1.1 updates bring al;ready delivered a good number of bug fixes to other devices and on the Samsung Galaxy S6 Edge it will bring back Guest Mode so you can share your phone briefly with someone else.
How to Fix Galaxy S6 Edge Problems
You don't need to wait for an update to fix every Galaxy S6 Edge problem. You can fix many of them on your own with the right steps and solutions.
You can use our guide to fix bad Galaxy S6 Edge battery life and be sure to check out our Galaxy S6 problems and fixes collection where you'll discover solutions to many Galaxy S6 Edge problems. We have a Galaxy S6 Edge specific version coming soon, but for the basic issues, the solution is the same across the devices.
7 Best Galaxy S6 Edge Cases
Speck CandyShell Grip Galaxy S6 Edge Case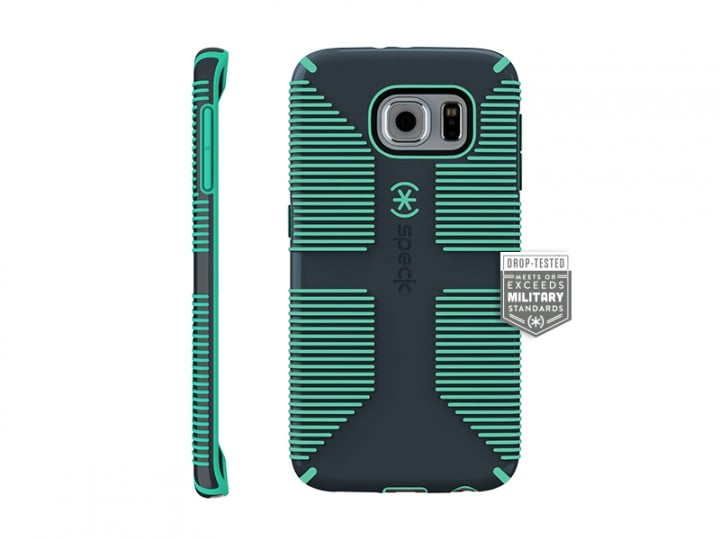 If you want to protect the back of the Galaxy S6 Edge and still enjoy the curved edges you should look at the CandyShell Grip Galaxy S6 Edge case that uses rubber ridges on the back and sides to make the Edge easier to hold and protects it from drops.
The Speck CandyShell Grip for the Galaxy S6 Edge is $34.95 and on sale soon through Speck.

This article may contain affiliate links. Click here for more details.