Samsung Galaxy S6 Edge: 5 Things I Learned on the First Day
A full Galaxy S6 Edge review requires a lot of time with the curved display smartphone with an upgraded design, but in just a day of use there are five important things that stand out about the Galaxy S6 Edge.
The Galaxy S6 Edge delivers two curves that differentiate it from the standard Galaxy S6, and these account for a $100 price increase on this model. Samsung delivered a curved edge on the Galaxy Note Edge, but this phone comes with two curved edges and adds a few features you won't find on the regular Galaxy S6.
If you are trying to decide between the Galaxy S6 and Galaxy S6 Edge you can read our comparison for important differences. The focus here is to share an early review of the Galaxy S6 Edge focusing on the features that stand out after a day of use.
The Samsung Galaxy S6 is available on AT&T, T-Mobile, Sprint, Verizon and U.S. Cellular and it runs $299 on contract for the 32GB version. For this review I am using the Verizon Galaxy S6 Edge in Sapphire Black, which looks blue in some conditions.
Here are five things I learned about the Galaxy S6 Edge in the first day. I'm coming from mixed usage including the Galaxy S5, Galaxy Note 4, iPhone 6 and iPhone 6 Plus. I am also using a Galaxy S6 which will factor into some of these observations.
Galaxy S6 Edge Display
The Galaxy S6 Edge display looks great, but not as good as the Galaxy S6 display which is a little more vibrant and bright. Swiping on the curved edge feels wonderful and the curved display on the Galaxy S6 Edge definitely carries a cool factor with it. Two downsides to the curved display are that the text can sometimes wrap to the edge on webpages distorting it slightly and the curved edge can pick up a more glare in bright areas.
While using the Galaxy S6 Edge at the gym on Saturday watching Netflix was problematic because the overhead lights glared off the curved edges more so than a regular phone.
With the curved Edge users can set up an option to swipe in to see favorite contacts and to see a glowing alert when they call. I don't think I will use this much. The edge of the screen can show you a good deal of information and you can customize this. swipe up and down on the side to show Galaxy S6 Edge notifications.
You can see the following information;
Weather
Calls, Messages, Email
Galaxy S6 Briefing Stream – Notifications from Almost Any App
News
Sports News
Twitter Trends
Financial ticker
RSS Feeds
Caller ID from WhosCall
These are handy options to have and I find myself using them as an added benefit of the curved screen. I'm still trying to decide if the features and the cool factor of the curved display make it worthwhile, but there are more features than originally expected.
Galaxy S6 Edge Battery Life
The Galaxy S6 edge is the first Samsung phone I've owned without a replaceable battery. This was a concern, but so far the Galaxy S6 Edge battery life is very good. After a full day of heavy use with a lot of LTE usage the battery was still going strong until late evening. Total run time clocked in at 13 hours and 14 minutes until it hit 1%.
It would be nice to be able to replace the battery, but it is not a deal breaker for me. In the days since my first full day with the Galaxy S6 Edge the battery life survived a long period of personal hotspot use and a lot of 4G LTE use.
Design
The Galaxy S6 Edge is feels like a premium device. This device and the standard Galaxy S6 model are the best designed phones from Samsung yet.
Samsung combines metal and glass into an excellent finish that isn't too hard to hold on to, and the curved edges offer a perfect span to swipe a thumb from one edge to the other so that you can access almost any spot on the screen while using the phone with one hand. I was worried that my palm would trigger the display while reaching across, but that hasn't been a major issue yet.
I am using the 32GB Galaxy S6 Edge, and while it would be great to have access to a Micro SD card slot I plan to use an option from Sandisk to add more storage on the Galaxy S6 Edge by plugging in to the USB port or wirelessly with a Sandisk app.
Camera
Samsung delivered an impressive camera experience on the Galaxy S6 Edge. many Android phones are slow or fail to capture as much detail as the iPhone does. So far I am impressed with the Galaxy S6 Edge camera. There are a lot of controls and options, but I left it to the stock settings which include Auto with Live HDR turned on.
I especially like how fast the Galaxy S6 Edge camera is when you press the shutter, as it makes capturing a fast-moving puppy much easier than with some Android phones. Combine that speed with the quickness of launching the camera with a double tap of the home button and this is an all around great experience.
Check out the sample Galaxy S6 Edge photos below to see how the camera performs.
FingerPrint Lock
The iPhone 6 Touch ID fingerprint unlock feature spoiled me with an easy way to unlock my phone. The Galaxy S5 and Galaxy note 4 fingerprint sensors did not match Apple's Touch ID offering, but the Galaxy S6 Edge is just as good as Touch ID.
After training the Galaxy S6 Edge with four of my fingerprints I can now unlock it with a fingerprint on the first try about 80% of the time and very often successfully unlock it with just a second try. I've only had to use the backup password once and that is likely due to a poor training session. It's great to have the security of a lock screen without the hassle of a pattern or PIN.
7 Best Galaxy S6 Edge Cases
Speck CandyShell Grip Galaxy S6 Edge Case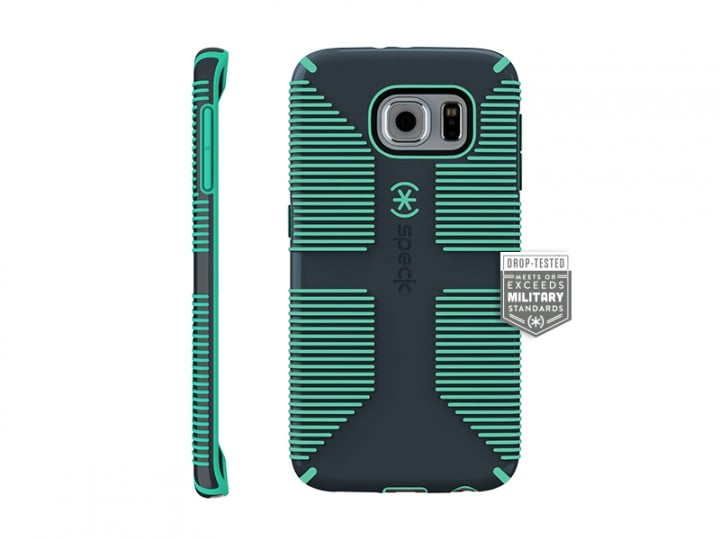 If you want to protect the back of the Galaxy S6 Edge and still enjoy the curved edges you should look at the CandyShell Grip Galaxy S6 Edge case that uses rubber ridges on the back and sides to make the Edge easier to hold and protects it from drops.
The Speck CandyShell Grip for the Galaxy S6 Edge is $34.95 and on sale soon through Speck.

As an Amazon Associate I earn from qualifying purchases.