Samsung Galaxy S6 Edge Review
The Samsung Galaxy S6 Edge combines a beautiful screen and a premium design with Android Lollipop and the best Android camera we've ever used to deliver a stunning smartphone that you can't skip.
In a year where Samsung needed to step up and deliver a new phone that can compete directly with the iPhone 6, the Galaxy S6 Edge fills that need. Instead of adding flash and a bigger screen Samsung focuses on a beautiful design, two curved edges on the screen and there's not a speck of plastic to be found.
We do give up access to expandable memory and replaceable batteries with the new design, but it is a trade-off that we can live with after spending weeks using the new smartphone.
The Samsung Galaxy S6 Edge and Galaxy S6 share many features and a very similar design, but this review focuses on the high-end Galaxy S6 Edge that delivers a few special features on the curved edge of the screen.
Read: Galaxy S6 vs Galaxy S6 Edge
Ultimately the curved screen features alone don't deliver $100 in added value, but the cool factor of a curved screen is the real draw nonetheless.
The Galaxy S6 Edge starts at $299 on contract or $0 down with monthly payments on AT&T, Sprint, Verizon, T-Mobile and US Cellular. Samsung offers the Galaxy S6 Edge in a variety of colors and in 32GB, 64GB and 128GB storage options for users that need more space.
Samsung Galaxy S6 Edge Review Summary
Watch our Galaxy S6 Edge review video below to see what we like about this phone and how it compares to the Galaxy S6.
Here are the most important Galaxy S6 Edge review details that buyers need to know, outlining the overall experience of using the Galaxy S6 Edge.
What We Like: Beautiful display with cool curved edges, Good battery life, Design is a major upgrade, Camera is very impressive.
What We Don't Like: No Micro SD card, Text sometimes curves on the edge when reading.
Bottom Line: The Samsung Galaxy S6 Edge is a beautiful phone that demands a premium price for a new curved screen.
The Galaxy S6 Edge isn't for everyone, but if you must have the curved screen it is a great option that delivers more mainstream appeal than the Galaxy Note Edge. Read the rest of our Galaxy S6 Edge review to find out if this is your next phone.
Galaxy S6 Edge Display
The Galaxy S6 Edge display sets it apart from the standard Galaxy S6 with a curved edge on the left and right sides. Unlike the iPhone that only curves part of the glass cover, the edges of the Edge's screen actually curve to the side.
There are some specific Galaxy S6 Edge features that show notifications, the time and alert you to an incoming call using the edge of the phone, but the biggest draw is that the Galaxy S6 Edge display delivers a cool factor that you don't see on most phones.
Read: Top 7 Galaxy S6 Edge Settings to Change
After two weeks of use I use the Night Clock feature to see the time on the edge of the clock, Edge Contacts to quickly access favorite contacts and the Information stream a little bit — but the standout feature is just that the side of the Galaxy S6 Edge is stunning to look at.
Overall the screen doesn't quite match up to the Galaxy S6 display in every way. It seems slightly less bright or vibrant, but both offer a 2,560 x 1,440 resolution that shows a lot of detail.
One downside to the curve is that on websites that are not mobile friendly the text may sit on the curved edge, making it hard to read. The display also shows more glare in bright settings like the gym.
Galaxy S6 Edge Design
Samsung cut several features to deliver the new metal and glass design, but with the addition of high-capacity models, wireless charging and fast charging the new design is one that is worth it.
The front and the back of the Galaxy S6 Edge feature Gorilla Glass 4, which should withstand some drops and shock. Users cannot remove the back of the phone to replace storage or a battery.
A metal frame sits between the glass front and back. The design is reminiscent of the iPhone 6, but there are only so many ways you can combine ports and speakers in a metal frame. Unlike the iPhone 6, which is slippery without a case, the Galaxy S6 Edge is easy to hold on to. It will slide some on smooth surfaces if there is a small incline, though, so a Galaxy S6 Edge case is a handy option for at the gym.
After using every Samsung phone since the Galaxy S3, it is easy to say that this is the best designed Samsung phone ever made.
Galaxy S6 Edge Cameras
Samsung finally delivers a camera that can match the iPhone. The Galaxy S6 Edge camera launches quickly with a double press of the home button from any screen and the sensor and lens can focus fast and take a good photo with a lot of detail without the need to fiddle with settings and options.
Samsung includes a Live HDR mode that lets you see what the photo will look like before you take it and there are effects to apply if you enjoy that customization. The Auto mode is smart and delivers good results, but there is also a Pro mode that lets users customize many other options.
As usual Samsung does include some extra modes like Selective Focus to blur the background in a photo, Panorama, Slow Motion and Fast Motion. There is also a Virtual Shot mode that lets you walk around an object to show it from all sides. Users can download other modes free from the Samsung App Store including Dual Camera, Sound and Shot, Beauty Face, Rear Cam Selfie and more.
There is a 16MP sensor in the Galaxy S6 Edge rear camera and optical image stabilization. The front-facing camera features a 5MP sensor and the same Auto HDR feature as the rear camera. Check out the Galaxy S6 Edge photo samples below.
Galaxy S6 Edge Performance
The Galaxy S6 Edge is a speedy device and so far the Galaxy S6 Edge battery life is good with one potential problem. Here's a closer look at the Galaxy S6 Edge performance.
Samsung includes a new Samsung Exynos processor inside the S6 Edge, a change from Qualcomm processors in earlier versions. All that the regular consumer needs to know about this change is that the Edge is fast and it runs the same Android apps as always with plenty of power.
The Galaxy S6 Edge battery life is good, lasting a full day in most cases, but with heavy use of the mobile hotspot it can be a challenge to use. During a trip I used the Galaxy S6 Edge as a personal hotspot for most of the day, which I expect to kill the battery. The problem came when the Galaxy S6 did not charge while plugged in to my computer and acting as a personal hotspot. This left me with a dead phone at the end of the work day. When not in personal hotspot mode the phone charges when connected to that USB port, so it may simply be drawing too much power.
With the right charger you can quickly charge the battery from below 10% to 50% in 30 minutes. There is also support for wireless charging on two major standards, but it will not charge as fast.
Galaxy S6 Edge Software
Samsung redefines the traditional Galaxy S software for the Galaxy S6 Edge. The new software is about more than those features that use the edge of the screen. Samsung's Android overlay is still there, but it complements the new look of Android Lollipop instead of distorting it. We still have some added apps that we cannot remove, only disable. It would be wonderful if Samsung let users completely remove apps that they will never use.
Unlocking the Galaxy S6 Edge is easier thanks to a fingerprint sensor that works much more reliably than the Galaxy S5 and there is a Smart Lock option that keeps the device unlocked when you are at home, work or connected to trusted Bluetooth devices.
This year Samsung adds support for themes, but there are not many theme options yet. Samsung continues to support multitasking with an option to use two windows on-screen at the same time. This feels more fluid than on the Galaxy S5 with seamless transitions between using the two apps and using the keyboard.
Read: How to Use Galaxy S6 Edge & Galaxy S6 Emoji
Samsung packs in a remote control app from Peel that makes controlling any HDTV or home entertainment system easy. Samsung Pay is coming later this year to deliver payment support almost anywhere that you use your credit card by sending wireless magnetic stripe data. You will need a participating bank for this to work. Google Wallet works now with NFC.
S Voice is on the Galaxy S6 and it offers easy access to voice control, but it isn't always reliable. I find myself using OK Google and Google Now more.
When you need more battery life there is a Power Saver Mode and an Ultra Power Saver mode. The latter is perfect for those times you really need to stretch the last 10% of battery life for hours and hours. Samsung also includes motions, gestures and Smart Stay features from earlier models.
The Galaxy S6 Edge software is the best version of customized Android that Samsung has delivered yet. It is not perfect, but it is vastly better than in earlier years.
Galaxy S6 Edge Review Verdict
The Samsung Galaxy S6 Edge is $100 too expensive for some users. The real draw of the Galaxy S6 Edge isn't the handy Edge features — it's the cool factor of owning a smartphone with a curved edge and enjoying the beautiful design.
There are compromises with no Micro SD card slot or replaceable battery, but the upgraded design and materials make this a trade-off that most users can live with. It helps that Samsung sells multiple storage sizes and offers battery saving modes.
After using both the Galaxy S6 and Galaxy S6 Edge since release there is definitely something special about the more curved screen that pulls me back to the Edge.
7 Best Galaxy S6 Edge Cases
Speck CandyShell Grip Galaxy S6 Edge Case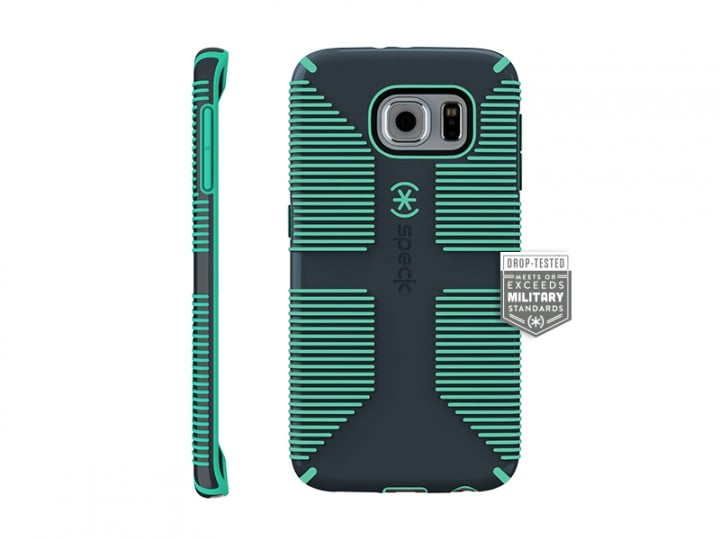 If you want to protect the back of the Galaxy S6 Edge and still enjoy the curved edges you should look at the CandyShell Grip Galaxy S6 Edge case that uses rubber ridges on the back and sides to make the Edge easier to hold and protects it from drops.
The Speck CandyShell Grip for the Galaxy S6 Edge is $34.95 and on sale soon through Speck.

As an Amazon Associate I earn from qualifying purchases.