Samsung Galaxy S7 Active: 5 Things You Need to Know
In early June Samsung and AT&T announced an all-new version of the Galaxy S7, known as the Galaxy S7 Active. Now that the Samsung Galaxy S7 and S7 Edge have been available for a few months, an even more rugged version is coming just in time for summer with a massive 4,000 mAh battery and shatter-proof display. Here's what potential buyers need to know.
When the new Galaxy S7 arrived with a more durable design and waterproof IP68 rating, many thought the popular "Active" model would be a thing of the past. However, just like they've done for the past few years AT&T unveiled the Galaxy S7 Active with some specs that are extremely impressive. So much in fact, that many buyers could consider getting it over the original.
Read: Samsung Galaxy S7 Edge Review
Basically the Galaxy S7 Active is the same great smartphone as the original. Featuring a great design, beautiful display, waterproof, powerful processor and a great 12 Dual Pixel camera, only this new one has received a little extra attention to the design and durability. It's Samsung's most durable smartphone ever released, and here are all the details.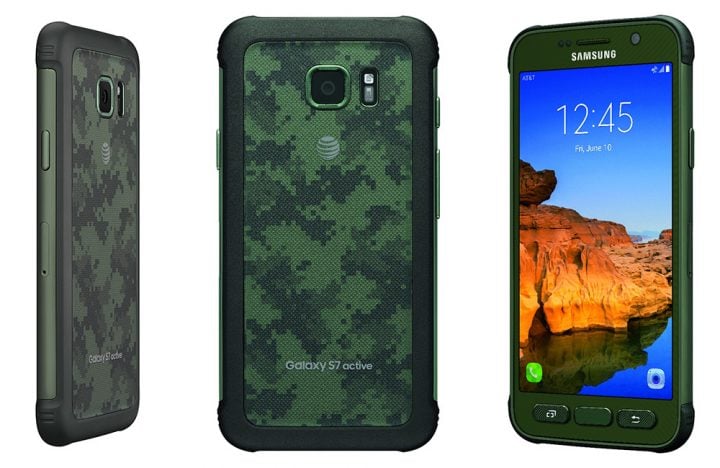 Back in late April and early May our first details about Samsung's new phone in partnership with AT&T surfaced. Confirming the two would once again be working on a durable phone that is ready to take on the summer, those who enjoy an adventure, or just need a phone that's a bit more durable and reliable.
Update: The Galaxy S7 Active is available as of today, June 10th exclusively from AT&T for $26.50 a month or $794 outright. More info can be found below.
Galaxy S7 Active Release Date
We knew it was coming, it was just a matter of when.  Last year it arrived on June 12th, and we heard the same would hold true this year. Like all Samsung phones lately, this one is arriving a little earlier than expected.
On Friday June 10th customers on AT&T can get the new "Shatter-proof" Galaxy S7 Active in three different color options and with two monthly payment installments. AT&T is also giving buyers a free Gear S2 smartwatch absolutely free. AT&T is also offering the Galaxy Tab E for $0.99 with the purchase of the S7 Active.
The quick video above highlights some of the most important features and aspects of this phone, as well as reveals what makes it different from the readily available Galaxy S7 that was released back in March.
Galaxy S7 Active Pricing & Availability
As we mentioned above, the new Galaxy S7 Active will be available starting on June 10th, and it will be available in three different color options. Buyers can choose between Camo Green, Sandy Gold or Titanium Gray for just $26.50 a month for 30 months on AT&T Next, or $33.13 a month for 24 months. Two year contracts are a thing of the past, and these monthly payment plans are the only option.
Last year it was $199 with a new 2-year contract, but AT&T is no longer offering those. Meaning users can buy it outright from June 10th, or make monthly payments to have the latest and greatest.
Galaxy S7 Active Specs & Features
The Samsung Galaxy S7 Active is essentially the same great phone as the Galaxy S7, but with a few extremely noteworthy additions. Of course the phone doesn't look as elegant or premium, but it's built to last with Samsung's first ever Shatter-proof display, similar to the DROID Turbo 2.
Galaxy S7 Active Specs
5.1-inch 2560 x 1440 Quad-HD display
Quad-core Snapdragon 820 with 4GB of RAM
32 of storage with a micro-SD slot for expansion
12 Dual-pixel rear and 5MP front camera
Android 6.0.1 Marshmallow with TouchWiz
Massive 4,000 mAh battery with wireless & Quick charging
Fingerprint Scanner (First for the Active series)
IP68 Shock, Drop, and Water Resistant
Shatter-proof Display
Camo Green, Sandy Gold, or Titanium Gray colors
more
The Active has three dedicated hardware buttons on the front, vs the home button and touch keys found on other Galaxy smartphones. This time around users get the same fingerprint scanner for added security, along with the durability the Active series is known for. It's a bit taller than the regular Galaxy S7, and a little thicker too in order to fit that huge battery inside.
With a 4,000 mAh battery this phone should last longer than any Galaxy smartphone to date, and using Quick Charge 2.0 technology it can fully recharge in less than 2 hours, and go from 0-50% in just 30-35 minutes.
Galaxy S7 Active Waterproof & Shatter Free Display
Being the Galaxy S7 "Active" this phone is built around the idea of being extremely durable or rugged. Most phones that claim to be water resistant have an IP67 rating, which basically means it can handle being under a few feet of water for 10 minutes or so, but often times still get damaged by water. That isn't the case here.
Like the regular S7, the AT&T's Galaxy S7 Active can be completely submerged in nearly 5 feet of water for over 30 minutes. It's fully IP68 certified for dust, water and drop protection. It has an added aluminum ring around the frame to protect against drops, and a new display technology too.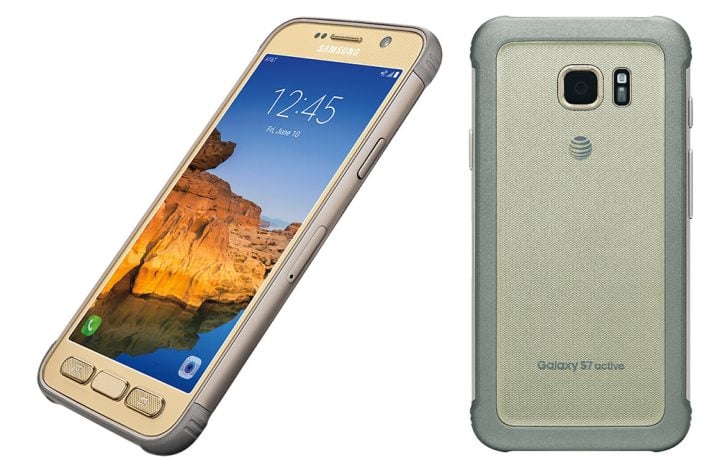 Samsung and AT&T claim this is Samsung's first phone with a "shatterproof" display. Meaning it won't break no matter how hard or high it's dropped. However, it can scratch easier than some as the display is likely made up of some sort of plastic, rather than Gorilla Glass 4 found on the original model released earlier this year.
The company claims it can be dropped from nearly 5ft and won't break or shatter. Which is a big plus considering all the reports of broken Galaxy S7 and S7 Edge smartphones.
Activity Zone Shortcut Button
Like all recent Samsung smartphones this device has a power button on the right, and the volume keys are located on the left edge of the device. However, similar to last year Samsung has included a customizable "Activity Zone" button on the left, above the volume controls.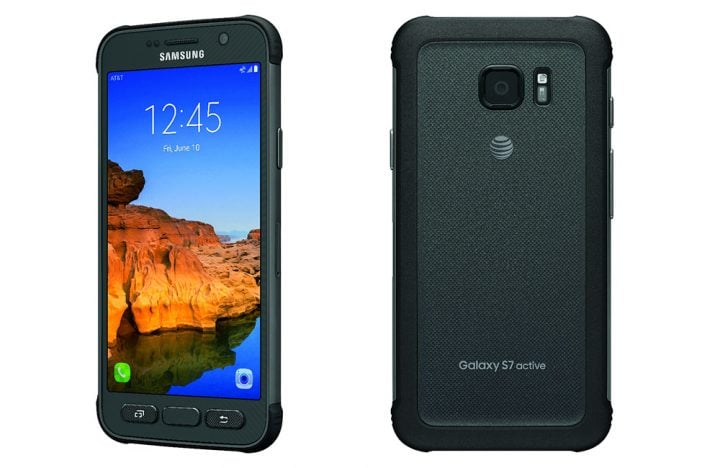 One tap on the Activity Zone buttons launches what the company calls your outdoor companion. By default it launches the exclusive Activity Zone app, but it can also be customized to do a wide array of different things as the user sees fit.
The Activity Zone essentially makes going outdoors or doing things easier than ever. Completed by having a compass, flashlight, stopwatch, weather, barometer, and all the usual Samsung S-Health fitness tools. Activity Zone tracks steps, running, distance traveled, calories lost. Not to mention using the heart rate sensor around back near the camera to check your pulse, heart rate, stress levels, blood pressure and much more.
All said and done the AT&T exclusive Galaxy S7 Active delivers the same great Samsung Galaxy experience everyone knows and loves, only it's more durable, lasts much longer and has a little bit of customization for those who need it. It's available as of today, so grab one at a nearly AT&T store and enjoy.