Samsung Galaxy S7 Active: What You Need to Know
Now that Samsung's Galaxy S7 and Galaxy S7 Edge have been available for a few months, a third Galaxy S7 model is in the works and coming soon. We're talking about the Samsung Galaxy S7 Active, and here we want to go over a few things potential buyers need to know, as well as what we believe will be the Galaxy S7 Active release date.
Over the past 2-3 years Samsung and partnering carriers like AT&T or Sprint have released "Active" or "Sport" models of their latest flagship devices, but with an even more industrial design. The Galaxy S6 Active was rugged, durable, had screws sticking out of the back and IP67 dust and water resistant.
Read: Galaxy S6 Active: Everything You Need to Know
The new Galaxy S7 is one of Samsung's best smartphones to date. It has an excellent design, a great camera, improved battery life, a micro-SD card and it's IP68 dust and water resistant. After learning about that last feature, many thought the Active series would disappear, but that doesn't appear to be the case thanks to recently newly leaked photos and information. Read on for more details about the upcoming Galaxy S7 Active.
Shown above is a relatively new photo that has leaked, which is obviously an upcoming Samsung smartphone. Following the trend we've seen from AT&T and Samsung over the past two years, we're almost certain this is the AT&T Samsung Galaxy S7 Active. Featuring a familiar rugged frame, camouflage design, and a slightly different look than current Galaxy devices.
While Samsung has yet to share any details about a potential Active version of the Galaxy S7, that's exactly what we're seeing here today, and it makes sense given they've released one for the past three years. Here's what we know so far.
Galaxy S7 Active Leaks & Rumors
Until a few weeks ago we knew nothing about a Galaxy S7 Active, except for some small reports suggesting it was coming soon based on past history. Today though, we now have brand new photos (and official renders) that all but confirm its existence, as well as reveal new features, the color and even a possible launch or release date.
Below is an image of the Galaxy S6 Active from 2015, for comparison. It has a durable design, rubber around the edges, and dedicated hardware buttons which are easier to tap while hands are wet, dirty, or users are wearing gloves. Whether you're on the job, or in the outdoors for some extreme sports. We mention this because that's one aspect that could be changing this year, along with other things.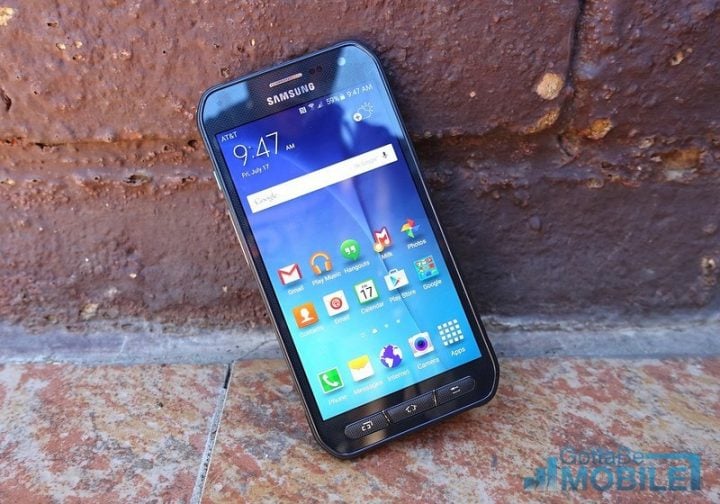 A few weeks back a site named SamsungVN received a selection of photos showing off the Galaxy S7 Active. We see the fully designed phone with AT&T branding on the back, a back housing, and even a quick glance at the front. One big new aspect is what looks to be a fingerprint scanner, but more on that below.
The leakster didn't have too many other details to share, aside from the photos. That said, we have information based on previous releases that should give us a good idea of what to expect in the coming weeks or months.
Galaxy S7 Active Specs
To add even more fuel to the Galaxy S7 Active rumor fire, popular leaksters from VentureBeat shared more information this week, photos, and a possible release date.
Early on the Active models weren't as high-end as the regular option, like we saw with the Galaxy S4 or even the Galaxy S5. Last year though, the Galaxy S6 Active was exactly the same as the Galaxy S6, but had a few extra features and a bigger battery. Most likely the same will hold true this year. If so, here's what we're expecting to complete this phone.
Galaxy S7 Active Specs (Rumored)
5.2-inch 2560 x 1440 Quad-HD Display
Quad-Core Snapdragon 820 Processor with 4GB of RAM
32GB of storage with micro-SD for expansion
Android 6.0.1 Marshmallow with TouchWiz
12 Dual Pixel Rear and 5MP front camera
IP68 Dust, Drop, Shock & Water Resistant (and more)
Fingerprint Scanner
4,000 mAh or bigger battery, fast charging
Camo Green, Black, and Gold
more
In 2015 the Galaxy S6 Active was exactly the same as the regular model, but had a huge 3,500 mAh battery compared to only 2,550 in the regular Galaxy S6. It also came with a more rugged design, water resistant, and the fingerprint scanner was removed in favor of dedicated hardware buttons.
For 2016 with the all-new Galaxy S7 Active, Samsung needs something to differentiate it from past models, while keeping it close to being on-par with the Galaxy S7. The photo below reveals what looks to be the first Active with a fingerprint scanner. We're also hearing it's 1mm thicker to house a huge 4,000 mAh battery. That could also be a sign that a similar big battery will be in the Galaxy Note 6.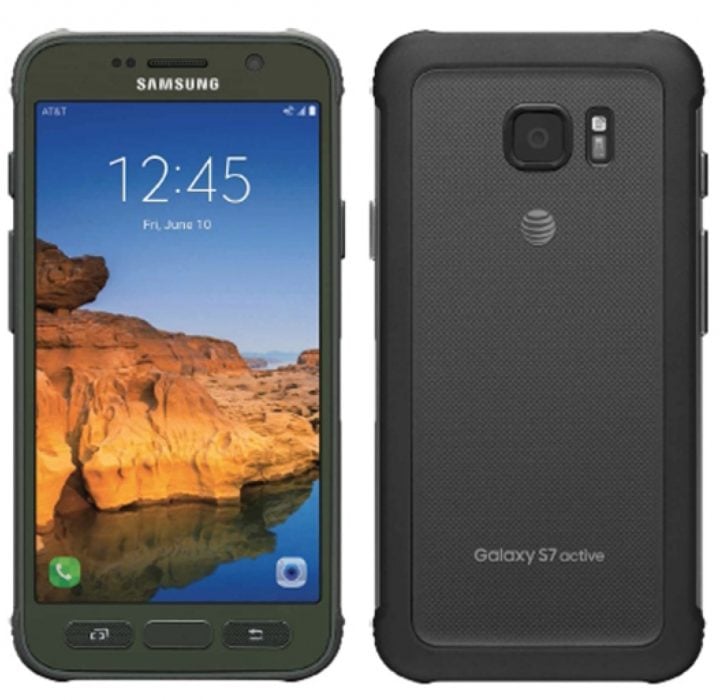 The details and specs above are nothing but speculation at this point, but makes sense given what we've seen from this partnership in the past. Not to mention were reported by a reliable leakster. Photos further down reveal what appears to be aluminum and rubber sides to complete the design of this phone.
Galaxy S7 Active Release Date
In 2014 the Galaxy S5 Active was announced and confirmed by Samsung and AT&T on June 12th, and released shortly thereafter. Last year, the Galaxy S6 Active was released on June 12th, which was earlier than the model before it.
So what does that mean? Well, Samsung and AT&T have stuck to a similar timeframe, but released each model earlier than the year prior.
If that's the case, the new Samsung Galaxy S7 Active should and will likely be announced sometime during the month of May, and be released in early June. Most like on or around June 10th. That's a few days earlier than most, and the leaked image above says June 10th right inside the phone on the screen placeholder. This is often a sign as to when a phone will be revealed.
Other Details
Looking at the photo below we can see the new Samsung Galaxy S7 Active should be very similar to the model last year, with many of the same buttons. Off to the left edge is the volume rocker, and a dedicated "Activity Zone" button above it, which AT&T called an outdoor companion that was a one-stop shop to tons of extra features.
Last year the Activity Zone button gave users instant access to a compass, flashlight, stopwatch, weather, barometer, and all the usual Samsung S-Health fitness tools. Activity Zone tracked steps, running, distance traveled, or calories lost. Then let you use the heart rate sensor on the back to check pulse, heart rate, stress levels, blood pressure and more. We're expecting the same thing this year on the Galaxy S7 Active, and more.
From what we're seeing it will have volume keys and the Activity Zone shortcut button, a power key on the right top, and a micro-SD and SIM slot on the bottom right. Then up front is hardware buttons for back and recent apps, and the home button could double as a fingerprint scanner. Aside from that, we don't know too many other details.
We're also seeing a phone wrapped in rubber for addded durability, and additional thickness likely for IP68 water resistance and the much larger battery. If everything we're hearing is accurate, this could be one impressive phones with 2-3 days of battery life if not more.
If the past tells us anything, the Galaxy S7 Active will be very similar to the regular S7, have the same features and options as the Galaxy S6 Active, and be released sometime in June. Stay tuned for more details.

As an Amazon Associate I earn from qualifying purchases.