Samsung Galaxy S7: Release Date, Specs and Features
The new Samsung Galaxy S7 and Galaxy S7 Edge are officially available as of March 11th. Samsung announced them back in February and most users who pre-ordered received them early. Now that both phones are available in the US, we've put together a detailed guide regarding everything buyers need to know about them. From release details and deals, an improved design, a bigger 5.5-inch Galaxy S7 Edge, water-resistance, the return of the micro-SD slot and more.
A surprise in the Galaxy S7 launch event event was the release date, set for March 11th, but carriers started shipping as early as March 1st. Below is everything from the beautiful screens, micro-SD card, specs, camera, ship dates, features and everything else you need to know.
Read: Galaxy S7 Pre-Order Date, Time & Shipping
Thanks to countless leaks and rumors we knew everything about the Galaxy S7 days ahead of the announcement. Both phones have a very similar overall look and feel as the Galaxy S6 last year, but Samsung's made some major changes, added durability, and more features to make these their two best smartphones ever released.
https://www.youtube.com/watch?v=cyohHyQl-kc
The Samsung Galaxy S7 and Galaxy S7 Edge were announced on Sunday, February 21st in Barcelona, Spain ahead of the annual Mobile World Congress tradeshow. Samsung took the stage and announced both new phones, and confirmed they'll be released earlier than any Samsung Galaxy S in recent years.
Update: We now have multiple hands-on videos showing off the Galaxy S7, the Galaxy S7 Edge, water-resistant features and more.
Update #2: The Samsung Galaxy S7 release arrived early for many. Starting February 29th, T-Mobile confirmed pre-orders were shipping early for both the Galaxy S7 and Galaxy S7 Edge. Many buyers received it on March 1st, and throughout the first week of March, nearly ten days early.
Read: Best Galaxy S7 and S7 Edge Deals
That was followed by Sprint, who started shipping around March 3rd, and AT&T has confirmed to GottaBeMobile pre-orders ship on the 7th, with most users getting the Galaxy S7 or S7 Edge on March 8th. And even Best Buy offered the phone early (if any are in stock) in-stores starting March 7th, and allowing pre-order customers in store pickups as well.
With tough competition from a new all-metal LG G5, the upcoming iPhone 7 and more, Samsung wanted to release these phones as soon as possible. With that in mind, here's what buyers should know.
We believe in a world that is brighter, sharper, more convenient, and more fun. We strive to deliver on that vision with the Galaxy S7 and Galaxy S7 edge by marrying elegant design with functionality and providing a seamless mobile experience," – DJ Koh, President of Mobile Communication, Samsung
Galaxy S7 and S7 Edge Release Date
Unlike previous years where Samsung announces the phones and buyers have to wait months, the Galaxy S7 and Galaxy S7 Edge are went up for pre-order on February 23rd at 8:00 AM ET in the United States. Best Buy and all carrier stores in the U.S. will open up pre-orders at the same time.
As for the release date, Samsung came right out and confirmed both phones will be available around the globe starting March 11th in the United States. We could see an earlier international release, but the U.S. release date is Friday, March 11th. As said above, all carriers (and now Verizon) are shipping orders a few days early. All while the LG G5 release date is no where to be seen.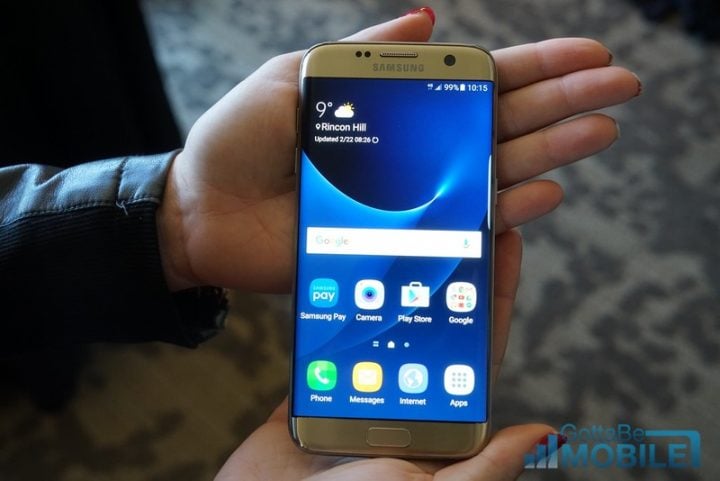 Similar to the Galaxy Note 5 which was announced and released in the same month back in August of 2015, Samsung is getting these phones in the hands of consumers nearly a month faster than the Galaxy S6 last year, which was released on April 10th.
Samsung and carriers aren't messing around this year. Everyone will have both models in all color options on March 11th in stores, and ship them ahead of the release date.
Galaxy S7 Design
The new Samsung Galaxy S7 for 2016 looks almost exactly the same as last years Galaxy S6. It was an award-winning design, so Samsung is keeping it for another year and has refined everything, rounded the edges to make them easier to hold, while making both phones faster and more durable than ever.
Both phones look similar but there are a few noticeable changes users will want to know about. Shown in the picture below are the rounded edges on back, rather than a flat surface we received with the Galaxy S6. Like the Galaxy Note 5 the back will be rounded, but on all four sides for added comfort and to feel more slim. Samsung's also made changes to allow for a thin profile with less of a camera bulge, water resistance and much more.
Unlike last year where the Galaxy S6 Edge had the same size screen as the regular model, this year Samsung is offering two different sizes to please more potential buyers. There's a regular 5.1-inch Galaxy S7, and a bigger 5.5-inch Galaxy S7 Edge with curved edges on both sides of the screen with some extra unique features. The Galaxy S7 and S7 Edge feature a new "always on display" mode, similar to what we've seen from Motorola, and earlier today on the LG G5. Quick information at a glance, while the phone sits in a low-power state.
Users can expect the same all glass and aluminum design with the power button to the upper right side, volume controls on the left, a micro-USB slot on bottom with Quick Charge 3.0 for charging (no USB Type-C port) and more. A huge addition to the design is the micro-SD slot to expand storage. Samsung's added this to the SIM tray, which should make millions of buyers happy who passed on the Galaxy S6. The battery is not removable.
To make things better, these sleek and all aluminum premium handsets are certified IP68 dust and water resistant. Like the Galaxy S5 from 2014, but better. There are no flaps covering the USB port, or odd design changes, it's all done internally with seals inside the frame, and a nano-coating to protect the electrical components from accidental splashes or contact with water.
In fact, Samsung claims these phones can be submerged in water for over 30 minutes, with no damage. Many expected an IP67 certification, but not IP68. These are the most durable Samsung smartphones to date. A familiar and well-received overall design, small changes for the better, an innovative and impressive camera, more durability, and key features making a return from prior years is what completes the Galaxy S7.
Galaxy S7 (Click to Enlarge)
Galaxy S7 Edge (Click to Enlarge)
Galaxy S7 & Galaxy S7 Edge Specs
The Galaxy S7 and S7 Edge are very promising with all of the latest technology in one sleek device. They'll be some of the most powerful phones in 2016 with an all-new Quad-core processor from Qualcomm, or Samsung's in-house Exynos 8-core processor for select regions outside of the US. Samsung confirmed this moments ago. The specs include everything most buyers want in a smartphone, and check nearly every box for a flagship smartphone.
Galaxy S7 Specs
| | | | | |
| --- | --- | --- | --- | --- |
| Display | 5.1-inch 2560 x 1440 Quad-HD Display (5.5-inch Edge model) | | | |
| Processor | Quad-Core Qualcomm 820 Processor with 4GB of RAM (Or Samsung Exynos) | | | |
| Storage | 32 Storage with a micro-SD slot | | | |
| Rear Camera | New 12 Dual Pixel Camera with f/1.7 aperture, Optical Image Stabilization | | | |
| Front Camera | 5 Megapixel wide-angle f/1.7 camera | | | |
| Battery | 3,000 mAh battery with Fast Charging, Wireless Fast Charging (3,600 on Galaxy S7 Edge) | | | |
| Software | Android 6.0.1 Marshmallow with TouchWiz | | | |
| Security | Fingerprint Scanner | | | |
| Waterproof | IP68 Dust & Water Resistance | | | |
| Design | All Metal Flat Design (no camera bulge) | | | |
| Connections | Micro-USB with Quick Charge 3.0, Samsung Pay, more | | | |
Inside Samsung is using a faster and more powerful Snapdragon 820 processor in some regions, and their own Samsung Exynos chipset for areas outside of the United States. This new processor delivers much improved performance, better battery life and more efficiency, extra camera features, not to mention what Samsung calls Adaptive Fast Charging, or Quick Charge 2.0 technology.
The Snapdragon 820 is fast, stable, and doesn't overheat like the Snapdragon 810 many manufacturers skipped last year. It's only a Quad-core chip, but the number of cores doesn't matter. It's faster in every sense. It also will deliver better graphics for gaming or video editing with an advanced GPU. Adding 4GB of RAM allows for better overall performance and multi-tasking with Android 6.0.1 Marshmallow with Samsung's TouchWiz user interface. Apps should open and close smoothly, with neat transitions and animations unlike any Samsung smartphone to date. The company put a lot of work into the software, since they didn't have to redesign an entire device.
Two extremely important aspects of the specs for both phones is the return of the micro-SD card for owners to add additional storage, and a bigger battery. The Galaxy S6 design was great, but it came at a cost and huge compromise for buyers. In 2016 the Galaxy S7 returned the micro-SD slot, and Samsung's thinner camera left room for a bigger 3,000 mAh battery in the Galaxy S7, and a 3,600 mAh battery in the Galaxy S7 Edge. That's huge.
As a comparison last year the Galaxy S6 only had a 2,550 mAh battery, and even the 5.7-inch Galaxy Note 5 only had a 3,000 mAh battery inside. Meaning these phones should be better, faster, more durable, and last longer than ever before. All while charging faster, feature Fast Wireless Charging, Samsung Pay and more.
Update: Here is Samsung's latest commercial highlighting all the important aspects of the Galaxy S7 and S7 Edge in a quick but effective 0:30 video.
Galaxy S7 Edge
The Galaxy S7 Edge could be the "flagship" smartphone between the two. It has a bigger screen, a substantially larger battery, and extra unique features on the curved edges of the screen.
Not only does the Galaxy S7 Edge have a bigger 5.5-inch Quad-HD display, but the screen is actually curved. It's awesome to look at, show friends, and has multiple advanced features tailored around just that. The battery has increased to 3,600 mAh, being one of the biggest inside any Samsung phone, which should have many buyers excited.
Last year the curved edge had a few nice things, but most of them were gimmicks. Like a ruler, quick controls for music, shortcuts to access certain contacts or even swipe to quickly find apps like the camera or phone app. They were nice, but nothing groundbreaking. The edge did glow custom colors for certain contacts during incoming messages, if laying face-down on a desk. Overall they were nice, but nothing anyone would need.
In 2016 and with Android 6.0 Marshmallow Samsung has added much more to make the Edge useful. The Edge has doubled in width, and now the slide-out tray comes out nearly halfway, instead of just a small amount. The Apps Edge and People Edge have more information. Samsung has added nine different panels to swipe between and customize. From contacts, quick launch certain apps, sports or Twitter updates and more. There are more settings, additional options, names below contact icons and more. Basically the Edge is actually useful now, rather than just cool to look at.
On the Galaxy S6 (before Marshmallow) users could only add five apps to the slide-out edge panel, but now it comfortably fits 10. There are even quick tools like a ruler, compass, set an alarm and other things. Stay tuned for our hands-on coverage showing you more specifically about the Galaxy S7 Edge.
Galaxy S7 Camera
Something that many users didn't expect this year was a lower camera from Samsung. The Galaxy S7 and Galaxy S7 Edge have a new 12 megapixel "Dual Pixel" camera, and not the 16 megapixel camera from last year. That sounds bad, but it will actually be much better than last year.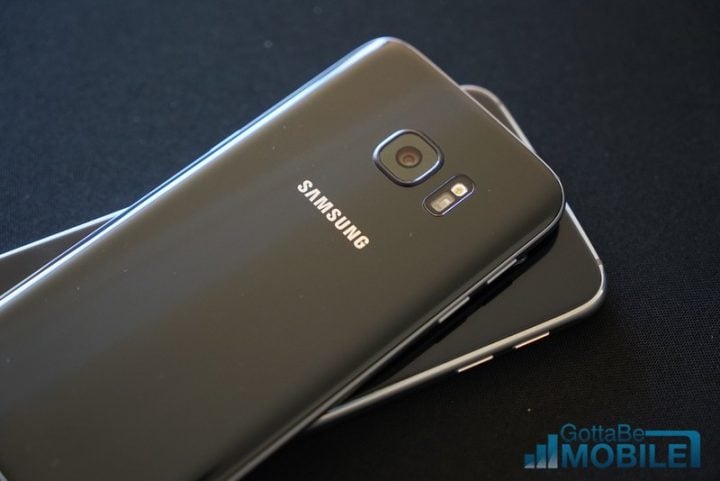 Samsung's using a world's first 12 Dual Pixel camera with a huge sensor that is extremely fast, f/1.7 aperture to be exact. Samsung claims this wider Dual Pixel sensor allows for 95% more light to be captured, so these should take stunning photos. That's faster than the Galaxy S6 or LG G4 and LG G5. It allows more light to be captured more quickly, and has less shake from hand movement. We saw a similar move by Apple with the iPhone 6s, and even Google's Nexus 6P has a 12 megapixel camera with a big sensor. However, Samsung's is bigger than all of them, 30% bigger than the iPhone 6s Plus sensor, which should be far better in every situation. Including extremely fast auto-focus. Samsung's camera uses all of the 12 million pixels to auto-focus at lightning fast speeds, rather than just 5% on competing devices.
The new 12 megapixel camera has optical image stabilization, an improved auto-focus, and the biggest effort was put into low-light photos and video recording. This huge sensor captures tons of light instantly, which means photos indoors should be rather impressive. Here's a comparison by Samsung taken at night, comparing the Galaxy S7 to the new iPhone 6s Plus.
Samsung's bigger sensor captures tons of light, lots of detail, and does it quickly. The results are stunning, and they called it the best mobile camera on the market, period. Not to mention 4k video capture, slow-motion recording and more. This huge sensor is typically reserved for actual point-and-shoot cameras, not a smartphone. It's also the first smartphone to use the Dual Pixel technology. Samsung's extremely confident in this new camera, and we'll be sure to test it once it's released.
Galaxy S7 Always-On Display
A feature that's becoming increasingly more popular as of late, has also extended to the Galaxy S7 and Galaxy S7 Edge. It's called an "always on display". This displays the time, date, weather, incoming notifications and more all "at a glance" without turning the phone on, tapping the fingerprint scanner, or putting in a password.
Above is just one example, but Samsung's always on display technology will be completely customizable. Users can choose what is shown, what isn't, and control it all. This all happens in a low-power state, which preserves battery life. This is especially true with Samsung's AMOLED displays, which Samsung can enable a small area to be turned on in this low power state. Most always on functions are a low-power black and white mode, but Samsung's managed to do this with color, and still enable only a small part of the screen to save battery life.
Galaxy S7 Accessories
While we can expect an all-new Samsung Gear VR and some smartwatches later this year, today they only had one neat accessory to announce. We know cases, flip cases, wireless charging docks and fast wireless charging are coming, but today Samsung announced the Samsung Gear 360 camera.
This new smart camera aims to deliver the best 360 degrees content around, which can be enjoyed on the Galaxy S7, S7 Edge, YouTube, and of course the Gear VR headset.
The Samsung Gear 360 features two 15 megapixel wide-angle fisheye cameras to capture 360 degrees content in stunning detail. Each actually capture nearly 195 degree angles. It comes with a small 0.5-inch display, micro-SD slot, Wi-Fi, Bluetooth, NFC, and IP53 dust and water resistance. It can take photos, record video, and even take time-lapse videos. The Gear 360 is powered by a 1,350 mAh battery. All of this fits in a device smaller than a baseball.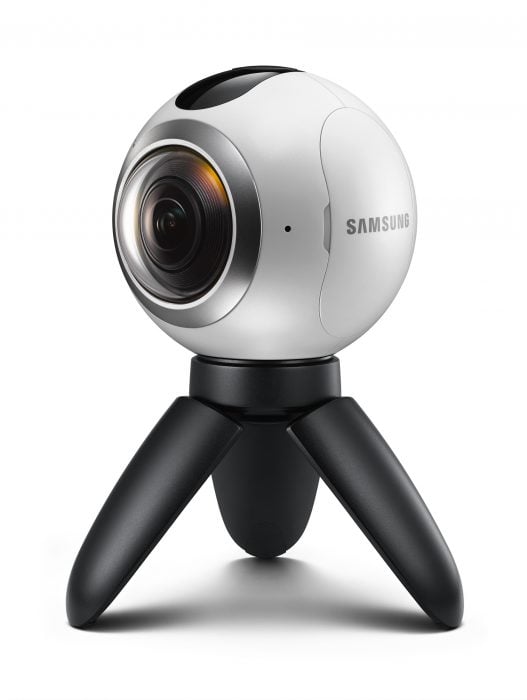 Galaxy S7 & Galaxy S7 Edge Colors
Countless leaked images gave us an excellent idea of what to expect, but live on stage Samsung confirmed all the details. The Galaxy S7 and Galaxy S7 Edge and their beautiful metal and glass designs will come in Silver, Gold, and Black. However, only Black and Gold will be available on the Galaxy S7, with all three colors will be offered for the Galaxy S7 Edge. The release details state no White model will be in the U.S., but Samsung showed a white Galaxy S7 Edge on stage. We'll have to wait for more details from carriers to know for sure.
The Galaxy Note 5 was announced in four beautiful colors, but only two were released in the United States. Samsung has a habit of showing off multiple colors, but only delivering two choices to carriers, then offering exclusives.
We can confirm only two colors for the Galaxy S7, and all three (Black, Silver and Gold) for the Galaxy S7 Edge at this time.
U.S. Carriers
Speaking of carriers in the United States. All of the big four have confirmed they'll carry the Samsung Galaxy S7 starting March 11th. From Verizon, AT&T, T-Mobile, Sprint and even smaller carriers will likely join in at a later date. Cricket and Boost Mobile will have it on March 11th, and Virgin Mobile confirmed the release date is the 18th.
Read: Galaxy S7 Release Date Breakdown
Last year the Galaxy S6 was released on April 10th for all carriers in the United States. That said, some users on T-Mobile received it early, and some shipped from other carriers a bit early too.
Both the Galaxy S7 and the Galaxy S7 Edge will be available from all major carriers, and around the globe starting on March 11th. We heard rumors of early ship times for select carriers, and it was true. T-Mobile first being 10 days early, and now all carriers are shipping a few days ahead of schedule. T-Mobile confirmed the Galaxy S7 will be $669, while the Galaxy S7 Edge will be $779. Pricing could vary by carrier.
https://www.youtube.com/watch?v=RfCubGgMkms
Galaxy S7 Pre-Orders
After hearing all of these details, seeing the curved screen with a big battery and a micro-SD slot many users want one right now. Well, we have good news. Starting February 23rd, the Galaxy S7 is available for pre-order from multiple sources starting at 8:00 AM ET. These include all major US carriers, Best Buy, Samsung, Staples and more.
Try The Galaxy S7 Early
One of many partner retail stores for the Galaxy S7 in the United States is Best Buy. The company announced moments ago that buyers will be able to test, try and enjoy the Galaxy S7 and S7 Edge starting Wednesday, February 24th in Best Buy stores as the Samsung Experience booths.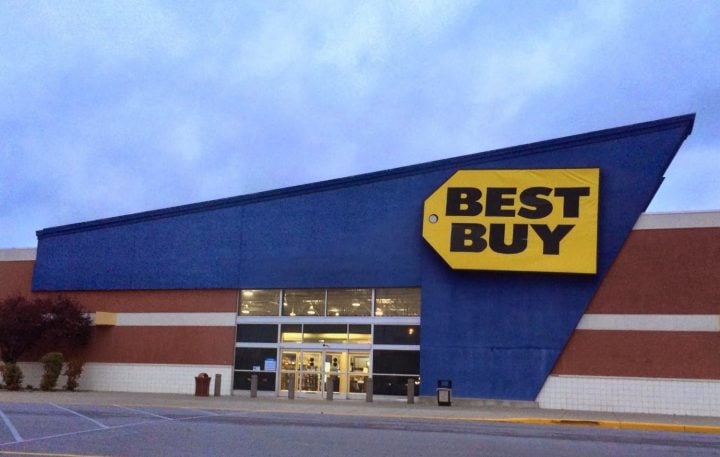 Best Buy will open up pre-orders for both phones on Tuesday, February 23rd both in stores and online. They'll have deals too, who does like deals? Then, starting February 26th both phones will be at all carrier stores to try and test out early, then pre-order and get a free Gear VR headset.
Galaxy S7 Deals
Last month rumors suggested Samsung wants this to be the biggest launch in history, and want to push VR forward at the same time. As a result we heard free Gear VR headsets would be available, and that's just been confirmed.
Read: Best Samsung Galaxy S7 Deals
Best Buy told to GottaBeMobile that buyers who pre-order the Galaxy S7 or Galaxy S7 Edge starting on the 23rd of February will get a free Samsung Gear VR (virtual reality) headset which retails at $99, and a free 64GB micro-SD card. That means users can get the 32GB Galaxy S7 and a free 64GB card for a total of 96GB all for an insanely low price. We saw this last year from the LG G4, and now Samsung and Best Buy are doing the same to excite buyers. The free micro-SD card is exclusive to Best Buy, and not a part of Samsung's pre-order deal for the Gear VR.

It's worth noting that Gear VR headsets are in limited supply, so head to the Samsung promotion website as soon as possible and reserve yours while you still can.
Update: This week Verizon announced a new "Verizon Annual Upgrade" program, allowing those on payment plans to upgrade to a new Samsung Galaxy every year, for free. Similar to T-Mobile Jump or Sprint's iPhone and Galaxy Forever deals. Verizon offered something similar for the iPhone last year, but now it has been expanded to the Samsung Galaxy and likely the Note 6 later this year.
Buy a Galaxy S7 or Galaxy S7 Edge and you're automatically enrolled. Then, as early as 30 days after you get a new phone (as long as 50% is paid off) Verizon customers can upgrade to a new phone rather than switching carriers or signing another contract. Just trade in an old phone and get the newest Galaxy. Meaning buyers can trade in the Galaxy S7 for a new Galaxy S8 next year without buying it outright or paying a premium to upgrade early. Verizon is the latest of many carriers to take this route, so call and check your nearby Verizon store today.
Both AT&T and T-Mobile are now offering Buy One Get One Free deals on the Galaxy S7 and S7 Edge as well, so now would be a great time to buy.
Sprint has the lowest overall price of the Galaxy S7 or Galaxy S7 Edge in the US after making monthly payments, and even have a new "Galaxy Forever" promotion. T-Mobile is giving out a year of Netflix absolutely free for all Galaxy S7 buyers, and more will be announced soon. As more information surfaces about the Samsung Galaxy S7 and Galaxy S7 Edge, new deals, and more we'll be sure to update and share all the information. Will you be buying the Galaxy S7 or Galaxy S7 Edge? Or maybe the LG G5 instead. Let us know in the comments below.

As an Amazon Associate I earn from qualifying purchases.