Samsung Galaxy Stellar Arrives with 4G LTE, Android 4.0 & Free After Rebate
Samsung's newest smartphone on Verizon Wireless is a free Android smartphone targeted at first-time smartphone users.
The Samsung Galaxy Stellar is free on contract after a $50 mail-in rebate, and it runs Android 4.0 Ice Cream Sandwich. Like many recent low-end or mid-range phones the Galaxy Stellar features a 4-inch display with a WVGA (480×800) resolution. It's powered by a 1.2GHz dual-core Snapdragon processor and has 4G LTE capabilities.
The Galaxy Stellar uses the most recent version of Samsung's TouchWiz UI, and has two modes. Theres the Standard Mode which sets up TouchWiz like any other Samsung smartphone, and Starter Mode. Samsung designed Starter Mode for new smartphone users and it brings a lot of the core phone features to the forefront.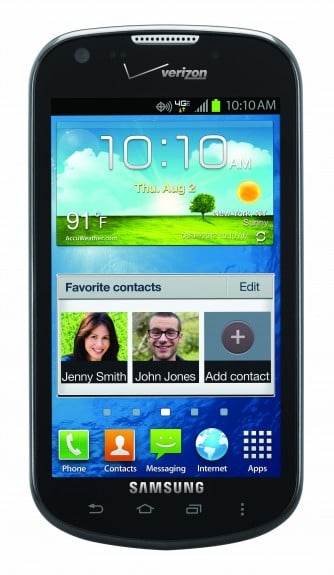 Starter Mode will put widgets like Favorite Contacts, Favorite Apps, and Favorite Settings on the homescreen. The idea is new users might not know where to look for these functions, so Starter Mode puts them front-and-center. The phone also includes a Help app which will help new users get accustomed to their phones.
Samsung and Verizon also preloaded a number of Amazon apps on the Galaxy Stellar. Apps like Amazon Kindle, IMDB, and the Amazon shopping app are already on the device when users turn it on for the first time. Normally we're no fans of pre-loaded apps, but these like apps many users would install once they get the phone anyway.
The Samsung Galaxy Stellar probably won't live up to its name for many users, but it sounds like a good device for older users who are coming to a smartphone for the first time and don't want an iPhone.

As an Amazon Associate I earn from qualifying purchases.