Samsung Galaxy Stellar Coming to Verizon
Samsung has a new Galaxy smartphone coming to Verizon, but it probably has nothing to do with the company's upcoming August 15 announcement.
According to Droid Life, a smartphone by the name of the Samsung Galaxy Stellar recently appeared in Verizon's computer systems on rebate forms. The name isn't one we've seen before, but it's likely one we'll hear a bit about in the coming weeks or months.
The Galaxy Stellar could be related to the Samsung Jasper that appeared at the FCC last month. A recent image of a smartphone that looks very similar to the Jasper on Sprint popped up earlier today under the name Galaxy Reverb.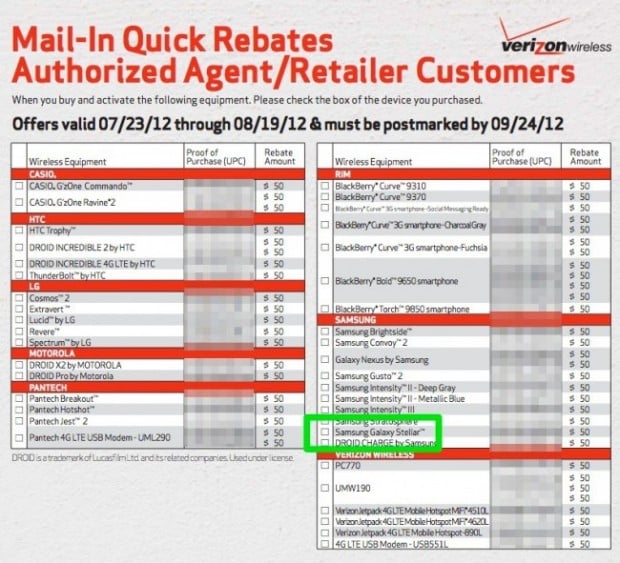 Both the Galaxy Reverb and Jasper (if it is the Galaxy Stellar) will launch with a 4-inch WVGA (800×480) display. The phones will have a Qualcomm Snapdragon S4 Snapdragon processor clocked at 1.4 GHz and 768MB of RAM. The phones will also ship with Android 4.0 Ice Cream Sandwich.
By all accounts, if the Galaxy Stellar is the Jasper, it will be a mid-range alternative to the $200 Samsung Galaxy S III. Samsung could use the last year's Galaxy S II as the mid-range model, as it has very similar specs, but shipping a new phone with Ice Cream Sandwich seems easier than upgrading existing phones.
We don't know when Verizon and Samsung will announce this new Galaxy Stellar, but if it is a mid-range device, it doesn't seem like the kind of device that will warrant a press conference to announce.  We'll likely hear more as the holiday season approaches.

As an Amazon Associate I earn from qualifying purchases.