Samsung Galaxy Tab 7.7 Features 1.4-GHz CPU, Super AMOLED Plus Display, Android Honeycomb
Today at the IFA electronics show Samsung finally outed their not-so-secret new tablet, the Galaxy Tab 7.7. This Android Honeycomb device (3.2 to be precise) isn't a simple update on last year's much hyped 7-inch Galaxy Tab debut. It's more a sibling of the super slim 10.1 and 8.9 inch Tabs and features some serious hardware: 1.4-GHz processor, Super AMOLED Plus display, and speedy Wi-Fi. Pricing and availability in the U.S. haven't been announced yet, but if we're repeating the dance from last year, it'll only be a few weeks before the Tab jumps the ocean and lands here.
All of the 7-inch Android tablets I've seen so far don't bother going the Honeycomb route, opting for the latest 2.x version. Samsung is all: Been There, Done That. The Tab 7.7 will come with Honeycomb 3.2 and the TouchWiz UX skin on top. It also has the enterprise goodies announced back when Samsung launched TouchWiz for the Tab 10.1 and mentioned again this week at the Galaxy S II event. In addition, Honeycomb 3.2 includes "compatibility zoom" mode which will resize apps not designed for tablet screens. So no more downloading apps and finding that they're constrained to small portions of the screen.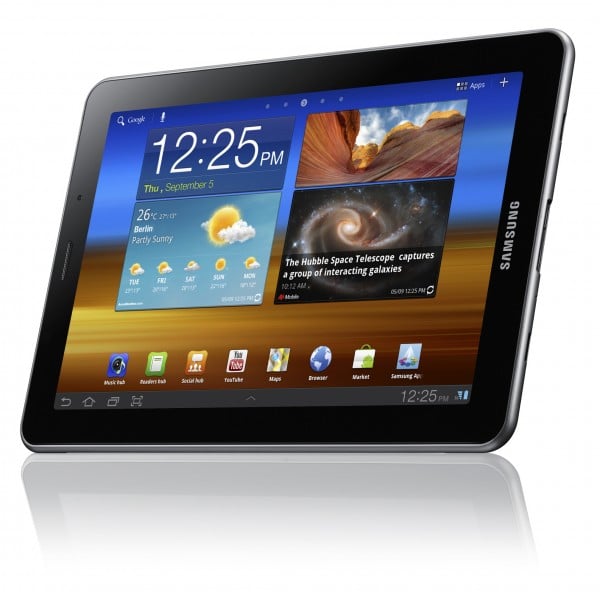 Contrary to some speculation, the display size is indeed 7.7 inches in size, thus slightly larger than other tablets in this range. Measuring 7.7 x 5.2 x 0.3 inches, it's a hair longer and wider than the original Tab 7-inch (7.5 x 4.7 x 0.5 inches), but 0.2 inches thinner. It weighs just 0.74 pounds and I imagine it'll feel light for its size, just like the Tab 10.1. The brushed metal back is a slick gray that looks a little industrial, yes, but is better than white plastic.
The Super AMOLED Plus display is the same kind found on the new Galaxy S II phones, and is just as impressive at a larger size. Movies will look great here — full 1080p playback! — and text should be crisp as well. Since this is a Honeycomb tablet, users will get a nice 1280 x 800 resolution. With this many pixels on this size screen there's the possibility of issues like tiny text and icons, so it'll be interesting to see how the Tab compensates.
Inside a 1.4-GHz dual-core processor runs the show. It's not an Nvidia Tegra 2, obviously, but Samsung also didn't claim it as their own. They're promising fast speeds and good performance without sacrificing longevity. The 5,100 mAh battery is rated to last 10 hours.
Other hardware specs include front and back facing cameras (3MP and 2MP), GPS, Bluetooth 3.0 and a/b/g/n Wi-Fi. There's also a feature called Wi-Fi Bonding which is supposed to increase wireless speeds.
Consumers will get their choice of 16GB, 32Gb, and 64GB models, all of which have microSD slots that support up to 32GB cards. A Tab with 96GB of storage would make for a sweet portable media player and gaming machine. And think of all the eBooks you can cram in there.
Just as with last year's Galaxy Tab, the version they'll sell overseas has features that we probably won't get over here, like the ability to make voice and video calls. And while the Tab announced today runs on an HSPA+ network in Europe, we may see a multi-carrier launch in the U.S. once again. Dare we dream of a 4G Tab 7.7?
We probably won't know pricing and availability in the U.S. until the launch event here. But it's a safe bet that these will be on someone's shelves in time for the holiday shopping season.

As an Amazon Associate I earn from qualifying purchases.