Samsung Galaxy Tab 10.1 Accessories: HDMI, USB and SD Card Adapters
Like the iPad, Samsung's 10.1-inch Galaxy Tab has only one port, a 30-pin proprietary connector. And so, like Apple, Samsung has provided a few adapters for extending the use of this port: HDMI, USB and SD. Though having these ports on board might make life easier, these adapters at least offer the extra functionality… for an extra cost.
The HDMI adapter allows users to connect a full-size HDMI cord to the Tab and output the display an HD TV or monitor. Connecting the power cord at the same time is possible, but the configuration is a little awkward, as you see. You can also connect the HDMI adapter to the Tab via the Multi-Media Dock.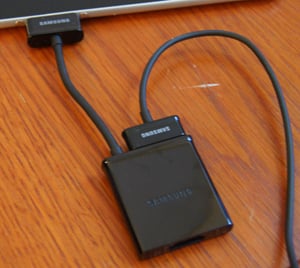 When I hooked this up to an HD monitor I noticed that upscaling SD content to 1080p wasn't smooth and resulted in some pixilation. I did this while watching Flash video on TNT.tv. Comparing the smoothness between the tablet and the monitor, the output had noticable dropped frames. Once I sat back and just watched the show, I didn't notice it as much. Still, the translation isn't perfect.
With HD content this issue was less apparent. Same for content played from the internal memory as opposed to streaming. If you plan to utilize the Samsung MediaHub and don't have a MediaHub-enabled TV, this is a good way to get that video on the big screen.
This adapter is also a good idea for people who plan to use the Tab as a presentation device. Outputting to HDMI requires no extra apps or settings; just plug it in.
A good buy for users who plan to use MediaHub, are really jonesing to play Android games on the big screen, or who plan to use the Tab as a business tool. Otherwise, there are better ways to get your video on.

With this adapter users can attach a USB drive or a USB peripheral (such as a keyboard) to the Tab.
Having a wired keyboard when docks and Bluetooth solutions abound may not seem like the best MO, but if you only need the keyboard occassionally it is nice to be able to plug in any USB model and begin using it with no hassle.
I get more use out of the file transfer aspect of this adapter. Since connecting the Tab to a computer isn't always straightforward and instant, I generally opt to use the adapter to transfer files to or from a USB key.
The only thing I don't like is that accessing the files isn't as straightforward as on a desktop system. However, this is Android's issue, not the adapter's.
SD Card Adapter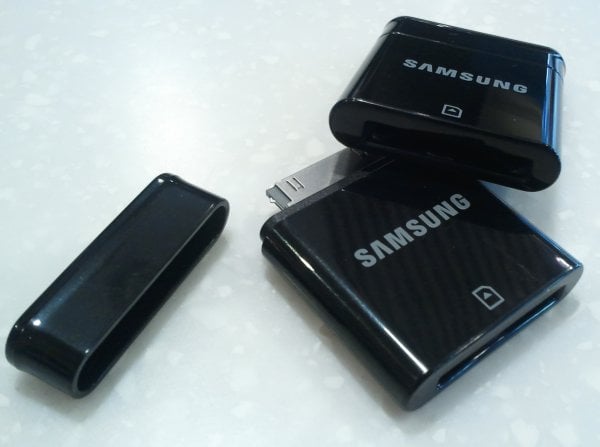 This adapter isn't yet available, but will be out in the next couple of weeks, likely at or around the same price as the USB adapter. It also has similar functionality: allowing users to access and transfer files from an SD/SDHC card. It even comes with a microSD adapter (in case you don't have one already).
The SD adapter is particularly useful for users with cameras. Just offload your images to the Tab, use the image editor to crop or resize, and upload to the web.

As an Amazon Associate I earn from qualifying purchases.