Samsung Galaxy Tab Lollipop Update: 5 Things to Know
As we push deeper into 2015 more and more Samsung Galaxy Lollipop updates continue to emerge, but most have been for smartphones like the Galaxy S4, Galaxy S5, Note 3 and other devices. However, the Samsung Galaxy Tab lineup hasn't been forgotten, and below are 5 things Galaxy Tab owners need to know about the Lollipop update.
Way back in December Samsung pushed out its first Android 5.0 Lollipop update. This was for the Samsung Galaxy S5, its most important device at the time, and over the past few months they've moved on to other devices, and now are starting to turn more focus to its large tablet portfolio.
Read: Samsung Lollipop Update: 15 Things You Need to Know
We've seen updates arrive for most Samsung Galaxy S devices, Note smartphones, as well as updates for the new Galaxy S6. Those with the Galaxy Tab have been patiently awaiting for Android 5.0, and after a few arrived earlier this month, more are starting to surface. Below is everything we know about Galaxy Tab Lollipop updates.
Now that the year is nearly halfway over and Android 5.0 Lollipop has been available since November, Samsung's finally updated most of its smartphones and important tablets, and are preparing to rollout updates to all other Galaxy Tab variants. It has been a slow process, but this week two key updates arrived, and a few did last week as well.
Recent reports suggest a new Samsung Galaxy Tab S is coming soon, possibly being announced next month in June, and that will be the latest tablet aimed at taking on the iPad Air 2, Google's Nexus 9, and any other tablets. For now though, current Galaxy Tab owners still need updates.
Samsung Galaxy Tab S Lollipop Update
The latest tablet from Samsung is the impressive Galaxy Tab S which features a stunning 2560 x 1600 resolution on Samsung's HD-AMOLED display. It's a beautiful tablet coming in both 8.4-inches and a larger 10.5-inch variant.
Last month the regular WiFi Samsung Galaxy Tab S received Android 5.0 Lollipop, and then a few weeks ago the Galaxy Tab S LTE update started arriving. This is based on Android 5.0.2 Lollipop, the same version that's rolling out to other tablets this week as well. There's currently no timetable for Android 5.1 updates for any Galaxy tablets.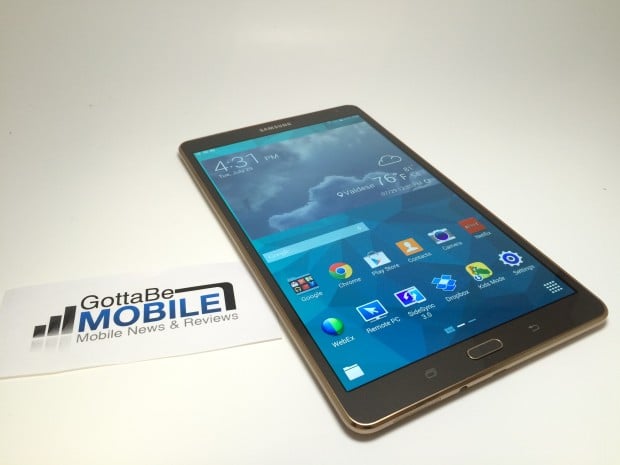 Those with the Galaxy Tab S 8.4 or 10.5-inch can expect Android 5.0.2 Lollipop to arrive any day now, if it hasn't already, and the LTE version is up next. Samsung's pushing it out in waves, and US are finally getting around to it too.
US Carrier Galaxy Tab S 10.5 Lollipop
Not all carriers in the United States offered the latest Samsung Galaxy Tab S, but the ones that did have finally got around to pushing out updates. This morning T-Mobile confirmed its version of the Tab S 10.5 is getting Android 5.0.2 Lollipop, and users can expect plenty of bug fixes, new features, and improved battery life.
Read: Android 5.0 vs Android 4.4 KitKat: What's New in Lollipop
T-Mobile's Galaxy Tab S 10.5 Lollipop update is massive, coming in around 1.1GB in size, and will require a WiFi connection to download. It's available starting today via the usual over the air update system, and may take upwards of 7-10 days before it arrives for all owners. Head into settings > general > about device > and check for updates to see if it's ready now.
Users can also plug the Galaxy Tab S into a computer and use the built-in Samsung Kies Windows and Mac program to manually get the update right now. The AT&T Galaxy Tab S 10.5-inch also started getting Android 5.0 back on May 12th, and if you haven't received it yet, the OTA update should arrive any day now.
Galaxy Tab 4 Lollipop Updates
Samsung's older and not as high end tablet, the Galaxy Tab 4 lineup, is also getting in on the Android 5.0 Lollipop goodness. A little over a week ago we received word that the Samsung Galaxy Tab 4 10-inch in both WiFi and 4G LTE variants was getting Android 5.0.2 Lollipop. The link above has downloads for the WiFi or LTE model, which can be flashed with Samsung Kies, or just pull the updates with that software yourself.
We've yet to hear anything regarding the Galaxy Tab 4 in 7 or 8-inches, but more details should surface soon. The fact that the 10-inch mode is getting it now means the smaller versions will receive updates, the question is just when. Expect them sometime soon, hopefully before the end of May.
Samsung Galaxy Note 12.2 Lollipop Update
Along with the Galaxy Tab 4 lineup Samsung also has the Galaxy Tab Pro it needs to update, and the same can be said about the Galaxy Note 12.2 tablet. Starting today users with the Samsung Galaxy Note 12.2-inch tablet can manually update to Android 5.0.2 Lollipop. This isn't going out over the air just yet, but the update is available now courtesy of SamMobile. The update is headed to the Note 12.2 in Switzerland, but we're expecting other regions and variants to see the update in the coming days or weeks.
The company has so many different tablets it can be hard to keep track, but rest assured knowing the entire Note, Tab 4, and Pro lineup should see Android 5.0 eventually.
Galaxy Tab Lollipop Changes
The link above comparing Android 5.0 to Android 4.4 KitKat should give users a pretty good idea of what to expect in terms of new features and improved performance or battery life, but Samsung's tablets look completely different thanks to the TouchWiz user interface overlay.
That said, owners of a Samsung Galaxy Tab or Note 12.2 can expect Android 5.0 Lollipop's new Material Design interface changes. Everything has a more flat and modern look and feel, lively animations and effects while scrolling or opening apps and flipping through settings, and the notification pulldown bar or quick settings menu is more useful and looks completely different.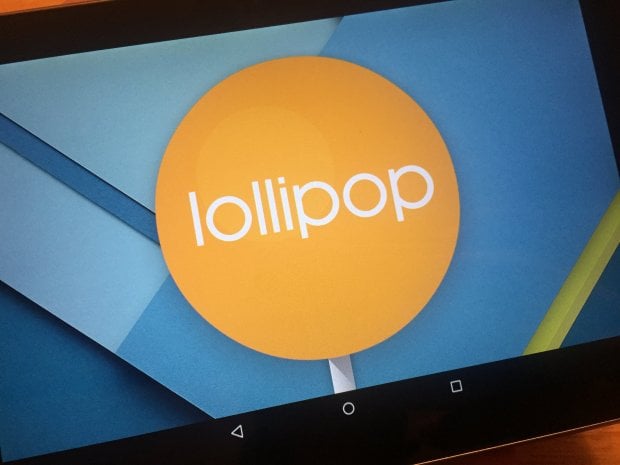 Users can also expect a few changes to the lockscreen, the new Pin Screen feature is nice, and Smart Lock allows the tablets lockscreen security to be enabled or disabled based on location. Meaning you don't need a lockscreen password at home, but if you leave a trusted area your password or security measure gets enabled.
There are a lot of small features and changes in Android 5.0 Lollipop that are included in the Galaxy Tab Lollipop update, so head into settings and check around to see what's new. Samsung has a lot of different tablets all offered in multiple sizes, but we will do our best to update as more and more updates surface.

As an Amazon Associate I earn from qualifying purchases.