Samsung Galaxy Tab Pro 10.1 Specs All But Confirmed
The specs regarding one the many tablets we're expecting Samsung to release in the first part of 2014 have appeared, this time for the much-rumored Samsung Galaxy Tab Pro lineup, specifically the 10-inch version.
We've seen everything from a 8.4 Galaxy Tab Pro to a large 12.2-inch variant, but today's 10-inch Galaxy Tab Pro was spotted in a benchmark revealing all of the specs. Previously everything was just a rumor, but this all but sums up what we can expect from the company's new high-end Android tablets. Packing HD displays, 8-core processors, and more.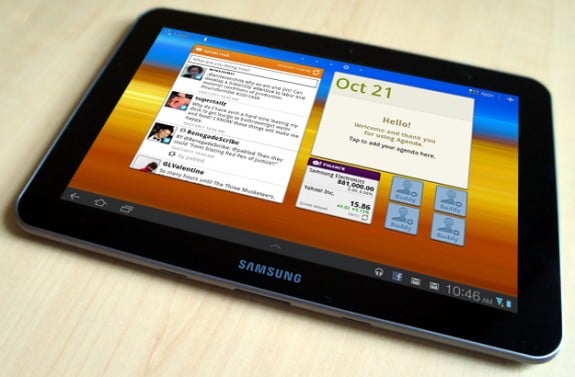 While this could still be the Nexus 10 2, most likely what we're seeing below is the Samsung Galaxy Tab Pro 10.1 that will arrive in February, if rumors are correct. The benchmark results reveal some pretty impressive specs, thanks to AnTuTu, which come in quite impressive and better than any Samsung tablet to date.
Talk of a 10.1-inch 2560 × 1600 HD display, and being powered by Samsung's own 8-core Exynos processor with 2GB of RAM and 32GB of storage. Samsung has some budget Galaxy Tab Lite devices coming, but it appears they also have some iPad Air challenging slates too.
Read: Samsung's iPad Air Rival Tipped for Early 2014
If the report above is accurate, the new Galaxy Tab Pro 10.1 could come with an impressive AMOLED display too, the first 10-inch tablet from Samsung with its latest and greatest display technology. Of course looking at the benchmark results we're also seeing Android 4.4.2 KitKat, all being powered by a 1.9 GHz octa-core processor. It could even be 64-bit too, as that's Samsung's next goal to take on Apple.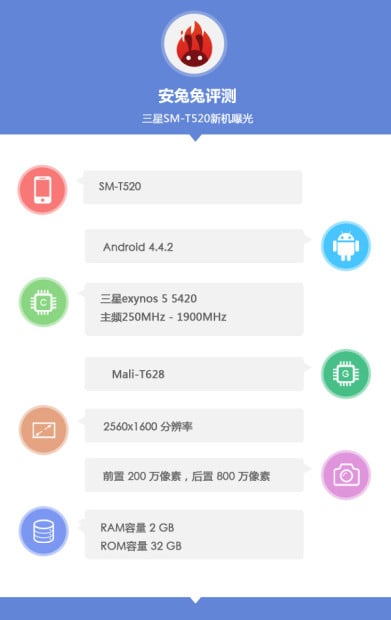 The last bit of details claim it will sport an 8 megapixel rear camera, and 2 megapixel front shooter, which is a step up from previous Samsung tablets as well. If all of this comes in a sleek package we can expect an impressive and compelling option from Samsung. Lets just hope they can keep the price competitive.
The Google Nexus 10 2 could be announced next week at CES, but we're not expecting Samsung to reveal its new tablets until later this month or early February, so stay tuned.