Samsung Galaxy Tab PRO 8.4 vs LG G Pad 8.3 Video Comparison
Users looking to upgrade from an old Samsung Galaxy tablet or the original Nexus 7 have plenty of choices in 2014 when it comes to Android. Here we'll take a look at two of the better options available today.
Now that the Samsung Galaxy Tab PRO lineup is finally available in the United States, we wanted to quickly compare two alternatives to the 2013 Nexus 7, for those looking for a tablet. Those are the Samsung Galaxy Tab PRO 8.4 and the LG G Pad 8.3 slate. Both offer the perfect blend of size and portability, are packed full of features, and quite powerful.
Read: LG G Pad 8.3 vs Samsung Galaxy Tab PRO 8.4: 5 Key Differences
We've compared both and outlined a few key differences in the link above, but today we have a quick hands-on video comparison for those looking to purchase a new tablet and want to know what to expect from each option. Read on for plenty of details, pictures, and the video below.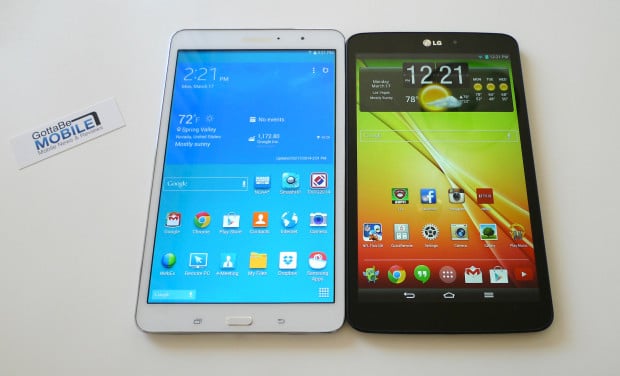 8-inch tablets are the new 7. Many manufacturers are trying to differentiate from the flood of 7-inch slates by offering something slightly different, and we're even hearing rumors about an upcoming LG-made Nexus 8. That being said, the two tablets outlined below are potentially the best 8-inch Android tablets available right now.
The LG G Pad has been available since late September, so it isn't really all that new, and Samsung's new Tab PRO 8.4 was announced at CES, and released back in February. Both have tons to offer, great specs, beautiful displays, and have a few added features worth taking a look at.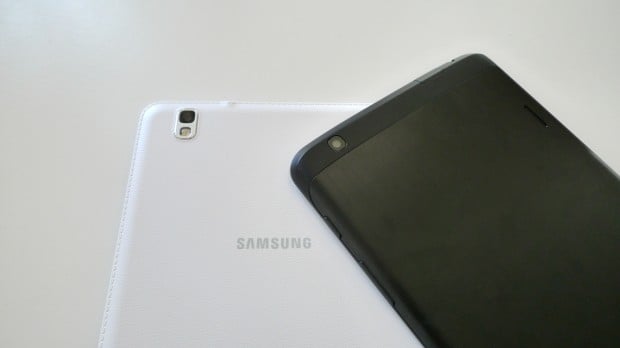 We'll start with the video, then break down a few areas that each tablet differ, starting with the version of Android and the screen resolution each has to offer.
As you can see from our video comparison above, both the Samsung Galaxy Tab PRO 8.4 and the LG G Pad 8.3 are well-designed, thin, and portable devices while still offering a decent size display. They have thin bezels, a similar design layout, and are overall quite neck and neck in most areas.
Specs
The video above went over most of the important specs, but for those curious about all the little details that both have to offer we have the full breakdown for you. Samsung's a bit better in most aspects, but they both have strengths. Whether you want to multitask all day, or play tons of Android games, here's what both have to offer.
Galaxy Tab PRO 8.4
8.4-inch 2560 x 1600 HD display
2.3 GHz Quad-core Snapdragon 800 processor with 2GB RAM
16/32GB storage with a micro-SD for user expansion
Android 4.4 KitKat (with heavy UI changes)
8 Megapixel rear & 2 MP front cameras
4,800 mAh battery
Infrared Blaster for Remote Control
Faux Leather design
Dual Stereo speakers on bottom
8.62 x 5.06 x 0.28 in
LG G Pad 8.3
8.3-inch 1920 x 1200 display
1.7 GHz Quad-core Snapdragon 600 with 2GB RAM
16GB storage (Micro-SD for expansion)
Android 4.2.2 Jelly Bean
5 Megapixel rear & 1.3 front Camera
4,600 mAh battery
Infrared Blaster for remote
Dual stereo speakers on back
8.54 x 4.98 x 0.33 inches
Read: LG G Pad 8.3 vs iPad Mini Retina
Display
The LG G Pad 8.3 has a stunning screen no matter how you look at it. The 8.3-inch size isn't too big or too small, and the 1920 x 1200 full HD resolution looks excellent and crisp. The colors pop, videos and Netflix look great, and it's a joy to use. The screen could be a bit brighter, but that was our only initial complaint.
However, then we got our hands on Samsung's latest little tablet. The Tab PRO 8.4 has an even better, brighter, and more crisp display. Offering an eye blistering 2560 x 1600 2k resolution, it looks amazing. I loved the G Pad, until I saw the Tab PRO 8.4 with my own eyes. The colors are vibrant, and even the whites appear better on-screen. Something you probably noticed from our video above.
Both are excellent options that will make any user happy, but Samsung is the clear winner here.
Software
The LG G Pad hit the market just before Google announced Android 4.4 KitKat, but it wasn't even on 4.3 Jelly Bean. Instead LG was months behind (and still is) and the G Pad has Android 4.2 Jelly Bean. While we're expecting an update at some point in the tablets future, Samsung's Tab PRO already has Android 4.4.2 KitKat, and clearly has an advantage.
LG isn't know for being the best with software updates, but hopefully one is coming sooner rather than later. That said, for those looking for more than one or two updates, Samsung may be the better option. Software updates aside, both the G Pad and Tab PRO have a few neat aspects of the software.
LG has Knock-ON where a double tap will instantly turn the display on/off, and it's more convenient than you'd think. I use it all the time. There's no fumbling or picking it up to find the power button, just double tap the display. Then, LG has tons of tweaks to the interface that ruin how stock Android looks and feels, and many consider it a Samsung TouchWiz ripoff. It has some advantages, but not many.
Samsung on the other side, is in a similar boat. The new Tab PRO line is further from Android than anything they've released. The software skin is flat, simple, and minimalistic, and you'll notice the Magazine UX before you'll notice it actually runs Android 4.4 KitKat. As far as content consumption, the Magazine UX makes the Tab Pro the better option, but then there's plenty of alternatives in the Play Store for the G Pad, or any tablet for that matter.
Overall both tablets are smooth, fast, and fluid, but LG could really benefit from upgrading to the latest and greatest version of Android. Instead of sticking to Android 4.2 Jelly Bean from 2012.
Price
The last important detail regarding both of these excellent tablets is the price. Samsung's going to make a bigger dent in consumers pocket, costing $399, but it's a better overall device. For those who don't need the best of the best, the LG G Pad 8.3 can now be found for $329 from most retailers and etailers, and the 4G LTE Verizon model (Contract free) is just $299.
The Galaxy Tab PRO 8.4 has yet to arrive for carriers in the US with 4G LTE, and for now is WiFi only and still $399. LG's little tablet is less being $329 for the WiFi model, but can alternatively be used on Verizon Wireless, so that's another benefit. Again, both have pros and cons, but the biggest deciding factor will likely be software and the price tag.
For more details on both of these tablets you can start by checking out our Galaxy Tab PRO Hands-On coverage, or our LG G Pad 8.3 Review.
All said and done these are two of our favorite Android tablets at the moment, and probably will be until the rumored Nexus 8 arrives. Both are excellent and compelling options, and will make any customer extremely happy. In the end though, the Samsung Galaxy Tab PRO 8.4 has a slight advantage in most aspects and will likely be the better tablet in the long run, and overall.
The LG G Pad 8.3 does have a lower price going for it, so that's one more thing to consider for potential buyers.