Samsung Galaxy Tab Pro Lineup Revealed
Kicking off CES today Samsung has unveiled a slew of new Android tablets to take charge in 2014. Following along with multiple reports and leaks from the past few months, the new Galaxy Tab Pro lineup is now official.
Confirmed moments ago on stage Samsung has announced the Galaxy Tab Pro coming in 8.4, 10.1, and 12.2-inches. Following on the success of the original Galaxy Tab series, the Galaxy Tab Pro lineup comes equipped with powerful processors all in sleek lightweight packages to take on the growing competition from Google's Nexus range and the iPad.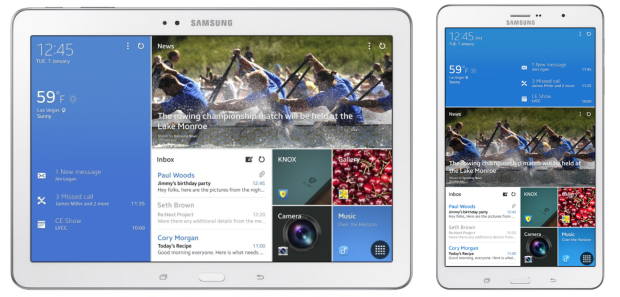 Today on stage Samsung shared all the details of the new tablets, which have a familiar look and feel to previous devices. Continuing with the same lightweight plastics and dedicated home button, we now have the same faux-leather design in white or black covering the rear, which is actually a welcomed change.
Galaxy TabPRO 8.4-inch
Starting with the Tab Pro 8.4, as it's the most portable and well equipped model available, you'll get an 8.4-inch display with the highest resolution on Android in this size category. Offering 2560 x 1600 resolution powered by Qualcomm's Snapdragon 800 quad-core processor and 2GB of RAM. We won't have 3GB like the Galaxy Note smartphone, but the powerful processor should keep Android 4.4 KitKat running fast for years and years.
With a design similar to the Galaxy Note 8 and iPad Mini, the new Tab Pro 8.4 has a sleek form factor and thin bezels, which will help that HD display pop with colors. Buyers can expect to enjoy an 8 megapixel rear camera and 2 MP front shooter for video chatting, followed by 16/32GB storage options, as well as a micro-SD slot for expanding storage up to 64GB. Lastly you'll get dual side-mounted stereo speakers, and an IR blaster for remote control capabilities.
Samsung's equipped the small 8.4-inch slate with a decently sized 4,800 mAh battery, promising roughly 8 hours of usage. Lastly we can expect multiple options available with 4G LTE support from carriers soon, but no such details have been revealed at this point.
Galaxy TabPRO 10.1 & 12.2-inch
Then, along with a Galaxy Note Pro 12.2, Samsung also has a Tab Pro (without the stylus) coming in a 10 and 12.2-inch variant. With nearly the same specs as the Tab 8.4 above, users can expect the same 2560 x 1600 full HD resolution displays, and depending on region either Samsung's Exynos 5 Octa 8-core processor, or the Qualcomm Snapdragon 800 series for 4G LTE connectivity. The 10.1 PRO will still come with 2G of RAM, 16/32GB storage options, and the same dual-camera setup.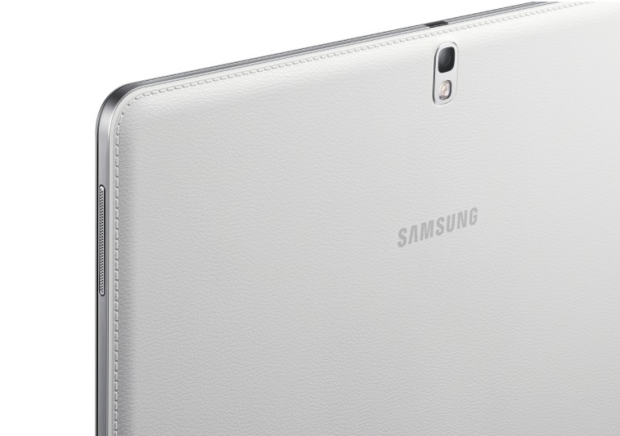 The Galaxy Tab Pro 12.2 however, received the biggest and best list of specs and will offer either a choice of the 8-core Exynos processor, or Qualcomm's Snapdragon 800 for 4G LTE, and Samsung bumped it up to 3GB of RAM, and 32/64GB storage options. All capped off with a massive 9,500 mAh battery.
All three tablets will come will come with Android 4.4 KitKat and Samsung's usual TouchWiz user interface changes, as well as the infrared capabilities. The Samsung Galaxy Tab Pro 10.1 features an 8,220mAh battery, measures 243.1 X 171.4 X 7.3mm, and will enjoy the same faux-leather rear design, as shown in the pictures.
Sadly the rumors of Samsung delivering AMOLED displays to the tablet lineup hasn't surfaced, as these sport LCD screens, and we still haven't received word on pricing or a possible release date aside from Q1. Considering the top-tier quad-core processors and HD displays, we're assuming they won't be cheap.
We've seen countless carrier leaks, like the Note 12.2 on AT&T, and as soon as more details arrive, along with possible carrier support, we'll share all the details and pricing.