Samsung Galaxy Tab S2 Leak Teases iPad Air Rival
A new Samsung Galaxy Tab S2 has leaked and is reportedly coming soon, and this week we're finally learning more details about what could be coming next month. The Samsung Galaxy Tab lineup can be a bit confusing with all the different options, names and sizes, but the company's latest flagship Galaxy Tab S is about to get a refresh in 2015 aimed at taking on the iPad Air 2.
In June of last year Samsung released it's latest device aimed at the high-end tablet market, called the Galaxy Tab S. Not to be confused with the regular Galaxy Tab, or the Tab Pro, the Tab S was all about the stunning new screen on the device. We've been waiting for another tablet to arrive from Samsung, and below is our first look at what could be coming soon.
Read: Samsung Galaxy Tab S vs Nexus 9: What Buyers Need to Know
With the iPad Air 2 being one of the best tablets around, Samsung is likely aiming directly at the Air with the new Tab S, and that's more apparent than ever with the sleek design, super high resolution display, and the inclusion of a fingerprint scanner inside the dedicated home button. Below are the latest details.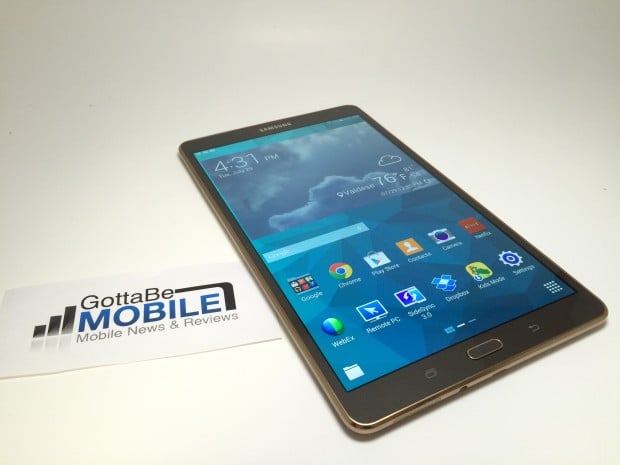 This week the popular Twitter account @Onleaks released what could be our first look at the Samsung Galaxy Tab S2, and some potential details about what will be offered to go along with it. Here' what we know.
According to various reports the new Galaxy Tab S2 will be released in June of this year, similar to the timeframe of the original, so more details should start surfacing in the coming days or weeks. According to this leakster the Tab S2 will come with a 9.7-inch display, which is different from what was released in 2014.
The original Galaxy Tab S came in 8.4 or 10.5-inch sizes with a stunning 2560 x 1440 resolution for crisp images, clear text, and vivid videos. The Samsung S-AMOLED HD display was the best we've seen on any tablet, and that will likely hold true again in 2015. We're not expecting an even higher resolution, but we'll have to wait and see.
Most likely two versions will be released like last year. One with an 8-inch display, and another featuring an iPad like 9.7-inch screen. Both tablets are expected to feature Samsung's stunning Super AMOLED displays with a resolution of 2048 x 1536 and a different 4:3 aspect ratio similar to the iPad and Google's Nexus 9. Instead of the 16:9 thin and long design we've seen from Samsung over the past 3-4 years.
Read: Samsung Galaxy Tab S (8.4) Review
The Galaxy Tab S2 will be running Android 5.0 (or Android 5.1) Lollipop out of the box and be powered by Samsung's own 8-core processor with 3GB of RAM and 32GB of internal storage. Each tablet will have a micro-SD slot for user expandable storage, 8 megapixel rear and 2.1 front cameras, and the dedicated home button will incorporate a fingerprint reader for security like we've seen on the Galaxy S5, Note 4, and the new Galaxy S6.
Users can expect a sleek design with a brushed aluminum outer frame like the new Galaxy S6, WiFi options will be available first, and most likely 4G LTE variants will be offered by carriers at a later date. Something we've seen from each Samsung tablet release over the past few years. If Samsung aims to announce and release the Galaxy Tab S2 in June like they did last year, expect more information and a formal announcement in the coming weeks. Stay tuned.

As an Amazon Associate I earn from qualifying purchases.