Samsung Galaxy Tab S2: 5 Things Buyers Need to Know
During the summer months multiple leaks suggested Samsung had a few new high-end Android tablets in the works to take on Apple's iPad lineup, and today they were officially announced. This morning Samsung revealed two brand new "class leading" extremely thin and lightweight Galaxy Tab S2 tablets aimed directly at the iPad and iPad Mini.
Over the course of the past month or so we've seen a few different leaks tease these tablets, but today they're official and we now have all the details. Samsung's new Galaxy Tab S2 is thinner, lighter, more powerful, has an improved fingerprint scanner like the Galaxy S6 and promises to deliver the best Android tablet experience to date.
Read: Samsung Galaxy Tab S2: What We Know So Far
The Samsung Galaxy Tab lineup can be a bit confusing with all the different options, names and sizes, but the company's latest Galaxy Tab S2 looks to be the best Android tablet released in all of 2015 so far, and is coming early next month. Below is everything buyers need to know.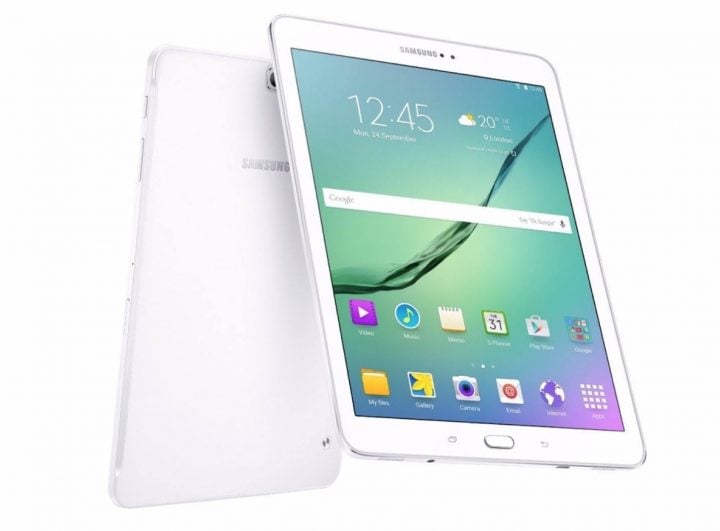 In June of last year Samsung introduced the all new Samsung Galaxy Tab S, a premium Android tablet with high-end specs the company hoped could take on the Nexus 7, the iPad, and anything else from the competition. The 8.4-inch Galaxy Tab S was our favorite tablet to date, and now two more are coming soon that are absolutely worth considering.
Here in 2015 Samsung's brand new Galaxy Tab S2 takes an entirely different approach to Android tablets. Just like the iPad and Google's recent Nexus 9, these tablets no longer have a long and skinny design — known as a 16:9 aspect ratio — and instead are not quite as tall and instead are a little wider like the iPad. Now that both tabs have been announced, here's everything you need to know.
Galaxy Tab S2 Design
The new Samsung Galaxy Tab S2 is considerably different from previous tablets from Samsung, and that's due to a demand to change things up, not to mention follow Google's lead. They've ditched the long and skinny 16:9 aspect ratio that was only good for viewing video, and switched these new tablets to a 4:3 aspect ratio that isn't as long, and slightly wider. This makes them resemble print media, perfect for browsing the web, reading, and everything else.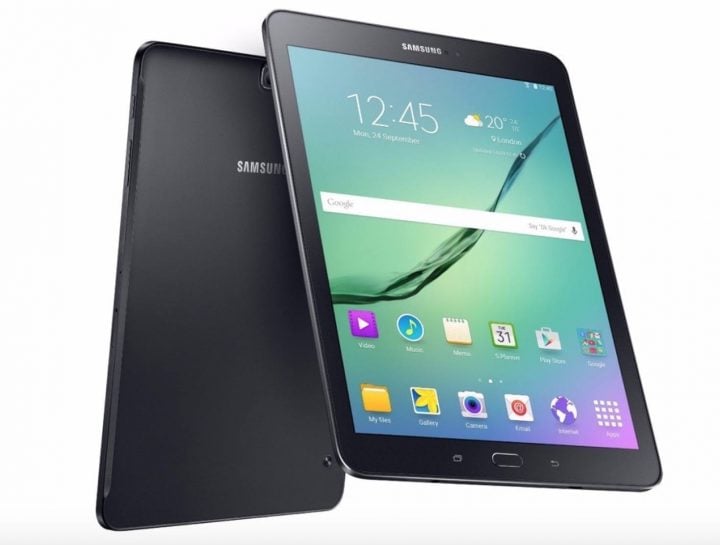 As you can see from the image above, the shape is similar to the Nexus 9 and iPad, rather than traditional Android tablets. While users won't have as much screen real-estate for viewing movies, everything else will benefit from the change.
That isn't all either. Samsung claims the new Tab S2 has a class-leading design and is the thinnest and lightest tablet in this size category and class. These tablets are wafer-thin, coming in at only 5.6mm thin (that's 0.2-inches) and extremely lightweight. Thinner, lighter and more powerful than the iPad Air or Mini.
Read: Android 5.0 vs Android 4.4 KitKat: What's New in Lollipop
Just like the Galaxy Tab S from last year these new tablets come in Black or White plastic, but are wrapped in a lightweight and durable aluminum frame that protects the edges. Along with the new design and completely redesigned internals with powerful specifications, the Galaxy Tab S2 now employs the same accurate and easy to use fingerprint sensor in the home button found on the Galaxy S6 and the upcoming Galaxy Note 5. The original S had a fingerprint sensor, but it wasn't very easy to use, and was no where as good as Apple's TouchID. This will work with Android M later this year, and will be used to unlocking the device, PayPal purchases, signing into your Samsung account and much more for added security and peace of mind.
Galaxy Tab S2 Display
With the change to a shorter 4:3 aspect ratio both of these tablets now have a slightly different screen size and resolution. They still feature Samsung's impressive S-AMOLED display with true to life accurate colors, but received a slight drop in resolution. They no longer have a 2560 x 1600 Quad-HD display, but still come in with a resolution of 2048 x 1536.
The Galaxy Tab S2 comes in an 8-inch variant, as well as an iPad-like 9.7-inch size. Last year they were 8.4 and 10.5-inches, respectfully.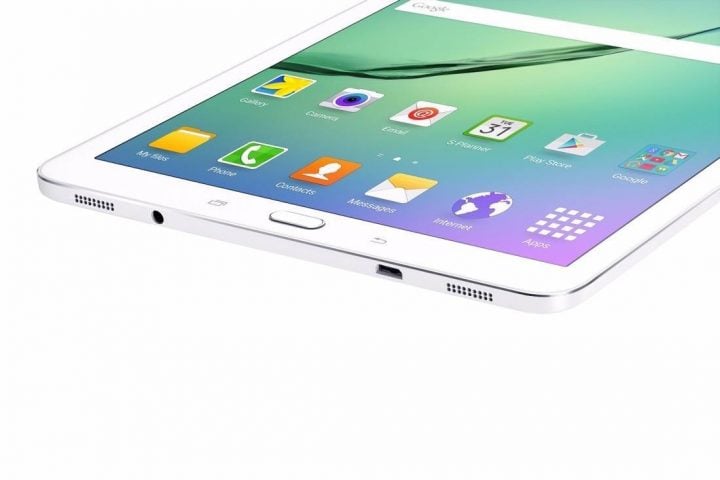 According to Samsung the slightly smaller screen will still deliver true colors, crisp text, and one of the best viewing experiences of any tablet around. Here's what Samsung had to say.
The tablet also presents deeper contrast and more precise detail to provide a best-in-class reading experience with the Super AMOLED display delivering 94% of natural tones to show true-to-life colors (Adobe RGB color standard). Users can now enjoy galleries of vividly detailed photos and effortlessly shop online while viewing the most accurate images on the Galaxy Tab S2.

In addition, the Galaxy Tab S2 continually offers its advanced screen technology to display bright and natural content for a more comfortable visual experience. Adaptive Display intelligently adjusts gamma, saturation, and sharpness based on the application, the color temperature of the viewing environment and ambient lighting. Also, Reading Mode modifies the screen's brightness level to help users to read content for longer periods of time without straining their eyes."
The screen is slightly smaller and received a little dip in resolution, but will still be some of the best available for Android users. I for one, welcome the change, but everyone has different wants or needs.
Galaxy Tab S2 Specs
Samsung's new Galaxy Tab S2 comes with enough horsepower to make them some of the best tablets on the market, and will rival anything else available today. They've integrated the same powerful internals as the Galaxy S6, which means users can expect smooth fast performance, great multi-tasking with multi-window mode, having two apps open at the same time, and much much more. Here's the hard numbers for those curious.
Galaxy Tab S2 Specs
8 and 9.7-inch 2048 x 1536 Resolution Full HD AMOLED Display
8-core Samsung Exynos processor with 3GB of RAM
32 and 64GB of storage with a micro-SD slot for expansion up to 128GB
Android 5.0 Lollipop with Samsung TouchWiz UX (promise to Android M soon)
WiFi and 4G LTE options
8 Megapixel rear and 2.1 megapixel front cameras
Fingerprint scanner and sensor for security
Dual bottom facing speakers
Aluminum design
5,870 mAh and 4,000 mAh battery
5.6mm thin
As you can see from the impressive list of details above these new tablets are amazingly thin being only 5.6mm thick. They're also the lightest tablets in each respective size category being lighter than the iPad Mini 3 and the new Air. That being 265g for the 8-inch model and 389g for the 9.7-inch variant.
Samsung kept the same aluminum design, added a better fingerprint scanner, and tossed in the powerful 8-core Samsung Exynos processor.
Galaxy Tab S2 Price
Today Samsung finally unveiled these tablets, which many expected to debut in June just like last year, but along with the announcement were no details regarding the price, or a release date.
That being said, last year Samsung's Galaxy Tab S range matched the iPad Mini and iPad Air in terms of pricing all while delivering more features, not to mention a micro-SD slot to expand storage.
The WiFi Galaxy Tab S 8.40inch was $399, and Samsung offered the 10.5-inch Tab S for $499. The same entry-level pricing as the iPad. This year we're expecting the same $399 and $499 price for the WiFi models, but that gets you 32GB of RAM instead of only 16GB. Then the price should increase if buyers choose a 4G LTE model. That said, carriers will likely bundle these for $199 with a new 2-year contract, like AT&T and Verizon did last year.
Galaxy Tab S2 Release Date
In 2014 the Galaxy Tab S 8.4 and 10.5-inch tablets were both announced in June and released three weeks later in mid July. Today Samsung confirmed its new Galaxy Tab S2 will be available "around the globe from August" which means we can expect the same similar release.
Look for the all-new and improved Galaxy Tab S2 to be available around the middle of August for the prices mentioned above, if not sooner. We'll update as soon as Samsung announces formal pricing and actual release dates.

As an Amazon Associate I earn from qualifying purchases.