Samsung Galaxy Tab S2: What We Know So Far
We've yet to see any impressive flagship Android tablets so far in 2015, but if recent leaks and reports are any indication, a brand new premium Samsung Galaxy Tab S2 is coming extremely soon. Last year the Galaxy Tab S was released in June, and below is what we know so far about the new Tab S2 for 2015.
The Samsung Galaxy Tab lineup can be a bit confusing with all the different options, names and sizes, but the company's latest Galaxy Tab S is about to get a refresh in 2015 and will look to take on Google's Nexus 9, and the iPad Air 2 at the same time.
Read: Samsung Galaxy Tab S vs Nexus 9: What Buyers Need to Know
Back in May our first set of solid leaks surfaced about Samsung's new Galaxy Tab S2 in an unofficial press render, as well as some potential specs and screen sizes, but this week an actual photo has emerged giving us our first look at what could be coming this year from Samsung. Read on for everything we know so far.
In June of last year Samsung released it's latest device aimed at the high-end tablet market, called the Galaxy Tab S. This was better than the Samsung Galaxy Tab, the Tab Pro, and even the Galaxy Note 10 tablet released prior. We've been waiting for another impressive tablet to arrive from Samsung here in 2015, and below is our first look at what could be coming soon.
According to a few leaks and new images provided by SamMobile, the new Samsung Galaxy Tab S2 will be an impressively sleek device with a stunning high resolution 2k display, and come in two screen sizes like it did last year. Below is our first leaked images of what is reportedly the Samsung Galaxy Tab S2 in the 8-inch form factor.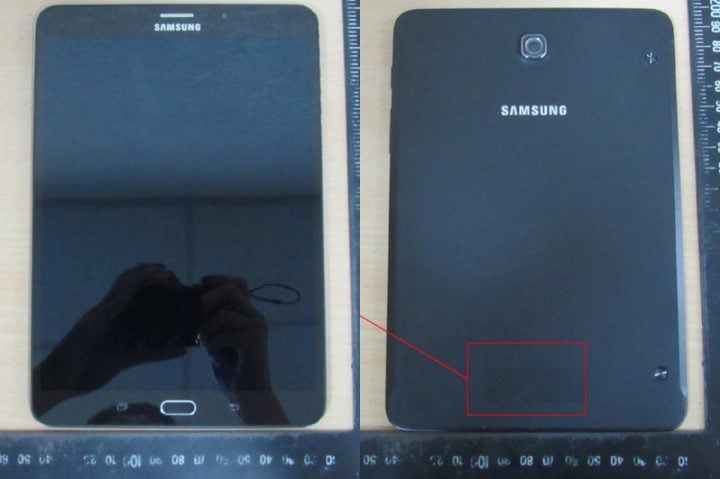 The image above is reportedly one of Samsung's new tablets, and it basically looks like a bigger Galaxy S6. The 8-inch screen has very slim bezels around the sides to keep the physical size down, and it appears to have the same larger dedicated home button which will likely house a built-in fingerprint scanner for security.
We see what could be a very large rear speaker, and the same circles on the backside that attach to Samsung's official flip cover case and stand. A similar design and accessory accompanied the Galaxy Tab S in 2014. Earlier leaks reveal this tablet is extremely thin coming in at just 5.4 mm thick.
Galaxy Tab S2 Rumors
Last year Samsung's Tab S came in both 8.4-inches and a bigger 10.5-inch variant. Oddly though, this year rumor has it they've changed from the skinny long 16:9 aspect ratio, and will be offering an iPad and Nexus 9 style 4:3 aspect ratio. Basically wider tablets that aren't as tall. The two new Samsung Galaxy Tab S2's will be nearly the same size as Apple's iPad and iPad Mini, coming in at 8-inches and 9.7-inches.
Multiple leaks have all but confirmed the specs, and these will be two high-end tablets with a big price tag to go along with the premium aluminum design, impressive display, and fancy features.
Galaxy Tab S2 Specs (rumored)
8 & 9.7-inch 2048×1536 (2k) Resolution Super AMOLED Displays
1.9 GHz 8-core Samsung Exynos processor with 3GB of RAM
16GB of internal storage with a micro-SD slot (4G LTE optional)
8 megapixel rear and 2 megapixel front camera setup
Android 5.0 (or 5.1) Lollipop
IR Sensor for Remote Control
5.4mm thin
more
Samsung Galaxy Tab S2 Release Date
While we've yet to receive any word from Samsung about it's new tablets, or even a confirmation that it's coming soon, the Galaxy Tab S2 has already passed the FCC and is ready to be sold in the United States. The leak last month and a few reports from SamMobile claim it will be announced this month, and released in early July.
Read: Samsung Galaxy Tab S 8.4 Review
The original Galaxy Tab S was announced in June of 2014 and went on sale in July, and we're hearing the exact same release cycle will take place in 2015 with the new Tab S2. Last year the tablet debuted for $399 and $499, so be on the lookout for an announcement later this month revealing a device similar to what's shown above, for roughly the same price point.
Google's own Nexus 9 wasn't nearly as popular as many expected, was riddled with problems and poor performance, and was last to see updates to Android 5.1 Lollipop. For those still searching for an excellent Android tablet, the Galaxy Tab S2 may be the perfect solution.

As an Amazon Associate I earn from qualifying purchases.