Samsung Galaxy TabPro S: Hands On at CES 2016
I'm absolutely the perfect poster child for what Microsoft is trying to do in the portable computer space. I had a notebook PC that worked flawlessly. I had a tablet that I didn't like, but did do exactly what I wanted it to do. I benched them both, opting for Microsoft's Surface Pro 3 and the Surface Pro 4 as the single device for both work and play in my life. I've never regretted it, but I have become impatient with the slow pace at which Microsoft has moved in the last few years. All of this goes to my state of mind as I stopped at Samsung's CES 2016 booth to checkout the newly announced Galaxy TabPro S.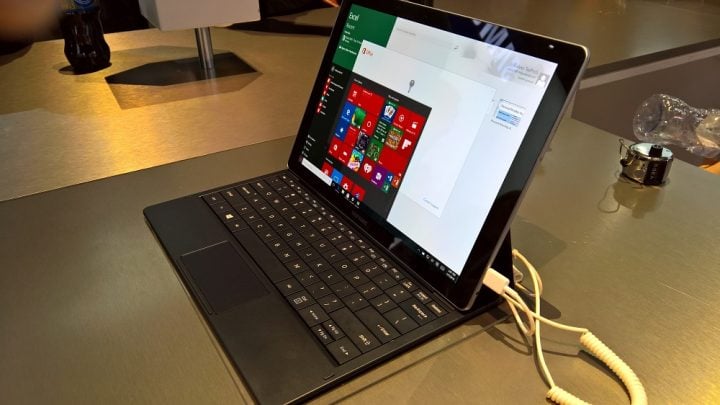 The Samsung Galaxy TabPro S has been called a "Surface-clone." Respectfully, that's a bit unfair. You don't call any notebook that has a thin metal chassis and almost no expansion ports a "MacBook Clone." Well, maybe you do, but that's a different discussion. I like the Surface Pro 4's spacious 12.3-inch display, and detachable cover. I like having a Pen with thousands of different levels of pressure to take notes with. I like that I can ditch both and use them just as a tablet.
Read: Samsung Galaxy TabPro S Has What Surface Pro 4 Doesn't
As I found out first hand, the Galaxy TabPro S fixes some issues that I have with the Surface Pro 4 though, almost becoming a better Windows 2-in-1 in its own right.
The larger display, and thinner profile of the Surface Pro 4 when compared to the Surface Pro 3 are great. Logging into Windows Hello and writing with the Surface Pen are fantastic. These things, I don't dispute. The Galaxy TabPro S improves on the Surface design in ways that I think are important for some.
The Surface Pro 4 is thin, but not as thin as the Galaxy TabPro S. By shoving an Intel Core M processor into the Galaxy Tab Pro S, Samsung has been able to blur the lines between PC and tablet even further. The Surface lacks a fan. The Galaxy TabPro S feels like you're using a basic tablet, not something that can install apps inside and outside of the Windows Store. Don't get me wrong though – I wouldn't go trying to play any 3D games on it. It lacks a fan and any ventilation really. It'll be interesting to see whether the device heats up quickly when the Core M processor is under stress.
The Galaxy line of devices have a certain design and aesthetic. The Galaxy TabPro S certainly doesn't leave that legacy behind. A metal rim holds all the non-essential ports. Samsung has clearly decided that most people will use the device in landscape mode; it's chosen to slap its logo along the bottom edge. That doesn't take away from it in any way. It's going to look very, very awkward when using it in portrait to read a book or browse the web – both of which are daily activities for Windows 2-in-1 owners, I suspect.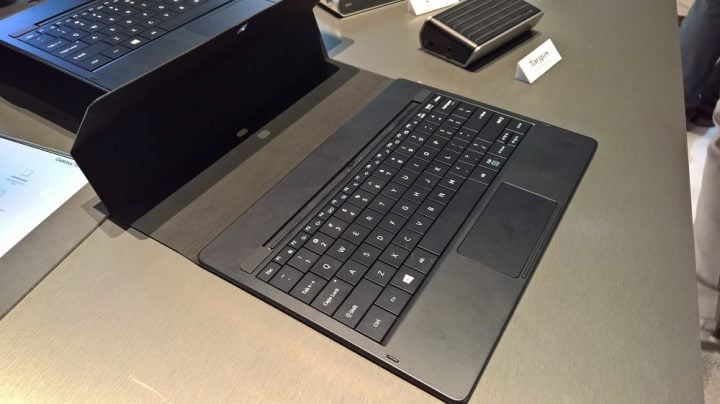 Samsung is placing bets on almost all the right technology with the Galaxy TabPro S. The display inside the device is one of the company's Super AMOLED displays. Make no mistake, this display is vibrant and absolutely gorgeous. Seeing deep blacks like what's possible on the Galaxy TabPro S feels strange and wonderful. CES 2016 is finally the year that AMOLED technology made the leap to Windows PCs. Admittedly, I've waited for their arrival for some time.
Microsoft doesn't give you a Type Cover with the Surface Pro 4. That's despite, them advertising the two together as if they are a single package. The company's argument has always been that not including the accessory gives users the opportunity to customize their device and decide if they'd like to purchase a keyboard made by someone else. Samsung is taking the right stance on this issue. Pricing for the Galaxy TabPro S hasn't been confirmed, but the purchase will include the companion keyboard, Samsung tells Gotta Be Mobile.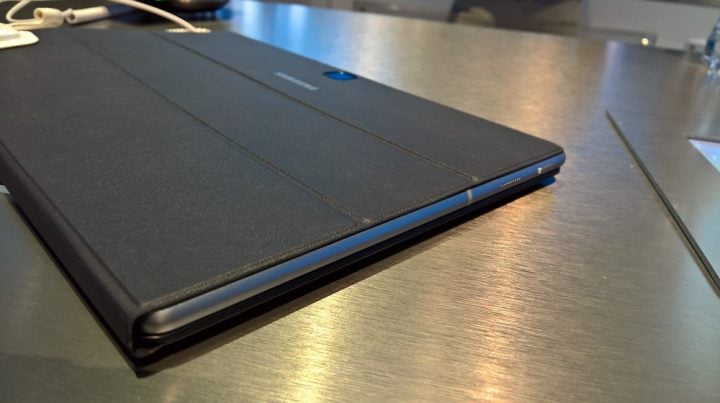 Rather than build in a kickstand and add some thickness, Samsung opted to move the kickstand to case itself. There are only two angles for propping up the tablet when connected to the keyboard though. That's very, very unfortunate. Trying to find just the right angle to gaze at your display because the kickstand isn't freely adjustable is something I suffered through with the original Surface Pro. I'm not anxious to repeat the experience.
Microsoft is betting that USB Type-C is too early in its life-cycle to influence buying decisions. I think they might be wrong. At CES 2016, everything included the port. The Galaxy TabPro S has a USB Type-C port. Also available in the TabPro S is LTE data connectivity. Only the tiny Surface 3 offers LTE in Microsoft's line-up.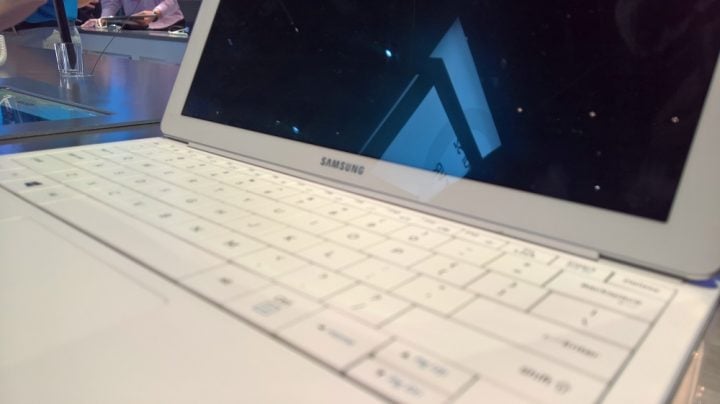 I am anxious to hear from Samsung on the price of the Galaxy TabPro S. At this point, I'm honestly considering it as a possible purchase if something should happen to my Surface Pro 4. Samsung says that it'll begin selling the Samsung Galaxy TabPro S sometime in February.