Samsung Gear 2, Gear Fit Pricing & Release Details Arrive
Today, along with the Galaxy S5 smartphone, Samsung and carriers have officially announced pricing, pre-orders, and release details on a new wave of wearable devices. They aren't Android Wear smartwatches, but the new Samsung Galaxy Gear 2, Gear Neo, and Gear Fit bands are coming early next month.
AT&T announced pricing and pre-orders for the Galaxy S5, and the U.S. carrier also took the moment to unveil some important details about the wearable devices mentioned above. While the Gear 2 and Neo look interesting, the Gear Fit is what has many consumers excited, and we now have all the details on both. Pre-orders go live tomorrow (March 21st) and the pricing is a bit higher than many expected.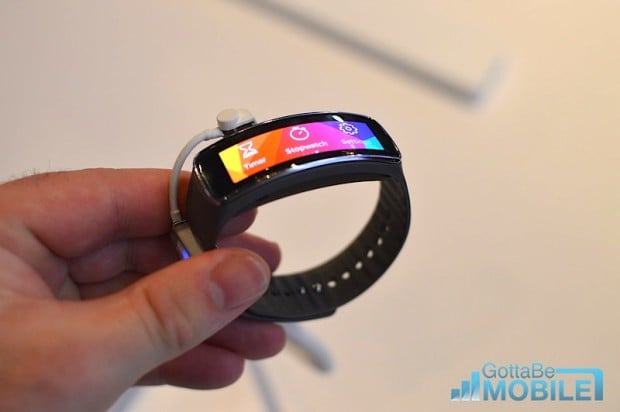 Today Samsung and AT&T officially announced the all-new Gear 2 smartwatch will retail for $299, and is available for pre-order tomorrow online or in stores. The same date goes for the Gear 2 Neo and the Gear fit smartband.
The Gear 2 Neo, which is a slightly cheaper and feature-lite version of the Gear 2 smartwatch will be $199, but still deliver a large amount of features, and the Gear Fit smartband will also arrive for the same $199 price point. The Gear Fit was the most popular of the three when unveiled last month, and we're looking forward to hearing more details or an official release date. As it stands, AT&T states they'll all start shipping from "Early April."
Read: Samsung Gear Fit Hands-On: The Fitness Smartwatch
That isn't all either. Since these will likely be debuting alongside the Samsung Galaxy S5, which we're hearing will be shipping on the 11th (not confirmed) AT&T will also be offering a small discount for buyers. Those who pick up the new Samsung Galaxy S5 smartphone will get $50 off the Gear 2 or Gear 2 Neo. The Gear Fit will not receive any discounts.
Samsung has some stiff competition from the newly announced Android Wear platform from Google, but they're still a few months away. For consumers looking to get a smartwatch or smartband in April, these options from Samsung should be some of the best available.

As an Amazon Associate I earn from qualifying purchases.