Samsung Gear Fit Hands-On: The Fitness Smartwatch
Earlier this week at Mobile World Congress Samsung announced the all-new Gear Fit wearable smartband. Being one of three smartwatches announced, it joins the Gear 2 and Gear 2 Neo.
To be completely honest the Samsung Gear Fit looks exactly what most expected the original Galaxy Gear smartwatch to look like. It has a curved AMOLED display, it's lightweight and stylish, and it is expected to have battery life for days. Being our favorite of the three new wearables read on to see what we thought, and enjoy a few additional pictures of the fitness band meets smartwatch.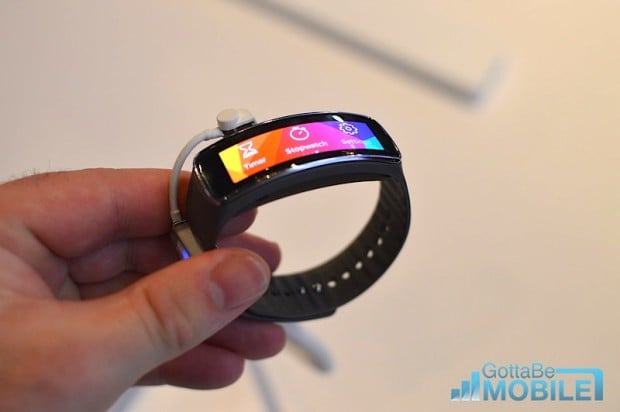 The Gear Fit has a small touchscreen display of 1.84-inches, but can do almost everything the Gear 2 can do in a smaller package. As the name suggests, the Gear fit is a health and fitness device at heart, and even has a built-in heart rate monitor that checks up on you every 90 seconds. There's a built-in pedometer accelerometer and gyroscope, not to mention tracking of sleep patterns, and much more.
All of these use Bluetooth 4.0 LE to efficiently and quickly share data to your smartphone or tablet, and the accompanying S-Health app on the Galaxy S5 and other devices will be where most users consume the raw data gathered from the Gear fit. Whether you're on the couch, at the gym, running at the park and more the Gear Fit will keep track of it all, and take your heart rate while you're at it.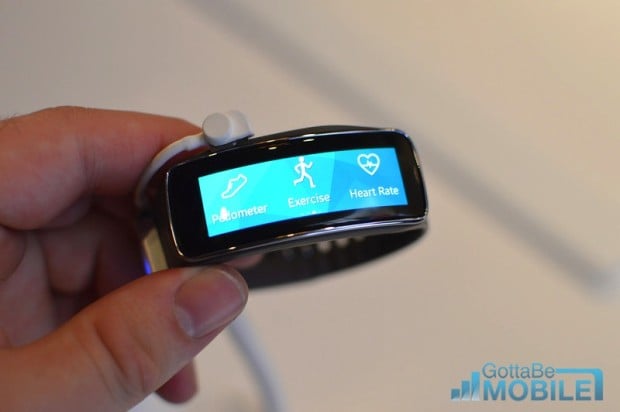 Controlling the actual device was rather easy and the display was extremely responsive. Tapping the small (android-style) back button was hit or miss, but that's about getting used to any particular device or screen. Heading through settings we had tons of watch faces, customization options, and even 18 colorful wallpapers to choose from.
That being said, it doesn't forget about all those other smart features we've seen lately from wearables. So if you aren't too worried about running three miles a day, but want smartwatch-like functions for notifications and alerts all in a sleek package on your wrist, it does that too.
Everything from incoming calls and caller ID, emails, texts, notification alerts and more. It even will show notifications from other apps, as long as it's supported. Samsung also made sure they included a media center in the Gear fit for users to quickly control music playback from the wrist, while their smartphone is safely in a pocket while jogging or at the gym.
One thing you'll notice from the photos is the Android-like back button, font, and more. However, we're hearing this little device doesn't run Android or Samsung's Tizen, like the other Gear watches, and instead something different which allowed for lower specs and better battery life. Samsung wouldn't get specific.
Overall the new Gear Fit actually felt great on the wrist, even if the display is horizontal and slightly hard to read without tweaking your wrist at an awkward angle. It will come with three band colors. Black, gray, and orange, and of course they'll be hypoallergenic. The entire device is IP-67 certified and "water resistant" and Samsung's claiming around 3-4 days of battery life.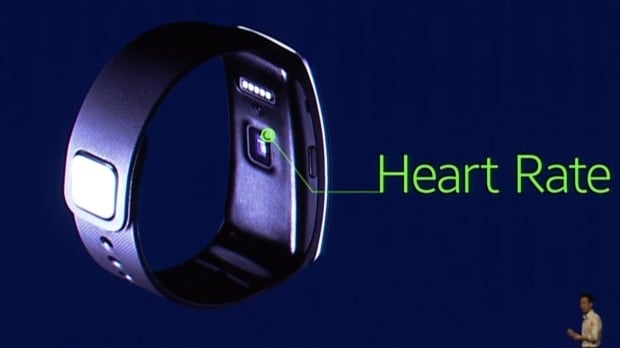 We didn't have a chance to fully test everything, but with Samsung offering nearly everything a smartwatch can do in a small fitness-sized band, we have a feeling it will be a big hit. I want one already. One concern aside from the screen angle is the power button being under a lip shown in the image above, which was hard to reach at times and could be frustrating.
We're expecting pricing to be lower than other Gear watches, and it appears that an early April release date is in the books. April 11th was mentioned more than a few times, but that's yet to be officially confirmed.