Samsung Gear Live: Hands-on with Android Wear
Earlier this year Google announced a brand new operating system and platform for wearable devices like a smartwatch called Android Wear. After a few months of waiting the first two smartwatches running Android Wear were officially announced last month at Google I/O, and are now for sale directly by Google.
Samsung is no stranger to wearable gadgets and devices after launching the first Samsung Galaxy Gear smartwatch last year, but the company's new Samsung Gear Live is a completely different beast. Running on the new Android Wear, this option aims to offer plenty more the others don't.
Read: Samsung Gear Live vs LG G Watch
The LG G Watch and Samsung Gear Live are the first two retail products running the all-new cutting edge software designed from the ground up for wearable technology by Google. While it's more of an extension of Android and Google Now than anything, there's plenty of promise with Android Wear. We've only had our hands on the Samsung Gear Live for a few days, but read on for some initial impressions and our hands-on video.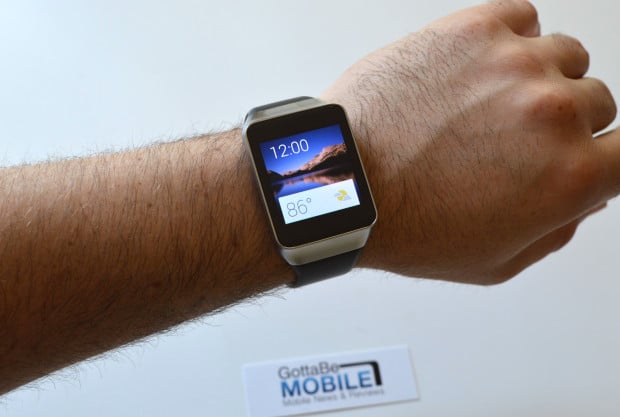 The entire Android Wear platform is still in its infancy, to say the least, but after just a few minutes of usage you can obvious see the direction Google is headed. Quickly getting Gmail alerts, notifications, text messages, weather info, and even being able to answer calls all from your wrist, is quite powerful. Done in a simple and clean fashion with a beautiful interface surely helps, and that's where Android Wear shines.
Out of the box we were immediately impressed with the Samsung Gear Live. Unlike the G Watch that has a boring square design, the Gear Live has neat subtle curves and is wrapped in a very lightweight aluminum body. The underside is also curved to be more comfortable on your wrist, and the 1.63-inch 320 x 320 resolution display is very crisp. As a comparison, the LG G Watch is 1.65-inches, but only 280 x 280 pixels. Check out the vs linked to at the top of the page for more details regarding the G Watch vs the Samsung Gear Live.
Without talking too much about Android Wear and all the notifications we'll just let you see it in action. Of course this is the initial release, app selection is still limited, and we're learning as we use it. So far there is a lot to like, and the ease of use is a key factor here with Android Wear.
As many of you probably already know by now, Android Wear is all based on a few simple and easy swipes, and voice actions. A long press quickly gets to watch face customization, swiping down from the top gives you the date and battery stats, and will mute/unmute notifications, and everything else is just a swipe away to the left or the right.
Heading to the Google Play Store to download the official Android Wear app will help you customize what alerts arrive on your watch, what doesn't, and gives users deeper support but we'll talk more about that in our full review.
Overall the Samsung Gear Live feels a lot like the other Galaxy Gear watches, only it's been improved in a few key areas, most importantly the software and user interface. It delivers more features than the LG G Watch by having a higher resolution display and a heart rate monitor, yet comes in at a lower price point of just $199.
The Samsung Gear Live is actually Samsung's fifth wearable in under a year, but arguably the best option yet. And while Android Wear is still a brand new operating system, it has a lot of promise. So far we've barely been able to test battery life, but it won't last more than a day, and most likely you'll need to toss it on the difficult to use charger on a nightly basis.
One huge selling point of Android Wear and the smartwatch is using it as a second screen. Being able to reply to a message with one swipe and my voice, while driving, is rather exciting. No reaching for your smartphone to get navigation directions either as you can hear them right from your Samsung Gear Live. I've only been using it a few days, but so far the experience has been rather positive. Especially considering I don't typically wear a watch.
Read: LG G Watch Arrives in time for LG G3 Release
We've only had a few days with the all-new Samsung Gear Live running Android Wear, and will need to spend some more time with it before we share our full thoughts and impressions. That being said, Android Wear is an interesting and very neat interface that has a huge upside, and we can't wait to see what Google and app developers bring to the table.